Technology Services & Resources
Updated 2FA Text Message Method

Microsoft plans to discontinue the use of two-way text message as a two-factor authentication (2FA) option in the near future. If you currently use this option, we strongly recommend switching to the Microsoft Authenticator mobile app now. If your device does not support the app, you can select to use the phone call verfication method instead.

Updated Steps to log in to MyVSU using Text Message Method

Log in to MyVSU and select "Text Me. You will still receive a text message with a verification code.




On the MyVSU login screen, enter the verification code and click "Sign In".



NOTE: If you are using 2FA to access other VSU resources like remote desktop or remote labs, you will first need to log in at https://2fa.valdosta.edu to change to the mobile app or phone call method. 

Need Answers . . . Look Here First

IT FAQs

Visit IT FAQs to find the answers to some of the most frequently asked questions related to the technology available to you at VSU.

For example, learn how to:

set up and manage your two-factor authentication
find your VSU username and password or reset your password
clear your web browser cache
And so much more

VSU Solutions Center

If you still need help, contact our award-winning Solutions Center.

Hours of Operation (Subject to change)

Monday - Thursday: 8a - 9p
Friday: 8a - 5p
Saturday: 8a - 1p
Sunday: 8a - 2p

Still need more info. . . Look Here

Employees & Student Organizations Information

EMPLOYEES ONLY

Success Portal: Interactive dashboards, student profiles and messaging tools for student advisement and notifications

Telecommunications: Voice Over Internet Protocol (VoIP) phone services and Jabber Instant Messenger

Technology Training: Schedule of employee workshops on campus-wide technologies

EMPLOYEES ONLY & STUDENT ORGANIZATIONS

Organizational Print Accounts: Used primarily for official student organizations to share a pool of print credits. This form can also be used for grants.

Smart Classrooms: Tutorial on using instructor classroom workstation equipment

WordPress: A supplemental web-designing tool used to create websites and blogs

IT maintenances & other important stuff

Degree Works Upgrade

Beginning November 29 thru December 10, 2021, we will upgrade Degree Works from version 5.0.3 to 5.0.5. 

During the upgrade maintenance window, Degree Works will not be available.Visual Schedule Builder (VSB) will be available; however, the Degree Works academic plans that are integrated within VSB will not be. Banner will not be impacted and will be available.

Students and Advisors should plan for the downtime by obtaining needed evaluations before leaving for Thanksgiving Break or no later than November 24. Students may contact their Advisors for additional guidance as needed. Visit University Advising & Student Transition website: www.valdosta.edu/advising.

If you have technical questions about the upgrade, please contact VSU Solutions Center during normal business hours.

For more information visit the Valdosta State University Information Technologies Blog.

---

Banner Maintenance

ITS will be installing upgrades in Banner Production environments. The managed databases will be unavailable during this time:

Beginning: Monday, November 29, 2021, at 5:30 p.m. Ending: Tuesday, November 30, 2021 at 7:00 a.m.

For more information visit USG posting

---

Oracle System Maintenance

Friday, November 12, 2021, at 11:00 p.m. - Saturday, November 13, 2021 at 7:00 a.m.

During this period, the following services may be intermittently unavailable:

- Data Warehouse and Business Intelligencewww.usg.edu) - INGRESS Registration Sharing System - OneUSG Connect - GOSA (Governor's Office)

- GeorgiaBEST Banner Managed Services - GeorgiaBEST Degree Works Managed Services - GeorgiaFIRST Financials - Web Services (

View full scheduled maintenance details

---

Operating System (OS) Maintenance

Wednesday, November 10, 2021, at 11:00 p.m. (9 p.m. for non-production services) - Thursday, November 11, 2021, at 7:00 a.m.

During this period, the following services may be intermittently unavailable:

- Data Warehouse and Business Intelligence – Authentication - EBOR - PPV - Georgia Archives: Content Manager - GeorgiaBEST Banner Managed Services – Axiom, BDM and Recruit Services - MOVEit Managed File Transfer (files.usg.edu) - SSC MoveIT - SSC Phones - SSC VPN - TeamMate Audit Management Legacy Archive System - USO Active Directory - USG Foundation Accounting Service - USO VPN

View full scheduled maintenance details

---

USG Technology Status Updates

Check the Operational Status of University System of Georgia Information Technology Systems and Services. 

---

WEEKLY COMPUTER MAINTENANCE

EMPLOYEES: On Mondays, save your work AND log-off your office computer at the end of work. Do not restart or shut down your computer.

IT routinely performs required maintenances on office computers to ensure security patches and applications are up to date and performing at their best. If and when your computer has been targeted for maintenance, you will receive a pop-up notification stating that a maintenance is required and to restart your machine so that updates can take effect. As a best practice to prepare for weekly maintenances, we encourage you to use OneDrive to store and backup your files routinely.

Sample notifications (minutes remaining to restart time will vary from image):







---

BANNER AND DEGREE WORKS SCHEDULED MAINTENANCE:

Information Technology Services (ITS) has a standing maintenance schedule for their GeorigaBEST Managed Services (Banner and Degree Works) as follows:

1st/3rd Friday of each month; 10pm – 7am

These schedules are used to perform upgrades, patches, backups, and other routine tasks.

IMPACT: Depending upon specific maintenance requirements, services may not be available during this time and/or it may not be necessary for ITS to use any or all of this reserved time.

Please refer to https://status.usg.edu for all maintenance related and service affecting outages. 

---

COVID-19 Scams and Misinformation

Dear Blazers:

As the COVID-19 outbreak continues to evolve, bad actors are taking advantage of the situation to not only spread misinformation through social media and websites but are also using phishing emails to obtain personal information or spread malicious software.

Here are some tips to avoid being victimized.

Obtain information from trusted sources. Refer to the World Health Organization (WHO) (https://www.who.int), Centers for Disease Control (CDC) (https://www.cdc.gov) and the Georgia Department of Public Health (https://dph.georgia.gov/) for official information on COVID-19.
Check email addresses and links. Inspect web links by hovering your mouse pointer over the URL to see where it leads. Review the sender's email address.
Beware of online requests for personal information. A COVID-19 themed email requesting personal information like your Social Security number or login information is a phishing scam. Never respond to these emails.
Watch for spelling and grammatical mistakes. If an email includes spelling, punctuation or grammar errors, it is possible this is a phishing email.
Look for generic greetings. Phishing emails are likely to use greetings like "Dear sir or madam." These usually signal an email is not legitimate.
Avoid COVID-19 themed emails requiring an immediate response. Phishing emails often create a sense of urgency. Stop-Think-Then Click.
Report suspicious institution emails. Contact the USG Enterprise Service Center at helpdesk@usg.edu (706-583-2001) if you receive suspicious email from your institution account.

Be well and be cyber-safe!

---

Really Interesting IT News & Media

NEWS:  

Congratulations Clinton Cauley

Congratulations to VSU IT Enterprise Applications and Analytics's Clinton Cauley on his receiving the Excellence in Service for Classified Staff Award. Clinton is a Programmer Analyst Associate and has been working for VSU since 2011. He "is held in high esteem by coworkers and clients alike and treats everyone with humility and grace". Clinton was described as an "exceptional IT professional" and someone who "truly represents what the Blazer Creed is all about". He was "integral in collaborating... to determine how to successfully migrate... to the new version of banner." VSU IT is extremely proud of Clint's accomplishments and his positive impact on the VSU community.

This award is given to full-time staff members who have worked for VSU for at least three years. These awardees are nominated by fellow full-time staff or faculty for their high stands of service, exemplary performance, and leadership skills. To learn more about this award visit the Staff Excellence Awards Page.

IT Strategic Plan Summary

We've updated our Strategic Plan that includes our revised mission and vision statements; as well as, the tactics and governance pillars we use to fullfil our purpose in serving the VSU community. Click the image to read details.

---

2020 Orientation - Information Technology

Featuring: Benjamin Li, Deputy Chief Officer, Technical Support Services and Cathy Sowa, Information Security Associate, Information Security

---

We would like to share a special tribute to honor our IT student employees and staff who graduated this semester.

---

 

Congratulations, Cathy Sowa!

Cathy Sowa, an Information Security Associate at Valdosta State University is among the 100 finalists in the U.S. Cyber FastTrack competition who has been awarded a $22,000 scholarship to attend the SANS Technology Institute's undergraduate certificate program in Applied Cybersecurity. Read more about it here!   



This past fall, we launched a completely new and updated version of the MyVSU Portal. Many of you provided valuable feedback on how could improve the look and function of the portal. As a result we ask that you test a beta version of the suggested changes and provide even more feedback.



Valdosta State implemented the Visual Schedule Builder (VSB)

VSB helps you to create a schedule based on the courses and times that work best for you. This real-time class scheduling tool arranges your selected courses into conflict-free timetables and displays them in an easy-to-read weekly schedule.

For more information and guidance, visit the Office of the Registrar's site 


The new Ellucian Banner 9 Admin Pages will be deployed on October 22, 2018.

Replacing the current Banner 8 Forms (INB) version, Banner 9 Admin Pages will deliver noticeable improvements:

a modern user interface
enhanced navigation and process management tools
new functionality across the student, HR and finance utilities, and
the ability to run from a variety of web browsers (Chrome, Firefox, Safari, Edge) and mobile devices (tablets and phones)

---

The 2018 Division of Information Annual Report is now published. The report highlights several impactful projects completed during the 2017-2018 fiscal year, upcoming projects, and the staff within IT that help make the VState experience possible.
 

VSU WiFi Upgrade:  The Division of Information Technology is proud to announce that, while supporting over 3.2 million square feet of coverage, we have increased the bandwidth for the campus residential network by 150% (from 2 gigabits per second to 5). This increase will provide faster and more reliable connectivity for academic and residential needs while also adding support for high-definition (HD) media streaming and increased simultaneous connections.

VSU Solutions Center: Brian Haugabrook, Chief Information Officer
Thinking outside of the 'IT box' brought about the inception of Valdosta State University Solutions Center.

Ryan Hogan, Director of Admissions
Talks about how the Solutions Center has impacted perspective and current students.

The VSYou experience: Sterlin Sanders, Director of Technical Support Services
From a student to a leader who encourages staff and student techs to EAT!

---

Subscribe to VSU Division of Information:
YouTube Channel | Twitter | Blog | Facebook

---

Want to work for VSU IT?

Job Postings:

Check here for current IT job postings or visit Handshake using the QR code or link below for more information:

Check out our jobs on Handshake here

---

Applications and Analytics Intern


Closes: December 10, 2021
Salary: $10.75/hour
Part-Time

Job Requirements

Must be a current Valdosta State University student enrolled for six or more credit hours and maintaining at least a 2.0 cumulative grade-point average
Willingness to learn and work in a team environment

For job description and to apply visit Handshake

 
Mark your calendar!

Fall 2021 IT CYBERSECURITY COMPLIANCE TRAINING
October 1 – 29, 2021
As mandated by the Georgia Governor's Office and the University System of Georgia, all VSU employees, including faculty, staff, adjunct instructors, student employees and graduate/teaching assistants, must complete the IT Cybersecurity Compliance Training semiannually. Remember that cybersecurity awareness allows each of us to work and learn in a more secure digital environment.
For more information visit the VSU IT's CyberSecurity Training Page
---
Virtual IT Orientation
---
THE STUDENT TECH GUIDE - Your ultimate resource for learning about the technologies available to you at VSU.

---
VSU Division of Information Technology strives to bring you innovative and transformational solutions.
Our purpose is to support the University's mission of teaching and learning, research, and service by expanding access to sound, secure, and sustainable technology. Our goal is to provide you with the tools and resources you need to do what you do best . . . be a proud Blazer!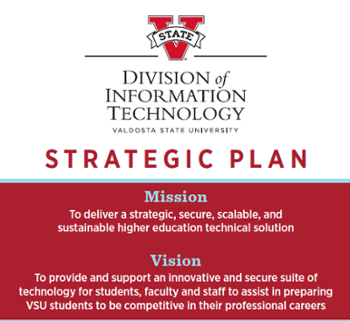 ---
Has an IT staff provided exceptional service to you? Submit an I Caught You Caring Card!
229.245.4349
Campus Address
1500 N. Patterson St. Valdosta, Georgia 31698
Mailing Address
1500 N. Patterson St.
Valdosta, GA 31698

VSU Solutions Center


Eastern Standard Times

Mon-Thurs: 8 am - 7 pm

Friday: 8 am - 5 pm


Saturday: 9 am - 2 pm

Sunday: 9 am - 3 pm