Welcome to the Counseling Center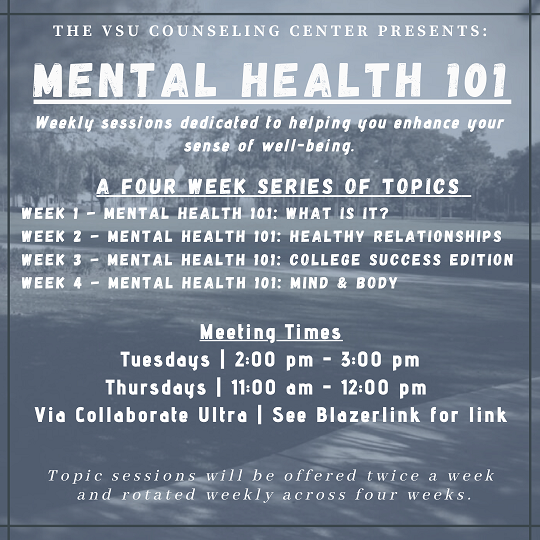 MENTAL HEALTH 101
Meeting virtually via Collaborate Ultra! 
COVID-19 Counseling Center Update
For the duration of Fall Semester 2020, The VSU Counseling Center will offer primarily telemental health counseling services (telephone or video call -using Microsoft Teams-). Our intake model has also changed, in an effort to expedite access to services; for details, go to the "Our Services" page.
All students are reminded that the Counseling Center maintains 24/7 mental health emergency access. If you are experiencing a mental health emergency, please contact one of the following:
-Call the Counseling Center (229) 333-5940 at any time. Counseling staff will be available during regular office hours, 8am-5:30pm M-Th and 8am-3pm Friday. At all other times, phone calls will be automatically directed to a FoneMed on-call Triage nurse for emergency services.
-Georgia Crisis and Access Line (GCAL) 1-800-715-4225
-National Suicide Prevention Lifeline 1-800-273-8255
-Crisis Text Line, Text HOME to 741741
-Call 911
Student Resources to utilize during Social Distancing:
https://www.valdosta.edu/administration/finance-admin/campus-wellness/student-resources.php
Welcome to the VSU Counseling Center!
The VSU Counseling Center acts as a holistic resource to the campus and community, empowering individuals for success in academic, professional, and personal pursuits. Each of our counselors are professionally trained and licensed and all have a genuine passion for working with college students.     
229.253.4113
Campus Address
Student Health Center, 2nd Floor 1500 N. Patterson St. Valdosta, Georgia 31698
Mailing Address
1500 N. Patterson St.
Valdosta, GA 31698

Monday-Thursday, 8:00am-5:30pm

Friday, 8:00am-3:00pm