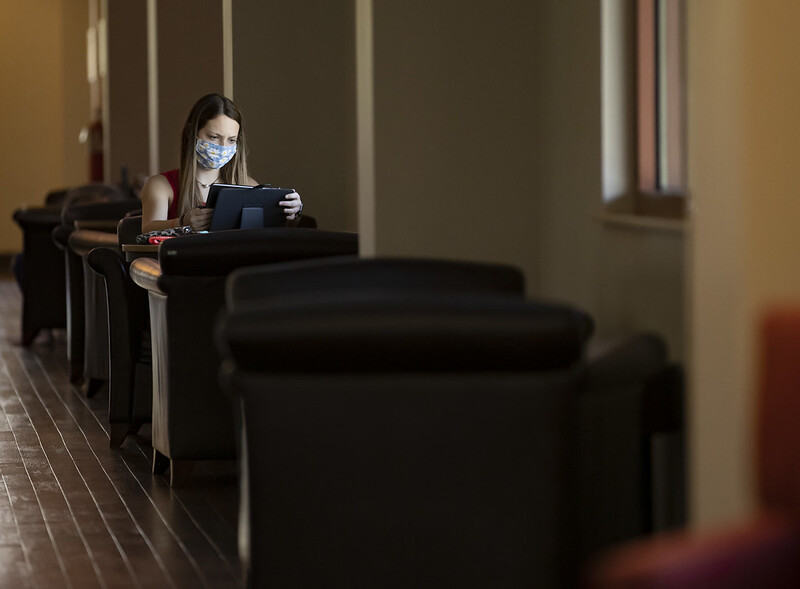 Acceptance is based on:
(1) Min. 30 semester or 46 quarter transferable hours (2) Min. 2.0 GPA (3) Complete remedial coursework (4) Complete CPC deficiency
Each year VSU welcomes students who either transfer from other colleges and universities or have earned two-year degrees and plan to complete their studies at VSU. Students who have earned at least 30 hours of college credit enter VSU as transfer students.
VSU team members can assist you in making the transition, including transcript evaluation and guidance in selecting a major. We work one-on-one with students to help them make the best decisions regarding completing a college degree.
---
Application Instructions:
Complete application for admission

Submit official transcripts from each college attended

Transcript mailing address:


Valdosta State University
Office of Admissions
1500 N. Patterson St.
Valdosta, GA 31698
OR
 Have them submitted electronically to: admissions@valdosta.edu
3. Verification of Lawful Presence
Required by the Board of Regents to prove lawful presence in the US
Acceptance is based on the following criteria:
Minimum 30 semester transferable hours or 46 transferable quarter hours
Minimum 2.0 cumulative GPA on all attempted coursework
Completion of all remedial coursework
Completion of any College Preparatory Curriculum (CPC) deficiency
If a student has fewer than 30 semester hours of transfer credit, freshman admission standards will apply. See Freshman Requirements.
---
Evaluation of Transfer Credits
Upon acceptance, within 7-10 business days, students will receive a transfer evaluation sheet showing all courses that transfer to Valdosta State University.
Transfer credit is granted based on the following criteria:
VSU grants transfer credit for courses taken at regionally or nationally accredited colleges and universities.
For credit by exam equivalencies, please visit the Exam to College Course Tool website
VSU gives credit for Technical Colleges with a COC accreditation. For a complete list, please visit Acceptable Courses from Technical Colleges web site.
VSU does not have a "forgiveness policy" for repeated grades.  All grades from academic courses are listed on the student's VSU record.
If you have completed the General Education core requirements at a University System of Georgia college, you do not have to meet VSU's general education requirements as long as you maintain the same major in transfer.  A change of major may affect areas of the core.
Core is considered complete, with the exception of lower division pre-requisites, for all students who have earned a bachelor degree prior to enrollment at VSU.  Advisors will assist you in an upper division program of study.
Transfer courses will be assigned VSU course numbers if they are equivalent in content and level.  For those courses without an exact equivalent, the course will be assigned a number based on the level of the class.  All 1000 level will transfer as 1XXX, 2000 level as 2XXX, etc.  If these courses are not marked as core, your advisor will determine how to use these courses in your program of study.
The following codes may appear on your evaluation of credit:

% following a grade means the course was used to complete a high school course deficiency and cannot be used toward a degree
a letter in parentheses following a course  indicates the core area from a previous University System of Georgia college
the letter "R" in front of a grade means the course was repeated

Students transferring HIST 2111/2112 or POLS 1101 from a college outside Georgia must take a Georgia exemption exam
Although a transfer student may be admitted to VSU with a 2.0 cumulative grade point average, admission to the major is not guaranteed. If your intended major is listed below, be sure you meet the major requirements before applying for admission.
**Art Education – 2.75
Dance-audition required
Interior Design – 2.5 and an approved portfolio
Mass Media – 2.50 GPA in Area F courses
Music Performance – audition required
Communication - 2.25 GPA average in Area F courses
Public Relations - 2.25 GPA average in Area F courses
Theatre (Performance and Musical Track) - audition required
Upon being admitted to VSU, students are eligible to declare a business major and be admitted into the Langdale College of Business.
Students must have at least an overall GPA of 2.0 to take 3000 & 4000 level business courses.
A minimum grade of "C" in the following courses is required: ACCT 2101 & 2102, BUSA 1105, BUSA 2106, BUSA 2201, BUSA 2100, ECON 2105 & ECON 2106.
American Sign Language/Interpreting-2.75
**Communication Disorders – 3.0
**Early Childhood Education – 2.75
**Early Childhood Special Education-2.75
**Middle Grades Education – 2.75
**Physical Education – 2.75
Psychology - 2.5
**Special Education/Deaf Education– 2.75
**All teacher education programs require a passing grade on the GACE Program Admission Assessment (250 or higher on each of 3 parts) or appropriate exemption.
Dental Hygiene – GPA 2.5; applicants are competing for a limited number of annual slots (currently 15)
Exercise Physiology – 2.75; There is a separate exercise physiology application
Nursing 2.8 for consideration
(Applicants are competing for a limited number of slots. There is a separate nursing application. Please visit the College of Nursing & Health Sciences web site for more details on the process.)
Some programs of study may have additional admission requirements.  Requirements are subject to change.  Please see catalog or contact your intended major department if you have questions.
Students transferring from a University of Florida School should check out our 2+2 Program!
Students who have completed or are working on their A.A.S. should review our Pathways Program information.