Cascade is an online content management system (CMS) that enables approved users to design and maintain their Valdosta State University departmental webpages. It is also the CMS that Web Services uses to maintain the overall university website, including the home page, colleges' splash pages, the campus directory, and more.
Cascade uses a WYSIWYG (what-you-see-is-what-you-get) editor; so you don't need to know HTML coding to use it. It's accessible from any computer with an internet access and no special software is required.
Learn More about Cascade
NEW USERS: To gain editing rights to your departmental site, you must first attend a Cascade Training. Typically, at least one session is offered each month. Experienced Cascade users are welcome to attend trainings as refresher courses any time. Once you have successfully completed training, Web Services will create your account based on the information you provide:
Name

 

and

 

Username
Department, Division,

 

or

 

College site

Publisher

 

or

 

Author Rights

 

-

 

What's the difference?
An Author and a Publisher can create and edit content. However, those who have Author rights cannot directly publish content without generating a Workflow. A Publisher must first review and approve the content generated by the Author before it can be published (go live). A Publisher can also bypass the 'Start Workflow' prompt and approve his/her own work.
---
LOG IN TO CASCADE
Cascade CMS is available from any computer with internet access.
Open your preferred web browser
Navigate to

 

https://link.valdosta.edu
Enter your VSU Username

 

only

 

and Password, click Login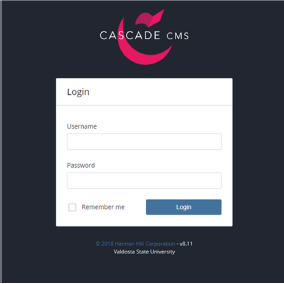 Tip: A link to Cascade CMS is also listed on the MyVSU login screen below the Sign In button.
Classes are free to VSU employees, including student employees and graduate assistants, who are responsible for editing departmental websites. 15 participants max; 3 participants minimum to conduct training; otherwise canceled one day prior. Dates, times, and location subject to change. Additional training may be offered throughout the semester.
CASCADE PART 1 (REQUIRED) - Odum 2633
The Cascade Basic class is required for those who are assigned to edit their departmental website.
This training can also serve as a 'refresher' for those who already have access. Training topics include: Login, Dashboard, Sites, Asset Tree Create, Edit, Publish, Live, Unpublish, Delete Assets: Pages, Images, Files, Folders My Content: Recent, Drafts, Locks, Workflows
September 13, 1 pm - 4 pm

September 20, 1 pm - 4 pm

October 9, 2 pm - 5 pm

November 2, 9 am - 12 pm
November 27, 1 pm - 4 pm 
CASCADE PART 2 - Odum 2633
This training picks up where Cascade Basic left off and introduces web editing features such as embedded video, _info page, modules, forms, and more. The training is intended for those who already have the right to edit their college or departmental website. Prerequisite: Cascade Basic.
September 14, 10 am - 12 pm
September 21, 1:30 pm - 3:30 pm
October 10, 2 pm - 4 pm
November 3, 9:30 am - 11:30 am
November 29, 1 pm - 3 pm
MODERN INTERFACE:  
a new look with larger fonts, a new color scheme, and a different layout
ADD CONTENT MENU:  the New menu has been replaced by the Add Content menu. To add new assets to your site, click the pink circle with a plus sign.

ICON COLORS:  icons for pages, blocks, files and links are now grayish black instead of blue and green; folder icons are still yellow.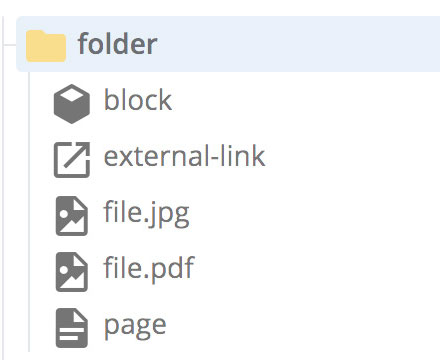 ASSET NAME: the System Name field is now called Page Name (or File Name or Link Name). The name in this field also appears in the URL address.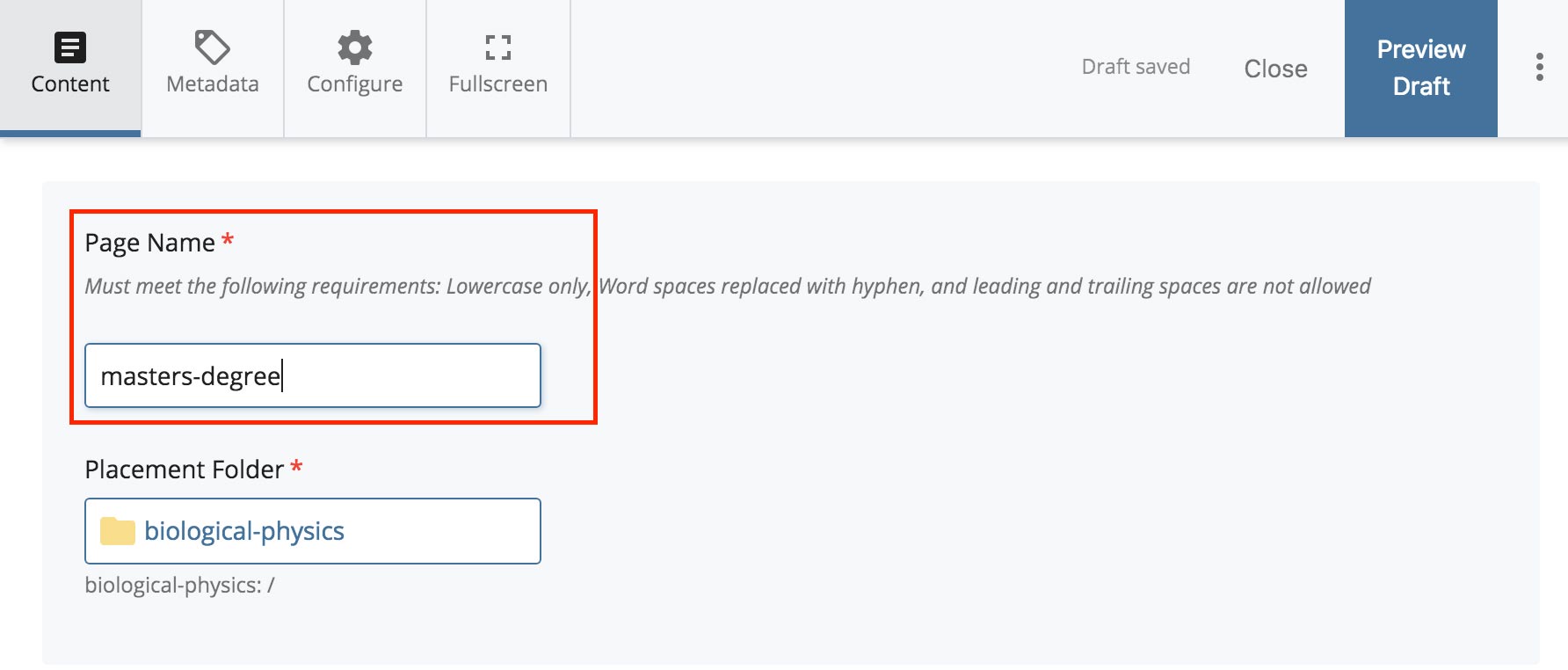 UPDATED EDITOR: the WYSIWYG editor has a new look with formatting options located in different places.

PREVIEW FEATURE: This feature shows a live preview of each edit you make; it refreshes automatically each time you make a change in the edit screen.
To resize the preview: Drag the divider between the preview and the edit screen.
To hide the preview: Click

 

Hide Edit Preview.
To hide the edit screen: Click

 

Preview Draft

 

to view a full-page version of the preview.
HannonHill Instruction Video (No audio):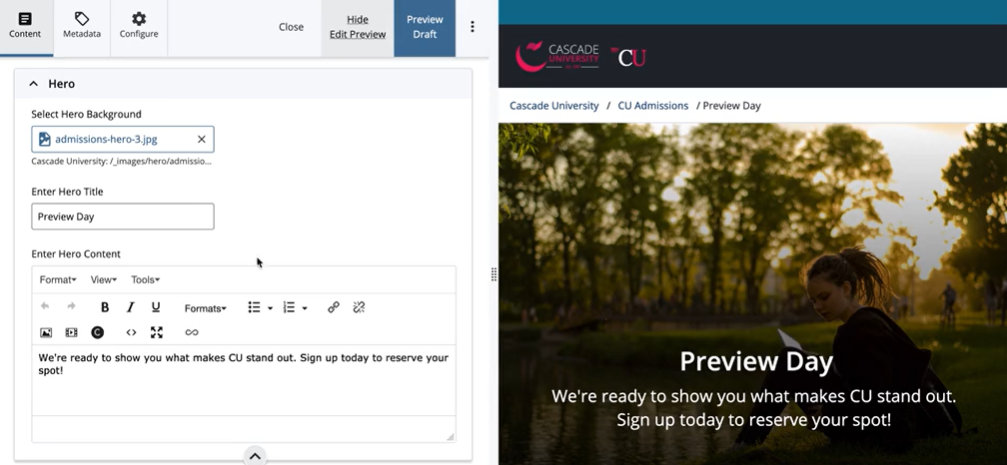 IMAGE ALIGNMENT: align an image inline with your text by selecting align-right from the Class dropdown instead of using the Advanced tab within the Insert/Edit Image editor.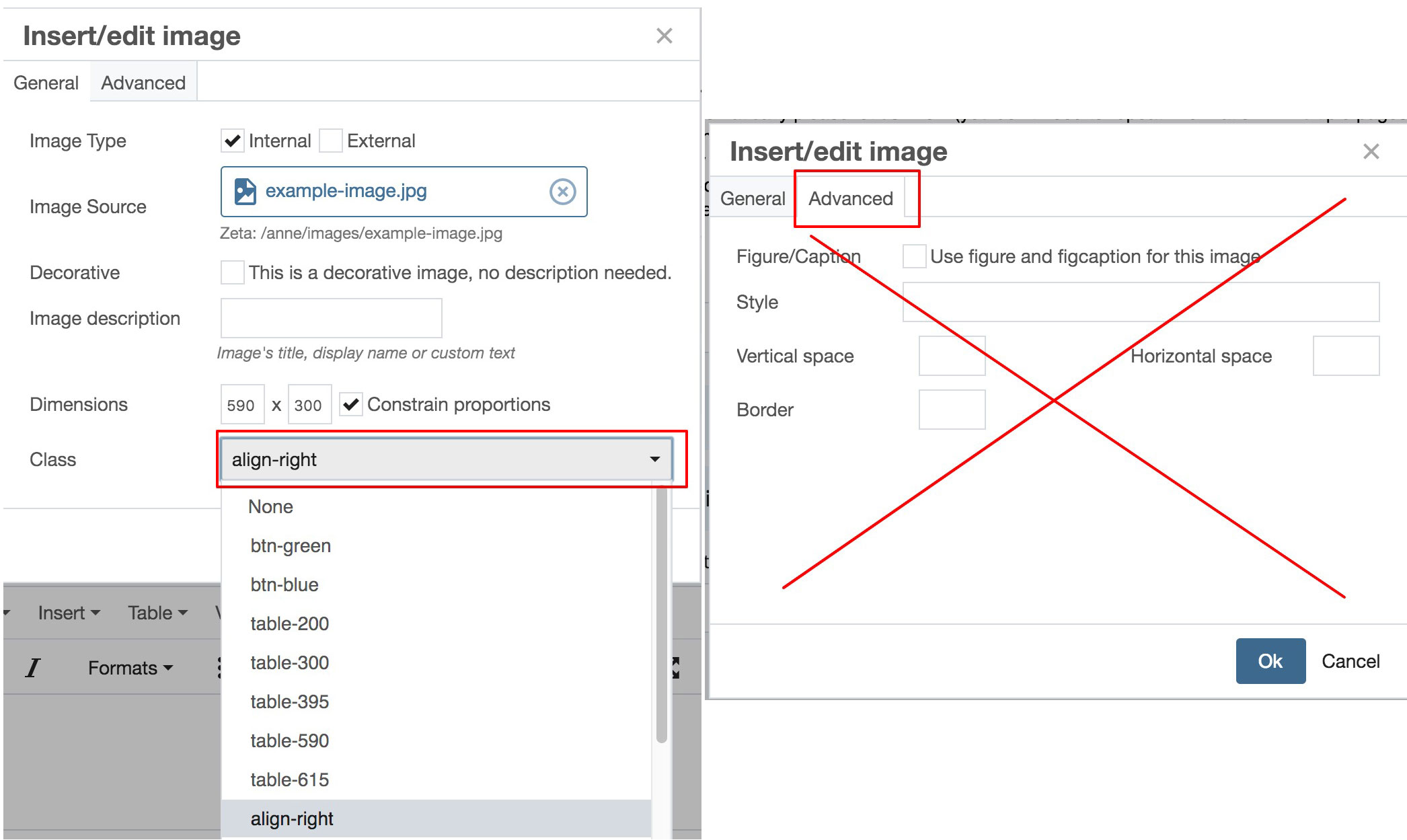 CHECK CONTENT & SUBMIT: use the new Check Content & Submit button to check for broken links and spelling before submitting an asset.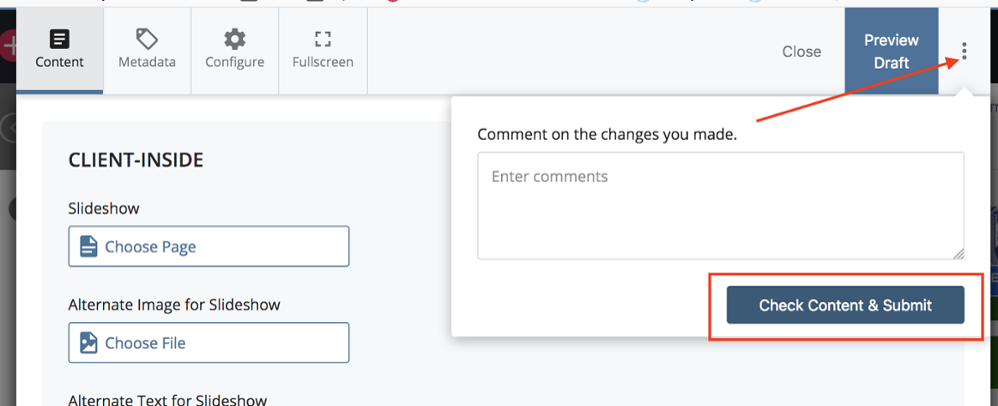 SUCCESS MESSAGES: notifications that an action was completed successfully now appear at the bottom of the screen instead of at the top.
TRASH: formerly named the Recycle Bin, Trash is now located in the Site Content Menu and contains deleted assets. Assets can still be restored for 30 days from the Trash.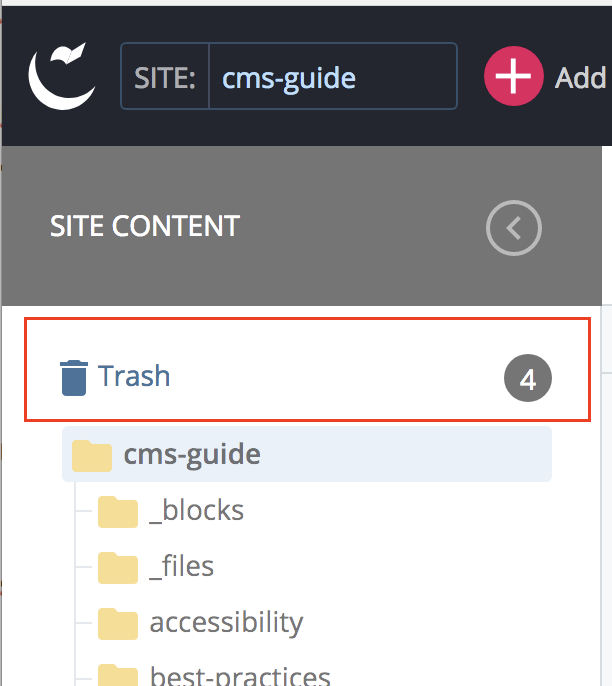 Division of Information Technology
1500 N. Patterson St. Valdosta, Georgia 31698
Mailing Address
1500 N. Patterson St.
Valdosta, GA 31698
Solutions Center
Fax
Fax: 229.245.4349

Sun: ClosedMon - Thurs: 8am to 6pmFri: 8am to 5pmSat: Closed