Join the VSU Information Technology Team
Here at VSU IT, our vision is to provide and support an innovative and secure suite of technology for students, faculty, and staff to assist in preparing VSU students to be competitive in their professional careers.

It takes a Team to make that vision a reality. 
VSU IT offers both staff positions and student employment opportunities:

Available Positions
Network Services Tech 1 (Onsite)
Project Admin | Job ID: 250229

Job Description: Provide support to the university data network and the campus wireless network. Responsibilities include working together to ensure all campus users and staff have consistent, reliable, and efficient wired and wireless connectivity to available resources. Typical allocation of duties includes, but is not limited to, Customer support, professional development, and monitoring network performance.
Job Requirements
Associate's degree

One (1) year of related work experience
Apply online thru OneUSG https://careers.hprod.onehcm.usg.edu
Systems Services Student Assistant
$7.27 to $10 per hour | Job ID: 7643810
Job Description: The Systems Services student assistant works in the Identity and Enterprises Services (IES) team to assist with systems engineering and design with identity-based services, endpoint solution integrations, management & security of services/endpoints. This student assistant position will assist in supporting management of accounts, administration of services & endpoints, security of servers & endpoint devices. This position will assist in both executing and improving established procedures to include user provisioning, scripting, management of data/applications and documentation and will provide end-user support to campus faculty, staff, and students.
Job Requirements
Must be current VSU student enrolled for 6 or more credit hours with at least 2.0 GPA
Must have at least one semester of classwork completed at VSU
Strong written and verbal communication skills
Willingness to learn and work in a team enviornment
Preferred
Familiarity with VSU accounts and Campus Technology
Current major in computer science ot somputer information systems
Knowledge of PowerShell or similar scripting/programming background
Expierence with front line customer service and support
 Apply thru HANDSHAKE: https://app.joinhandshake.com/stu/postings?page=1&per_page=25&sort_direction=desc&sort_column=default&query=7643810 
IT Solutions Center Student Assistant
$8.34 per hour | Job ID: 5190994

Job Description: The Solutions Center, VSU's own first-tier support inbound call-center, acts as the initial point of contact for callers that need assistance related to Admissions, Housing, Residence Life, and Information Technology-based queries. Student Assistant employees are expected to quickly and correctly address and resolve said issues via phone, email, or social media. To this end, it is of the utmost importance they possess an enthusiastic, personable attitude in conjunction with:
strong, reliable work ethic
willingness to take ownership of customer needs
self-sufficient, learning-oriented, and tech-friendly mindset
knack for effective verbal and written communication
passing familiarity with Valdosta State processes and technological services
Additional responsibilities include (but are not limited to) the development and maintenance of student assistant training content, an active role in both internal and external communication, and a support for university and division initiatives. Shifts availability range from 8:00 AM to 7:00 PM Monday thru Friday and may include weekends.
Job Requirements

Must be both attending VSU and completing VSU degree requirements

2.0 Cumulative GPA

Enrolled in at least 6 Credit Hours at VSU

Valid Driver's License

Strong verbal (presentations, speeches, etc.) and written communication skills
  Apply thru HANDSHAKE: https://app.joinhandshake.com/stu/postings?page=1&per_page=25&sort_direction=desc&sort_column=default&query=5190994 
There are no available grad student positions at this time.
Student Employment Opportunities. All Majors are Welcome.
job shadowing
student assistants
graduate assistants
intern opportunities
All of our opportunities give insight into how the IT department works within a large organization and allows the cultivation of relationships for recommendations, future employment, and much more.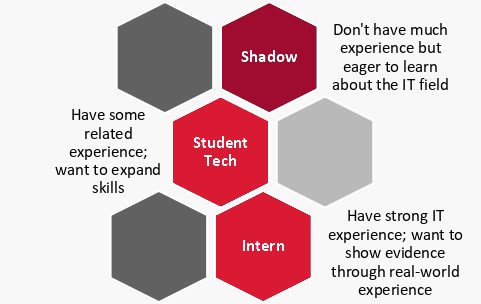 What's your area of interest?
Assets Management
Call Center & Tech Response Unit
Desktop & Classroom Technologies
Networking & Information Security
Project Management & Budgeting
Systems Administration & Programming
Training & Communication
If you are interested, email itj@valdosta.edu or contact Career Services at 229-333-5942 or www.valdosta.edu/career 
Also, here are some links and resources that could better assist you with more information regarding what you need:
Blazing Careers (Handshake) | Career Opportunities & Volunteer Services  | Graduate Assistantships | Human Resources and Employee Development | Student Opportunities in IT (Powerpoint) 
Division of Information Technology
1500 N. Patterson St. Valdosta, Georgia 31698
Mailing Address
1500 N. Patterson St.
Valdosta, GA 31698
Fax: 229.245.4349

VSU Solutions Center


Eastern Standard Times

Mon-Thurs: 8 am - 7 pm

Friday: 8 am - 5 pm


Saturday: 9 am - 2 pm

Sunday: 9 am - 3 pm