Join the VSU Information Technology Team
Here at VSU IT, our vision is to provide and support an innovative and secure suite of technology for students, faculty, and staff to assist in preparing VSU students to be competitive in their professional careers.



It takes a Team to make that vision a reality. 
VSU IT offers both staff positions and student employment opportunities:
Available Positions
Student Employment Opportunities. All Majors are Welcome.
job shadowing
student assistants
graduate assistants
intern opportunities
All of our opportunities give insight into how the IT department works within a large organization and allows the cultivation of relationships for recommendations, future employment, and much more.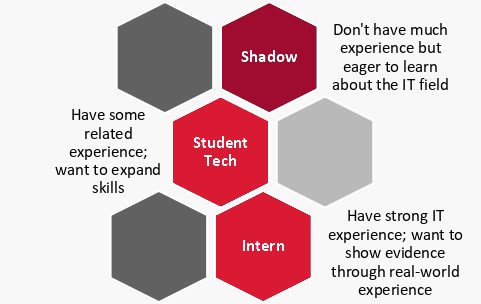 What's your area of interest?
Assets Management
Call Center & Tech Response Unit
Desktop & Classroom Technologies
Networking & Information Security
Project Management & Budgeting
Systems Administration & Programming
Training & Communication
If you are interested, email itj@valdosta.edu or contact Career Services at 229-333-5942 or www.valdosta.edu/career 
We currently do not have any open student assistant positions. When availible, apply through Handshake 
 https://joinhandshake.com/
There are no available grad student positions at this time.
Division of Information Technology
1500 N. Patterson St. Valdosta, Georgia 31698
Mailing Address
1500 N. Patterson St.
Valdosta, GA 31698
Fax: 229.245.4349

VSU Solutions Center


Eastern Standard Times

Sun: Closed

Mon - Thurs: 8am to 6pm

Fri: 8am to 5pm

Sat: Closed