Blazing Careers (Handshake)
Students: Looking for a job or internship?
Access Blazing Careers to view on- and off-campus jobs and internship opportunities. Connect with multiple employers across the nation seeking to recruit our talented, innovative Blazers. Register to attend in-person and virtual career fairs, events, workshops, and informational sessions.
If you have not completed registration for Blazing Careers (Powered by Handshake), please finalize your registering using your MyVSU login username and password.
You can access Blazing Careers (Powered by Handshake) at any time on the MyVSU page at the top "Get Involved" box. You also can access it from the "View All Portals" drop-down menu. Need help? Contact careerops@valdosta.edu or (229)333-5942. We are located in Student Union 2nd Floor Suite 2218 behind Starbucks.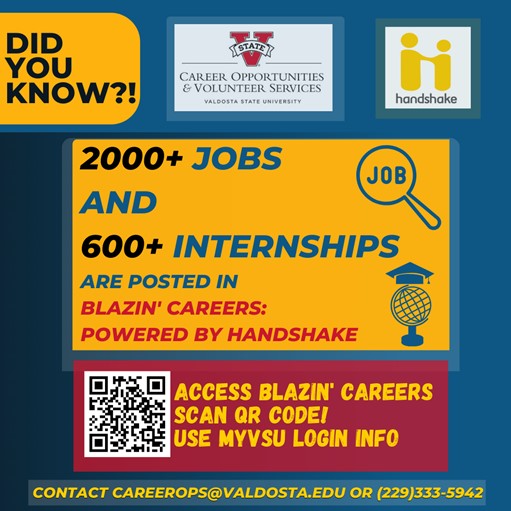 ---
HIRING MANAGERS: STUDENT EMPLOYMENT SUPERVISOR
Welcome VSU Hiring Managers! Valdosta State University boasts over 1000 student employees in nearly every department across campus. The Student Employment Initiative is facilitated by the Office of Career Opportunities, which includes assistance to student employees and hiring managers.
The Office of Career Opportunities collaborates with Human Resources as well as Financial Aid, serving as an intermediary for hiring managers, student employees and departments.
Please be aware that all on-campus student employment opportunities MUST be posted to the Blazing Careers, powered by Handshake (Please note that this link will take you to an external website). For assistance, please contact Darius L. Anthony at dlanthony@valdosta.edu or 229-333-5942.  
---
External Employers: Introduction to Handshake
Handshake is now the #1 platform at the Nation's top universities.  We launched this new resource to provide more internship and employment opportunities beyond college. We want YOU to be a part of the many employers that recruit from Blazer Nation! Students and alumni will have a chance to complete their profile by telling their interests, skills, and background! Career Centers and universities that upgrade to Handshake report increased engagement, employment, and internship placement.  Handshake helps every student find meaningful work in all majors by serving as a conduit to establish mutually beneficial relations between both the students and employers.
To create a Handshake account, please click here.
For detailed instructions on creating your Handshake account, please click here.
*Be sure to create an Employer account by selecting "Are you an employee? Sign up here."
If you need assistance with posting jobs, please click here.
Please note that these links will take you to an external website. For assistance, do not hesitate to contact the Employer Relations Team at emprelations@valdosta.edu or 229.333.5942.
Career Opportunities
Student Union, 2nd Floor, Room 2218 Valdosta, Georgia 31698
Mailing Address
1500 N. Patterson St.
Valdosta, GA 31698
Fax: 229.259.5515