Adobe Creative Cloud (Adobe CC) v2019.1 is being installed on computers in campus classrooms and labs, including instructor workstations. Adobe CC is a collection of software used for graphic design, video editing, web development, and photography (e.g., Photoshop, Premiere, and Illustrator). To access the new Creative Cloud applications in classrooms/labs where installation has been completed, you will be prompted to log in using the VSU Enterprise Identification.
Here's how to log in to Adobe CC:
1.      Open your desired Adobe Application (e.g. Acrobat DC, Photoshop, etc.)
2.      When prompted to sign in to Adobe CC, type your VSU Email Address and press Enter 
NOTE: If prompted with the choice of signing in using an Adobe ID or Enterprise ID, select the Enterprise ID.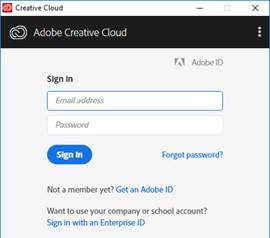 3.      You will be redirected to the familiar MyVSU login screen. Key your VSU email address and password.
That's it! You now have access to your selected application as well as any other Adobe CC application while logged in to campus classroom or lab computers.
---
Create and Save your work as usual (or as directed by your instructor when applicable).  
Sign out of the Creative Cloud Application(s)
Select Help from the Menu Bar.
Select the appropriate Sign In/Sign Out or Sign Out option
When prompted, click the Sign Out button 
Your current application will close AND you will be automatically signed out of all Adobe CC applications. If other Adobe CC applications were opened, you will need to manually Exit (X) the application(s). 
 For best practice, restart the lab machine at the end of your session. This will ensure you are completely logged out and your personal data is secure.  All session history will be erased upon reboot.
Division of Information Technology
1500 N. Patterson St. Valdosta, Georgia 31698
Mailing Address
1500 N. Patterson St.
Valdosta, GA 31698
Solutions Center
Fax
Fax: 229.245.4349

VSU Solutions Center


Eastern Standard Times

Mon-Thurs: 8 am - 7 pm

Friday: 8 am - 5 pm


Saturday: 9 am - 2 pm

Sunday: 9 am - 3 pm