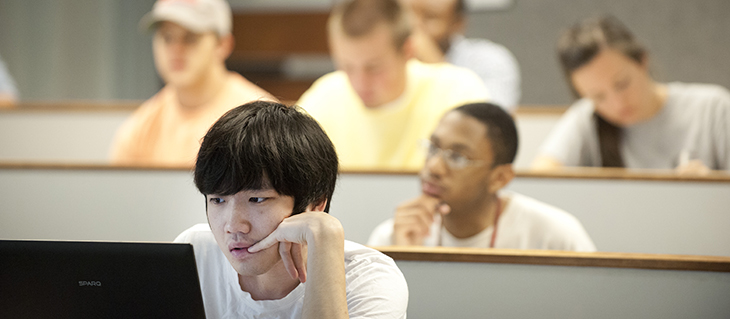 Teacher Workstations
Valdosta State University classrooms provide teaching and learning environments that allow users to share online and local computer content and connect various hardware. Although the technology and layout of classrooms may vary slightly throughout campus, each room is equipped with a presenter workstation that is outfitted with the following components:
a computer with a built-in camera or an attached camera (Note: Most classrooms now have all-in-one computers; however, some may still have a monitor and a separate CPU unit.)
an A/V unit (audio/video) that is controlled through a hardware device or a software application
a boundary microphone or podium microphone
a projector system, including a drop-down projector screen; and
a few classrooms may be equipped with a document camera and DVD player.
Instructors:
View Best Practices & Tips for Using Classroom Technology
Students: View Best Practices & Tips for Using Classroom Technology
How to Use the Classroom Equipment
Login to Teacher Workstation

Two ways to login:

The sc_instructor account (username and password posted on desk in each room); or
Your active directory credentials (your VSU username and password) so you can access your own files and applications

Note: You will be prompted to install Microsoft Teams the first time you log in. This is a quick, one-time only installation per user. After the installation is complete, the Teams icon will be placed on the computer Desktop.

*Remember to log out of the computer when finished.

---

After turning on the computer (if necessary) and logging in, the installed A/V unit makes using the technology in each classroom easy. Although the type of A/V unit varies, they all serve the same function. With a push of a button, you can

turn on/off the projector; raise/lower the projector screen
switch between input devices (PC, laptop or document camera when available)
adjust or mute audio
and select a privacy mode for when you do not wish to display the onscreen information to your audience.

Classroom Equipment Overview & Audio Settings Video

Watch Video-Classroom Equipment Overview
Showcases AIO computer, Audio settings for Microsoft Teams, and Tips (Note: The system demonstrated is the Extron; not the XPanel as mentioned in video.)

Sound Settings
Typically, you should not need to change the sound settings; but if you do, here's how:

 In Windows search bar, type audio.
Select Audio settings
Click on Sound settings
Select Output device: ExtronScalerD
Select input device: Microphone (USB audio CODEC)

In Microsoft Teams:

Click your Profile (in upper right corner)
Click Settings > Click Devices
Speaker: ExtronScalerD
Microphone: Microphone (USB audio CODEC)

When sharing your screen in Microsoft Teams, select 'Include System Audio' if prompted.

Helpful Tips

 In-person student computers do not have microphones or cameras.
You may need to manually rotate the computer screen to get desired camera angle.
The boundary microphone is always on. A blue light indicates that it is functioning.
Initial logins will prompt a one-time teams installation since the team's login is user-specific.
If a shared PowerPoint has an embedded video, share the Desktop screen for best results.

Black Box Hardware used to Control A/V Unit

BLACK BOX HARDWARE

In some classrooms, there is a physical black box mounted on the presenter's desk that controls the installed A/V unit known as the Extron system.

*Remember to turn off A/V unit when finished and log out of computer.

---

 

Software used to Control A/V Unit

SOFTWARE

XPanel is a software that is used to control the A/V unit known as Crestron. Similarly to the other units, it controls the projector and allows you to switch between input devices (PC, laptop or other devices when available), adjusts or mute audio and enable privacy mode.

To access the XPanel software, once logged in to the computer, click the tri-colored XPanel icon to power on system.

*Remember to turn off A/V unit when finished and log out of computer.

---

 

Touchscreen used to Control the A/V Unit

TOUCHSCREEN

The touchscreen is undermounted into the physical desk of the presenter workstation and controls the A/V unit known as Crestron. Press down on the flat panel on top of the desk to display the touchscreen.

Read Crestron Touchscreen Guide | Summary

 

 *Remember to turn off A/V unit when finished and log out of computer.

 

---

Wirelessly Connect to the A/V Unit

WIRELESS

Where available, the Kramer VIA system allows you to wirelessly connect your personal devices such as iPhones, Androids, and laptops to the Extron A/V system. For convenience, you can install the Kramer VIA Mobile App that is available at Google Play and the Windows Store or use AirPlay for iOS devices. *Read Kramer Notes

Some key features of the Kramer system inlcude:

BYOD Wireless Collaboration
HDMI Input and HD Video Streaming
Multi-Display Presentations and Dynamic Display Layout
Team Collaboration and Notes

Watch Video-How to Connect to VIA

or

Read Kramer Via Guide

When connecting to Kramer VIA, use the provided Room Name (ex. ol1160.valdosta.edu). Do not use the IP address.
When using iOS devices (i.e., iPads or iPhones), it is recommended that you use Apple AirPlay instead of the Kramer Via mobile app to connect. Otherwise, if you use the Kramer Via mobile app and need to minimize the app, your connection to Kramer may be lost.
Not all Key Kramer Features may be available.
Audio for Android devices may not be supported.

 *Remember to turn off A/V unit when finished and log out of computer.

---

 

Jennett Lecture Hall

Each of the two Jennett Hall lecture rooms is equipped with:

| | |
| --- | --- |
| | |
| Two 6000 lumen laser projectors and three 89" televisions to allow the audience to clearly see what is being projected. | A huddle camera that can track the presenter's movement while on stage; in addition to the stationary built-in webcam typically used during online or hi-flex classes. |
| A touch panel mounted at the teacher's workstation used to control the A/V equipment. | A lecture capture device that allows the presenter to easily record through a USB flash drive. |

For more information on the touch panel system visit the Jennett Hall Technologies Page

Need More Help?
Solutions Center
Fax
229.245.4349
Campus Address
1500 N. Patterson St. Valdosta, Georgia 31698
Mailing Address
1500 N. Patterson St.
Valdosta, GA 31698

VSU Solutions Center


Eastern Standard Times

Mon-Thurs: 8 am - 7 pm

Friday: 8 am - 5 pm


Saturday: 9 am - 2 pm

Sunday: 9 am - 3 pm