VSU Wireless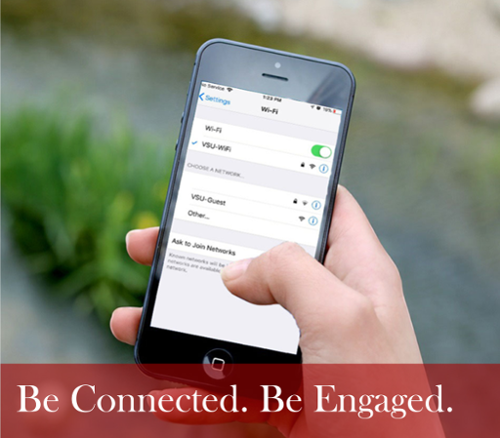 The university's wireless network provides fast and reliable connectivity in all residence halls, academic and administrative buildings, auditoriums and dining spaces. Approximately 1600 access points (AP) are placed in high-density usage areas to support coverage and advanced caching capabilities are implemented to support iOS updates and high-definition (HD) media streaming (i.e. Netflix and YouTube).
The wireless networks are based on these standards: 802.11g/n, 802.11an, and 802.11ac. For the best experience, it is recommended that computers be equipped with a minimum of 802.11ac wireless adapters.
VSU offers 3
WiFi
 networks:
VSU Wi-Fi = a secure and encrypted connection that requires authentication through VSU login credentials. This network is geared for use by VSU students and employees.

VSU-Guest = an open and unsecured connection designed for visitors on campus. By default, a guest account is valid for 5 days.

The VSU-Guest network is also used by resident students to connect gaming and entertainment devices that do not support our advanced 802.1X/AES framework and encryption standards.

eduroam = a secure and encrypted connection that is available to students, faculty, and staff associated with another higher education institution that is participating in the EduRoam project. If available, select eduroam from your list of networks and enter the email address and password from your home institution to connect. Coverage may not include entire campus.
A third-party network is also available:
WAAV-Valdosta = an open WiFi connection that is available on VSU shuttle and athletic buses.
Frequently Asked Questions
1. Are wired connections supported on campus?

Wired connections are available upon request in academic and administration buildings. These ports are for official business and VSU-owned devices only. The rest of campus, including residence halls, run completely on wireless. 

2. What type of wireless connection is recommended?

If available, it is always recommended that a user connects to a secure and encrypted wireless network. VSU offers two encryption wireless networks, VSU-Wi-Fi and eduRoam.  

REMINDER: Be cautious of data that you transmit over unsecured wireless networks. We do not recommend making purchases, completing banking transactions, or similar activities that would transmit financial information or private identification numbers (like Social Security Numbers) over an unsecured/unencrypted wireless network.

3. What wireless frequency should my personal computer support?

Personal computers should support the 2.4 GHz and 5GHz wireless connection.   

We recommend that your workstation supports 5Ghz (802.11a/an/ac/ax).

4. What are the minimum personal computer recommendations?

5. Are wireless routers supported?

No. Wireless routers are not supported. We recommend that you do not bring these to campus. Personal wireless routers interfere with our campus wireless network, which can impact the performance of wireless services for the campus community. In addition, these devices introduce security risks to the university and will be removed if found.

6. How long are guest accounts valid?

Guest Accounts are valid for 5 days. If a guest is visiting campus for official business and an account is needed for more than the default time, please contact the Information Technology (I.T.) Helpdesk in Odum Library or call the Solution Center at (229) 245-4357 (HELP) for assistance. 

7. Does VSU offer VPN services?

Currently, VSU does not offer VPN services and does not support any third-party software.

8. Can I bring my own printer to campus?

9. Does VSU offer support for personal devices?

While the Division of Information Technology does not offer repair services for personal devices, we can assist with connecting devices to VSU systems and services like our wireless network, BlazeVIEW, campus computer lab printing, and VSU email. For faculty, students, and staff who are looking for repair services, we would recommend to contact the VSU Tech Shop (https://www.valdosta.edu/techshop).  

10. Are peer-to-peer (P2P) network connections allowed on campus?

Peer-to-peer (P2P) network connections are not allowed on campus. P2P applications allow a computer to connect directly to another computer to share files. The shared files might be copyrighted, which introduces legal issues for unauthorized data-sharing without the permission of the copyright holder. Shared files, even if they look legitimate, can also contain malicious code that could infect a computer's files or destroy valuable files and data on a computer. 

11. How do I contact VSU's I.T. Help Desk?

The I.T. Help Desk is primarily a walk-up service and is located on the 2nd Floor of Odum Library at the North entrance.

12. How many devices can I have on the network?

VSU students, staff, or faculty may connect as many devices to the VSU-WiFi wireless network.  

The VSU-Guest wireless network may have a maximum of 3 simultaneous logins per guest account. 

13. How many devices can I register in the MyDevices portal?

VSU students, staff, or faculty may register 5 devices in the mydevices portal. All 5 devices may connect to the VSU-Guest network simultaneously. 
229.245.4349
Campus Address
Pine Hall 1500 N. Patterson St. Valdosta, Georgia 31698-0001
Mailing Address
1500 N. Patterson St.
Valdosta, GA 31698

VSU Solutions Center


Eastern Standard Times

Mon-Thurs: 8 am - 7 pm

Friday: 8 am - 5 pm


Saturday: 9 am - 2 pm

Sunday: 9 am - 3 pm