IT Status Updates and Maintenance
If you have questions, please contact VSU Solutions Center during normal business hours.
---
Status Updates
USG Technology Status
11.22.22 at 10:05am ITS has restored full functionality of systems and services. You may need to close your browser and clear your browser cache before attempting to access Banner and other impacted services. Please contact our Solutions Center if you experience any issues
---
USG Technology Status
11.22.22 at 9:02am USG is currently exsperiencing system-wide network outages that are impacting our access to Banner,Visual Schedule Builder, Xtender, MoveIT File Transfer, among other services. We will notify you when services have been stabilized.You can also visit USG site to view full incident details
---
USG Technology Status
Check the operational status and maintenance schedule of University System of Georgia Information Technology Systems and Services (ITS) at https://status.usg.edu
---
MOVE-IT UPDATE:11.7.22:MOVE-IT or MFT issue has been resolved. If you do experience an issue, please contact Solutions Center 
---
Jabber Application
10.19.22 VoIP Jabber application is experiencing some issues such as loss of phone service on IPhones and Android devices, not being able to set the "Use my computer for calls" feature on desktop Jabber, or voice mail via Jabber is not working. Our technicians are quickly working to resolve this issue. 
---
Move IT Issues  
10.19.22: ITS is currrently experiencing degradation of service with files.usg.edu. (Move-IT or MFT). While access to the service is available, you may expect delays in the completion of automated processes, up to one hour or more. ITS is currently investigating the issue. Check Status at https://status.usg.edu
---
Scheduled Maintenances
Banner Maintenance - Upgrade Installations
Beginning:
 December 8, 2022Ending: December 9, 2022Impact: Information Technology Services (ITS) will be installing upgrades in Banner Production environments during this time. Banner Managed Services databases will be unavailable during the duration of the maintenance period.  
---
Degree Works Upgrade to Version 5.0.7Beginning: November 28, 2022Ending: December 9, 2022Impact: During the upgrade maintenance window, Degree Works will not be available. Students and Advisors should plan for the downtime by obtaining needed evaluations before leaving for Thanksgiving holiday. 
---
VSU Information Technology Security MaintenanceBeginning: November 18, 2022, 10pm Ending: November 19, 2022, 6amImpact: Campus services such as MyVSU and wireless and internet services may be unavailable during this time.
---
WINDOWS OPERATING SYSTEM 
 Wednesday, November 9, 2022, from 11:00 p.m. until Thursday, November 10, 2022, at 7:00 a.m.

During this period, the following services may be intermittently unavailable:

- Data Warehouse and Business Intelligence - Authentication
- EBOR - PPV
- Georgia Archives: Content Manager
- GeorgiaBEST Banner Managed Services - Axiom, and BDM
- MOVEit Managed File Transfer (files.usg.edu)
- SSC MoveIT
- SSC Phones
- TeamMate Audit Management Legacy Archive System
- USO Active Directory
- USG Foundation Accounting Service
- VPN
---
GEORGIABEST BANNER MANAGED SERVICES 
October 18, 2022, at 10pm until 7am October 19, 2022
October 27,2022, at 5:30pm until 7am, October 28,2022
Banner and related services such as Touchnet will not be available during this time.
---
GEORGIAFIRST MARKETPLACE UIT
October 7, 2022, 8am until 12pm, October 9, 2022
The Marketplace will be unavailable during this time. The UIT environment is the test GeorgiaFIRST Marketplace environment used by institutions in FPLAY for training and testing. If training or testing is scheduled during this time, please adjust your schedule as needed.
---
GEORGIABEST BANNER MANAGED SERVICES
October 7, 2022, 5:30pm until October 8, 7am
Banner and related services such as Touchnet will not be available during this time.
VOIP PHONE SYSTEM MAINTENANCE
October 1st, beginning at 3pm
The VoIP (voice over internet protocol) phone system will be under maintenance for an upgrade. There should be no brief outages during the upgrade.
---
V:\DRIVE MAINTENANCE
September 28th, beginning at 9pm
Access to V:\Dept will be inaccessible for approximately 15 minutes during the maintenance window. 
---
Standing Maintenances
WEEKLY COMPUTER MAINTENANCE
EMPLOYEES: On Mondays, save your work AND log-off your office computer at the end of work. Do not restart or shut down your computer.
IT routinely performs required maintenances on office computers to ensure security patches and applications are up to date and performing at their best. If and when your computer has been targeted for maintenance, you will receive a pop-up notification stating that a maintenance is required and to restart your machine so that updates can take effect. As a best practice to prepare for weekly maintenances, we encourage you to use OneDrive to store and backup your files routinely.
Sample notifications (minutes remaining to restart time will vary from image):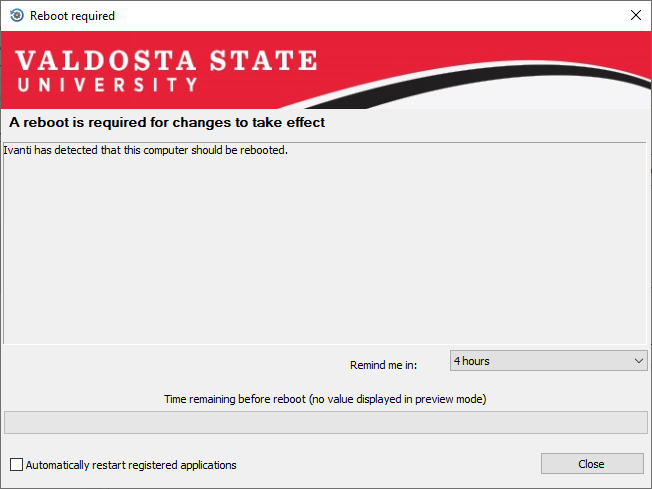 ---
BANNER AND DEGREE WORKS SCHEDULED MAINTENANCE:
Information Technology Services (ITS) has a standing maintenance schedule for their GeorigaBEST Managed Services (Banner and Degree Works) as follows:
1st/3rd Friday of each month; 10pm – 7am
These schedules are used to perform upgrades, patches, backups, and other routine tasks.
IMPACT: Depending upon specific maintenance requirements, services may not be available during this time and/or it may not be necessary for ITS to use any or all of this reserved time.
Please refer to https://status.usg.edu for all maintenance related and service affecting outages. 
---
COVID-19 Scams and Misinformation
Dear Blazers:
As the COVID-19 outbreak continues to evolve, bad actors are taking advantage of the situation to not only spread misinformation through social media and websites but are also using phishing emails to obtain personal information or spread malicious software.
Here are some tips to avoid being victimized.
Obtain information from trusted sources. Refer to the World Health Organization (WHO) (https://www.who.int), Centers for Disease Control (CDC) (https://www.cdc.gov) and the Georgia Department of Public Health (https://dph.georgia.gov/) for official information on COVID-19.
Check email addresses and links. Inspect web links by hovering your mouse pointer over the URL to see where it leads. Review the sender's email address.
Beware of online requests for personal information. A COVID-19 themed email requesting personal information like your Social Security number or login information is a phishing scam. Never respond to these emails.
Watch for spelling and grammatical mistakes. If an email includes spelling, punctuation or grammar errors, it is possible this is a phishing email.
Look for generic greetings. Phishing emails are likely to use greetings like "Dear sir or madam." These usually signal an email is not legitimate.
Avoid COVID-19 themed emails requiring an immediate response. Phishing emails often create a sense of urgency. Stop-Think-Then Click.
Report suspicious institution emails. Contact the USG Enterprise Service Center at helpdesk@usg.edu (706-583-2001) if you receive suspicious email from your institution account.
Be well and be cyber-safe!
---
Division of Information Technology
1500 N. Patterson St. Valdosta, Georgia 31698
Mailing Address
1500 N. Patterson St.
Valdosta, GA 31698
Fax: 229.245.4349

VSU Solutions Center


Eastern Standard Times

Mon-Thurs: 8 am - 7 pm

Friday: 8 am - 5 pm


Saturday: 9 am - 2 pm

Sunday: 9 am - 3 pm