Free Microsoft Office on Personal Devices
ACTIVE VALDOSTA STATE UNIVERSITY STUDENTS AND EMPLOYEES:  You have access to Microsoft Office 365 Email, OneDrive, Teams, and Office Online Web Apps. You can also, at no charge, install the latest Microsoft Office 365 Suite of applications on up to five (5) personal computers (PC/Mac); and up to five (5) personal mobile devices. *Upon withdrawal, graduation, or end of employment from VSU, you agree to uninstall all software obtained through VSU Microsoft Advantage Education Program.
ALUMNI AND RETIREES: As of October 25, 2020, Valdosta State University current and future alumni and retirees can no longer install VSU's Microsoft Office 365 desktop applications on personal devices. Continued access to Office 365 Email, Microsoft Teams, OneDrive, and Office Online web applications will remain until further notice.
---
Access Office 365
Log in to MyVSU
Click the Email link at the top OR from the Portals list, click Microsoft OneDrive/Office Apps
Install Microsoft Office on your Personal Devices for FREE
Access Office 365
Click the App Launcher icon located in the upper-left corner and then click Office 365-> text link
Click the Install Office dropdown located towards the upper-right section of the screen.
Select Office 365 apps or Other install options and follow installation directions.
Activate using your VSU email address (Organizational Account).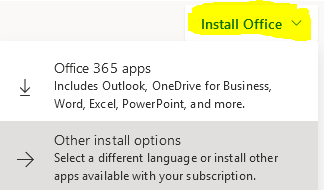 Mobile Apps (iOS, Android & Windows)
SOFTWARE OPTIONS/AVAILABILITY WILL VARY DEPENDING ON DEVICE.
In your device's app store, look for the Microsoft Office app (combined Word, Excel, & PowerPoint) or individual apps such as Outlook, OneNote, and OneDrive for Business.
Solutions Center
Fax
229.245.4349
Campus Address
1500 N. Patterson St. Valdosta, Georgia 31698
Mailing Address
1500 N. Patterson St.
Valdosta, GA 31698

VSU Solutions Center


Eastern Standard Times

Mon-Thurs: 8 am - 7 pm

Friday: 8 am - 5 pm


Saturday: 9 am - 2 pm

Sunday: 9 am - 3 pm