Free Microsoft Office on Personal Devices
ACTIVE VALDOSTA STATE UNIVERSITY STUDENTS AND EMPLOYEES:  You have access to Microsoft Office 365 Email, OneDrive, Teams, and Office Online Web Apps. You can also, at no charge, install the latest Microsoft Office 365 Suite of applications on up to five (5) personal computers (PC/Mac); and up to five (5) personal mobile devices. *Upon withdrawal, graduation, or end of employment from VSU, you agree to uninstall all software obtained through VSU Microsoft Advantage Education Program.
IMPORTANT NOTICE: If you are using Windows 10 or 11 Pro or Education on your personal computer and are downloading the Office 365 suite, the installer may automatically enable BitLocker, a Windows encryption function that helps protect your devices. If you disregard or improperly store the BitLocker data recovery key provided after installation, you could be locked out of your device and the only resolution would a be a hard drive replacement and a new operating system installation. This issue does not affect Windows 11 Home or Windows 10 Home users.
To avoid this issue, we recommend completing either of the following two options upon installing Office 365: 
 A.     Locate your BitLocker recovery key on your Microsoft account 
Sign into your Microsoft account (VSU issued or personal depending on the account that you use to sign in on your personal computer) on another device via this link: 

https://account.microsoft.com/devices/recoverykey

 

Once logged in, your recovery key 

(a 48-digit numerical password) 

should be 

displayed

 followed by the device that you used to install Office. 

Take note so you can use the key if prompted.
 B.      Disable BitLocker 
In the Microsoft Windows Start Search Box, type "Manage BitLocker" and select it from the list of results.

Under

 "BitLocker Drive Encryption"

, n

ext to the drive you enabled BitLocker on, click "Turn of

f

 BitLocker"

;

 

 or from Privacy & settings > Device encryption

Windows will start a decryption process, which may take a while to complete

. Y

ou 

are

 able to still use your device while the decryption is in effect. 
Learn more about BitLocker | Learn more about finding your BitLocker recovery key | Learn how to back up your BitLocker recovery key
ALUMNI AND RETIREES: As of October 25, 2020, Valdosta State University current and future alumni and retirees can no longer install VSU's Microsoft Office 365 desktop applications on personal devices. Continued access to Office 365 Email, Microsoft Teams, OneDrive, and Office Online web applications will remain until further notice.
---
Access Office 365
Log in to MyVSU
Click the Email link at the top OR from the Portals list, click Microsoft OneDrive/Office Apps
Install Microsoft Office on your Personal Devices for FREE
Access Office 365
Click the App Launcher icon located in the upper-left corner and then click Office 365-> text link
Click the Install Office dropdown located towards the upper-right section of the screen.
Select Office 365 apps or Other install options and follow installation directions.
Activate using your VSU email address (Organizational Account).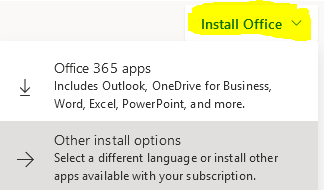 Mobile Apps (iOS, Android & Windows)
SOFTWARE OPTIONS/AVAILABILITY WILL VARY DEPENDING ON DEVICE.
In your device's app store, look for the Microsoft Office app (combined Word, Excel, & PowerPoint) or individual apps such as Outlook, OneNote, and OneDrive for Business.
Division of Information Technology
1500 N. Patterson St. Valdosta, Georgia 31698
Mailing Address
1500 N. Patterson St.
Valdosta, GA 31698
Solutions Center
Fax
Fax: 229.245.4349

VSU Solutions Center


Eastern Standard Times

Mon-Thurs: 8 am - 7 pm

Friday: 8 am - 5 pm


Saturday: 9 am - 2 pm

Sunday: 9 am - 3 pm