Advising & Registration
Welcome!
A graduate academic advisor's goal is to help you plan your academic career. This includes preparing for registration, resolving academic problems, and offering academic/educational advice. We expect this will be a collaborative relationship, a shared responsibility between your advisor and you.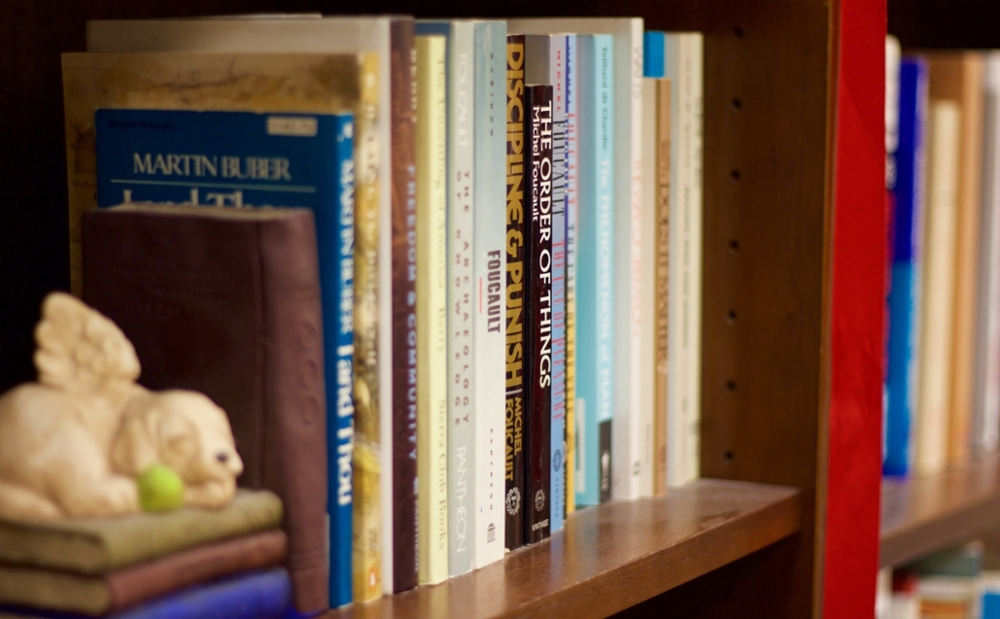 Getting Started
Students in the MFT program typically follow a two-year course of study. However, you are allotted up to seven years to complete your degree.
After acceptance, you will receive the Plan of Study form from your advisor. Your advisor and you are expected to determine the plan of study that best suits you using information on the MFT Program Requirements page.
Once a Plan of Study has been created and signed by your advisor and you, the advising flag will be lifted to allow you to register for classes.
More Information 
Find details below. If you have any additional questions, please reach out to your advisor.
MFT Advising

Academic advising for MFT students is intended to provide necessary tools and information to MFT students, allowing them to meet institutional and degree requirements as well as take responsibility for developing educational and career plans compatible with their personal goals.

Being Assigned an Advisor

When you have been accepted for admission into the MFT program, you will receive an email that includes an Admission Information Letter. One of the items in this letter is the name and contact information of your faculty advisor. Your advisor, who also has your name, will contact you before classes begin. 

Responsibility of Advisor

Help advisees understand the requirements of their programs and to plan appropriately to meet those requirements.
To assist students with choosing educational and career objectives that commensurate with their interests and abilities.
To answer questions raised by students and to make them aware of the possible short- and long-range consequences of their choices.
Help advisees correctly prepare paperwork necessary to meet program requirements, such as course substitutions, waivers, the Application for Graduation, and the Graduation Check sheet.
To be an information source regarding policies and procedures of the MFT Program and the University.
To be a source for on-going dialogue concerning academic goals, career, and related life issues.
Maintain a permanent student file (either electronic or hard copy) for each student. At minimum, each file will include the following:


Application packet co,plied by the Graduate school

Prospective Student Evaluation

Welcome to the MFT Program email sent by faculty interviewer denoting admission status (i.e., regular or probationary).

Student's Letter of Intent and Acceptance of Diversity Statement (an email from the student documenting their intent to begin the program and their affirmation of having read and their willingness to abide by, the program's diversity statement).

Admission Information Letter

Comprehensive Exam I

Comprehensive Exam I Evaluation Rubric

Comprehensive Exam II

Comprehensive Exam II Evaluation Rubric

Graduation Check sheet

Post graduate transcript showing conferral of MFT degree

Responsibility of Advisee

The advising process depends on the thoughtful participation of the students. Students must assume the following responsibilities:

Know the requirements for completing the program, graduation, and other university requirements published on the MFT Program and university websites and/or the university catalog.
Work with an advisor to develop a curriculum plan which will allow them to stay on track for their planned graduation, recognizing other responsibilities they might have including family and work obligations.
Contact the assigned advisor when concerns arise. These might include deficiency points that have been earned, when any changes are made such as dropping a course(s), when concerned about grades, or when substituting courses.
Accept ultimate responsibility for selection of classes that incorporates personal decisions as well as the academic advice given by the advisor.
Evaluate the MFT advising process and individual academic advisors by completing an advising survey.

Before Registering for Classes

Most students in the MFT program follow a two-year course of study; however, students are allowed up to seven years to complete the degree. Regardless of the speed with which students complete the program, they must consider their academic goals, personal and future plans, and life circumstances as well as the MFT Program course requirements, and in collaboration with their advisor, create a Plan of Study  Once your Plan of Study has been created, both you and your advisor will sign the plan. The advisor will retain the original for inclusion in your permanent student file, and the student will keep a copy. Once this is accomplished, the student's advising flag will be lifted, at which point the student is free to register for classes.

Registering for Classes

Generally, registration is open for a one-month window at mid-semester and reopens again a week prior to the first day of classes. Check the electronic message board (EMB) at FamilyWorks and/or see the VSU Academic Calendar for specific registration dates. Prior to open registration periods, advisors will lift students' advising flags, which allows you to register for classes. If your advisor has not received a revised Plan of Study and a note or email describing the changes and the reason for them, he or she will assume that your last approved advising plan is in force.

If You Make Changes to your Plan of Study

Students are expected to meet with their faculty advisor whenever they are considering making changes to their Plan of Study or have questions about the order and availability of coursework. Prior to making changes to a Plan of Study, students must provide advisors with the following:

A revised copy of the Plan of Study form
A brief note or email explaining the proposed change(s) and how the change(s) may impact your date of graduation.

Keep your Plan of Study up-to-date! When there is more demand for a course than space or enrollment limits allow, students with outdated advising plans will be removed from the course in question. It is the responsibility of each student to register for the proper coursework, take the appropriate pre-requisites, and meet all graduation requirements.

Dropping, Adding , or Withdrawing

Before you Make any Changes Talk with Your Advisor

At or before midterm, students should evaluate whether they want to continue in the classes for which they are currently registered. Unlike undergraduate classes, graduate classes may not have pre-midterm assignments or exams that help you gauge your progress. To help you decide whether you should remain in one or more of your classes, ask yourself questions such as these: Do I feel comfortable with the material, and do I believe I am gaining mastery over the concepts? Can I reasonably get all of the work done by the end of the semester?

If you are having difficulties or if you are concerned about your performance in a class, you should meet with the professor and your advisor prior to the midterm to discuss whether you should drop or withdraw from the course.

If you do decide to drop or add a course, please see your advisor and re-read the section on changing your advising plan.

Drop/Add Time Limits – Students may drop and add courses during the official drop/add period, which is usually the first week of classes. Students can drop classes as withdrawal/passing until the midterm; after that, withdraw/failing is the only option.

Dropping a course and withdrawing from a course are different. Make sure you know how they differ, particularly as it concerns your continued financial aid eligibility. Prior to dropping or withdrawing from a course, talk with your financial and/or academic advisors.

SAP, Satisfactory Academic Progress Policy 

In order for a student to receive Federal or State financial aid or Veterans Education Benefits at Valdosta State University, the student must demonstrate Satisfactory Academic Progress (SAP). SAP includes two standards: qualitative and quantitative. Students must meet both standards at the end of each Spring Semester to continue to receive Federal or State financial aid or Veterans Education Benefits.

Qualitative: All graduate students are expected to maintain at least a 3.0 cumulative GPA, including all courses taken at Valdosta State University and courses transferred from other institutions. Any student who does not meet the minimum 3.0 GPA requirement at the end of the Spring Semester will be placed on financial aid suspension and will no longer be eligible for Federal or State financial aid or Veterans Education Benefits.

Quantitative: The maximum timeframe for completion of a graduate program of study is 150% of the minimum semester hours required for that program of study. Students remain eligible until they have attempted 150% of the credit hours required to receive their degree. In order to meet this quantitative standard, students must successfully complete and pass (earn) 67% of courses attempted. At the end of Spring Semester, any student who has attempted 150% or more of the semester hours required for their program of study will be placed on financial aid suspension and will no longer be eligible for Federal or State financial aid or Veterans Education Benefits.

 

How To Do the Program in 3 or 4 Years

If you plan to go through the program more slowly than 2 years, contact your faculty advisor and schedule a meeting prior to MFT New Student Orientation, which occurs the first week of August. The two of you will put your heads together and, based on your needs, hammer out a Plan of Study that meets graduation requirements and your personal circumstances and goals.

Graduation

For information on the graduation process, advising, and paperwork, see the Application for Graduation page. Students who do not fall into the typical two-year course schedule must meet with their advisor at least two semesters prior to the anticipated date of graduation to complete the proper graduation forms.

Application for Graduation/Graduation Checklist

At least two semesters before their projected graduation date, students are required to fill out the  MFT Graduation Checklist and Graduation Application. Students cannot graduate until all requirements have been met. The MFT Graduation Checklist is updated by MFT Clinic Director as graduation requirements are completed over the remaining semesters.

Applying for Graduation:

Your advisor will email you with directions to complete the graduation process. Please note that it is a lengthy process. It may take several weeks before your completed application has been reviewed and approved by your advisor as well as an auditor the Office of the Registrar.
To complete the graduation process you must pay a 25 dollar fee

VSU does not host a Summer Graduation. If you would like to "walk" early during the Spring graduation ceremony then you must request to participate in the Spring graduation by completing the Alternative Graduation Request form. This form must be completed at least one month prior to the Spring graduation ceremony date. However, please note that this form cannot be completed until you have received confirmation from the Office of the Registrar that you have successfully applied for graduation.

Important Note: The Office of the Registrar will not allow anyone with an incomplete MFT Graduation Checklist or Graduation Application to graduate. This means, submitting your Case Load Form, accruing 500 hours of client contact and 100 Supervision hours, passing Comprehensive Exam I & II, and completing the Exit Survey. Do not delay. The Office of the Registrar has hundreds of applications to review, the longer you wait to submit your application, the longer it will take for Office of the Registrar to review your application.  If your materials have not been processed because they are incomplete or you are late submitting them, your graduation may be deferred, your transcripts may be delayed and/or your degree may not be conferred until the following semester.

Additional Links
MFT Program
FamilyWorks
FamilyWorks Fax
229.219.1280
Campus Address
903 N. Patterson St.
Valdosta, GA 31698
Mailing Address
1500 N. Patterson St.
Valdosta, GA 31698