Undergraduate Internship Opportunities
The Marriage and Family Therapy (MFT) program offers junior and senior undergraduate students the opportunity to participate in a virtual or face to face clinical undergraduate internship or a mini-clinical experience. Both provide hands-on experience for students as they learn what it means to work with families, individuals, couples, and children by  participating in our consultation teams at FamilyWorks, our family therapy clinic.
Clinical Undergraduate Internship:The clinical undergraduate internship is offered during Fall, Spring, & Summer semesters. This experience allows students to watch live therapy sessions as well as participate in other clinical opportunities. For the Fall and Spring semesters, the internship is offered face-to-face only. However, the Summer semester internship is offered face-to face or virtually, providing a more flexible schedule so the undergraduate student may participate for the entire summer semester (June-July) or for one month (June or July).
A Mini-Clinical Experience:This experience includes the opportunity to watch live therapy sessions for two weeks during Summer semester. It, too, may be accomplished face-to-face or virtually.
For more information or if you have questions, contact:
Dr. Jennifer Lambert-Shute (jjshute@valdosta.edu, 229-245-4323)
Current GPA *an overall GPA of 2.7 on all attempted course work or 3.0 or higher for the last two years is required to be an intern at FamilyWorks

Minimum of 60 credit hours completed when you start the internship
Interview with the MFT Faculty
Demonstrate professionalism and the ability to follow ethical guidelines
A willingness to collaborate with and learn from others
Be enrolled in a 1 credit course, MFTH 7650: MFT Clinical Undergraduate Internship. The course meets one day a week for an hour and is scheduled based on student's availabilty.
Watch weekly live therapy sessions
Participate in treatment team meetings
Participate in reflecting teams
Practice clinical skills

Write case notes
Use a genogram
Navigate ethical scenarios 
Conduct a case presentation
Read & discuss clinical articles

Have the opportunity to talk with current graduate students about the graduate school application process (application, interview, writing samples, etc.)

Learn what Marriage and Family Therapists do, where they work, etc.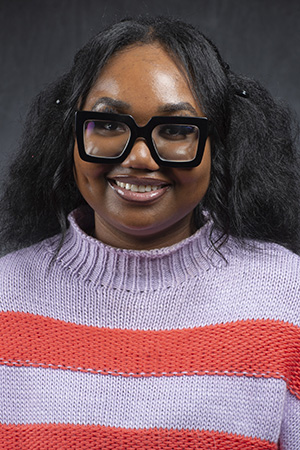 Jada LeBert
Hello! My name is Jada LeBert and I am from south Florida. I am currently a senior at Valdosta State University, and I will be graduating in May 2023 with my B.S. in Health Sciences. My interest in Marriage and Family Therapy was sparked last summer, and since then I have been determined to gain experience in the field. The Valdosta State University MFT internship has immersed me in the culture of therapy, and I can confidently say this is a career I am passionate about. After graduation, I will take a gap year to seek other internship/work opportunities and find an MFT program that is the right fit for me.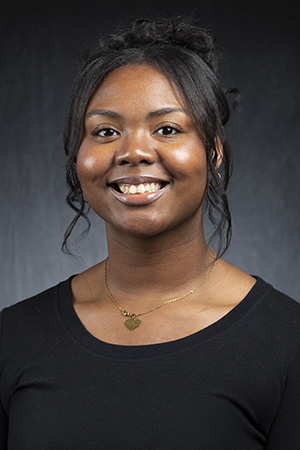 Shan Frison
Hi, my name is Shan Frison and I'm from Millen, Georgia. It is a small town 3 hours north of Valdosta where I graduated from Jenkins County High School in May of 2020. I am a senior majoring in Psychology at VSU. I am currently on track to graduate in the Fall of 2023 and I plan to apply for the Marriage and Family Therapist graduate program in the Fall of 2024. 
Tyena' Hutton
My name is Tyena' Hutton and I am from Hampton, Georgia. I am currently a senior at Valdosta State University, majoring in Psychology with a Spanish minor. After four amazing years at Valdosta State, I will be graduating in Spring 2023! I was given the opportunity to intern at the Family Works clinic, which has been an amazing opportunity to work with staff as well as clients. In the future, I plan to continue my education and seek a masters degree in marriage and family therapy to pursue my dream of being a licensed marriage and family therapist.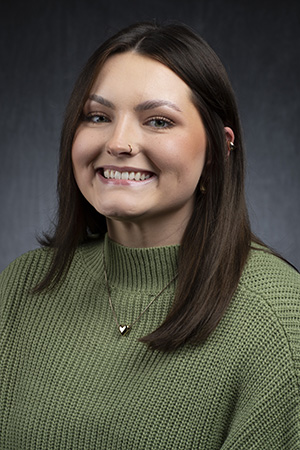 Caroline Jones
Hello! My name is Caroline Jones and I'm from LaGrange, Georgia. I am a senior undergraduate student at Valdosta State University. I'll be graduating with my psychology degree in May 2023, and I hope to continue into graduate school. I aspire to be a marriage and family therapist, which is why this program is a great fit for me. Within the next few years I hope to be licensed and practicing in either Georgia or Florida. 
Daijah Miller
Hi! My name is Daijah Miller and I am from Central Florida. I will be receiving my BS in Psychology, May of 2023. I would like to become a Marriage & Family Therapist because I believe a strong foundation helps to create a united family.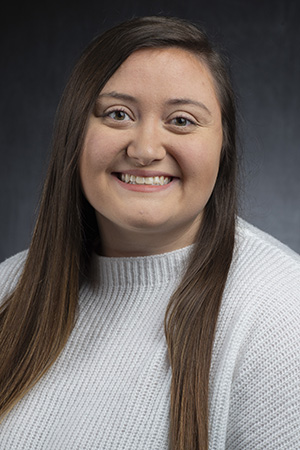 Madi Osborne
Hello everyone, my name is Madi Osborne. I am from Columbus, Georgia and I moved to Valdosta, just three years ago. I came to VSU hoping to get my degree in sociology in order to become a social worker. However, college really does change you and I quickly changed career paths once I realized social work wasn't for me. I am currently studying psychology in hopes of becoming a licensed school counselor. School counselors get to have the opportunity to work with kids in their natural setting, school. I have always enjoyed working with children and adolescents, but I knew I did not want to teach, so school counseling just fits perfectly with what I want to do.  
Jose Palacios
Hi! My name is Jose Palacios, I am from Mount Vernon, Georgia and I am a senior psychology major with a minor in philosophy here at VSU. In the future, I hope to become a Licensed Professional Counselor (LPC) in the state of Georgia as well as continuing to do research centered around LGBTQIA+ issues as well as issues affecting the Latinx community. As a first-generation college student, I am excited to graduate this spring and to continue my education into graduate school so I can get closer to licensure. I believe that becoming a counselor is an honorable and fulfilling job, and I am looking forward to the future where I will be able to work with people and hear their stories.  
Rosanna Wolf
Hi! My name is Rosanna Wolf, and I am from Newport News, Virginia. I am currently a junior at Valdosta State University pursuing a degree in Interdisciplinary Studies with concentrations in Psychology, English, and Spanish. My interdisciplinary training has inspired me to apply my knowledge and skills in the field of Psychology to law. After graduating, I plan on attending law school in Virginia or Washington, DC. 
Internship Applications
Marriage and Family Therapy
903 N. Patterson St.
Valdosta, GA 31698
Mailing Address
1500 N. Patterson St.
Valdosta, GA 31698
MFT Program
FamilyWorks
FamilyWorks Fax
Fax: 229.219.1280