The Marriage and Family Therapy Masters Program at the Valdosta State University is accredited by the Commission on Accreditation for Marriage and Family Therapy Training and Education (COAMFTE). The MFT program at VSU was first accredited by COAMFTE in 2006, renewed in 2013, and recently reaccredited for an additional seven years in 2020. 
2022 Faculty and Student Diversity

Faculty/Supervisors/Staff: 60% White; 20% Asian American; 20% Afro-Latina; 100% Female
Students: 41% African American; 13% Hispanic; 8% Asian or Pacific Islander; 38% White, non-Hispanic; 82% Female; 18% Male
Student-Faculty Ratio: 15 students per faculty member
Supervisor-Student Ratio: 6 students per faculty member
Students from all over the world have recognized the outstanding training and excellent value of our program. We have attracted students from 39 US states as well as students from Belize, Brazil, China, Russia, Tunisia, and Bulgaria.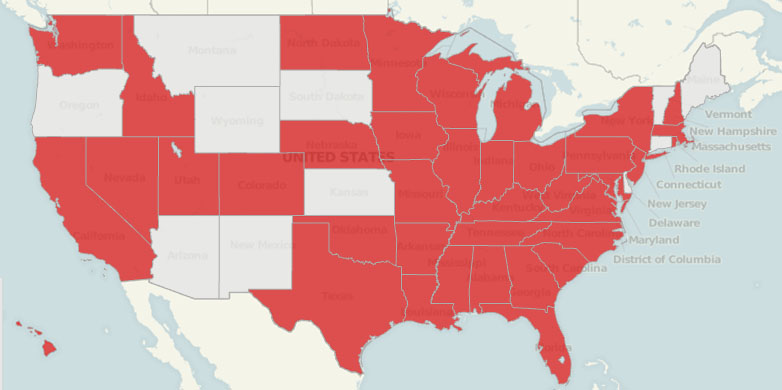 | | | |
| --- | --- | --- |
| Belize | Brazil | China |
| Russia | Tunisia | Bulgaria |
| Ivory Coast | British Virgin Islands | Turkey |
The 60 credit Master of Science Degree in Marriage and Family Therapy prepares students for licensure as Marriage and Family Therapists in Georgia and other states and for clinical membership in the American Association for Marriage and Family Therapy (AAMFT). The curriculum—a full-time, two year program or a part-time, three or four year program—was developed to meet the accreditation standards of the Commission for Accreditation of Marriage and Family Therapy Education and includes 42 credits didactic coursework and 18 credits supervised clinical practice. You can visit our Course Descriptions page to read a description of each course. In addition, when students have completed the majority of their coursework, they must pass the Comprehensive Exam.
Theory and practice are linked throughout training. Students are required to accrue 500 hours of direct client contact and 100 hours of AAMFT approved supervision. To do this, students work face-to-face with clients at FamilyWorks, our student-run, university-based Family Therapy clinic operated by the Marriage and Family Therapy program. In addition, students  may work with clients at internships with mental health agencies in communities throughout the region. Practicum in Marriage and Family Therapy provides intensive individual and small group supervision. We emphasize helping each student find his or her own therapeutic voice, as he or she works as sole therapist or co-therapist with a fellow student, or with a faculty member seeing couples, families, or individuals.
Check out the fascinating history of MFT in Georgia as told by one of its founders, Carl Johnson.  
Marriage and Family Therapy
903 N. Patterson St.
Valdosta, GA 31698
Mailing Address
1500 N. Patterson St.
Valdosta, GA 31698
MFT Program
FamilyWorks
FamilyWorks Fax
Fax: 229.219.1280