This webpage is chock-a-block full of information that will help you get from your first day of class and beyond to licensing. Here, you can locate forms, figure out how to get books and parking passes. In addition, you will find resources that will tell you about the national licensing exam, whether you intend to stay in Georgia or go to another state. 
If you have a disability, physical or mental impediments to learning, the VSU Access Office may be able to help. Their mission is to create an accessible, inclusive, sustainable learning environment, where disability is recognized as an aspect of diversity that is integral to the campus community and to society.
Please visit the Access Office page if you would like to connect with them and establish a plan.
Following New Student Orientation, the program sends a list of new student names and 870 numbers to the Key Shop, who assigns each student an access pin number. After New Student Orientation, you can find your access pin number this way:
Login with your User ID which is your 870# and blazeview/active directory password.

Click on the Student Services & Financial Aid tab

If you do not see a "Student Services" tab, you can view your pin by clicking on the "Personal Information" tab, then clicking on View Personal PIN.

If you have problems logging in, go to https://iforgot.valdosta.edu/ to reset your password.
If you have trouble with your swipe card at any time, go to the Key Shop website and follow the directions. If you continue to have difficulties, please tell Jessica Millican, Clinical Coordinator. She'll work with the Swipe Card office to correct the problem.
Order yourself a FamilyWorks name badge by contacting the VSU Bookstore. They'll tell you what you need to do. Like the business cards, everyone's name tag is the same: black print on a white background. Notice other students' name badges (maybe even borrow one), take it to the bookstore and order one with your name on it. They cost around $11.00 (as of 2017).
Licensure in a Different State
Although you will be taking a course that reviews state licensing in general, we encourage you to begin educating yourself now about the state licensing regulations for the state in which you intend to work or practice after graduation. To do this, begin by going to the Association of Marital and Family Therapy Regulatory Boards (AMFTRB) website. AMFTRB is the central clearinghouse that supports all state licensing boards. This is an extremely informative website, and we invite you to explore it thoroughly. Once on the AMFTRB homepage, click on Students, MFT Candidates, & Licenses: A pull-down menu offers various links that let you see each states' requirements, practicum requirements, and more. We encourage you to learn early about the requirements of the state in which intend to seek licensure, and we invite you to pull down the Rules and/or Laws of your preferred state. You need to know as soon as you can if your state's licensing eligibility has additional requirements. You will find a link to each state's laws and rules inside the description of the state.
Georgia Licensure
Our curriculum is designed to meet all requirements for MFT licensure in the state of Georgia, so if you intend to seek licensure in Georgia, you are all set to apply as soon as you have your official transcript and diploma in hand. You will learn about licensing in one of the courses that you take in the program. But, since it's never too early to start on your own, begin now by going to the AMFTRB website. The Association of Marital & Family Therapy Regulatory Boards is the central clearinghouse supporting all state licensing boards. There you will find a great deal of helpful information. Then, go to the website for licensing as an MFT in the state of Georgia. Under the Laws, Policies, and Rules pulldown menu, click on GA Law and Board Rules to begin familiarizing yourself with them. And, finally, pull down a copy of the application for licensure as an associate marriage and family therapist exam and the application for licensure as a marriage and family therapist (full licensure). Look both over. Get a sense of what is required.
The Georgia Board has provided helpful How-To guide for the licensure process. 
Here is the list of what you must have in place in order to apply for licensure as an associate marriage and family therapist (LAMFT) in the state of Georgia:
a master's degree from
an accredited university
an MFT program accredited by the Commission on Accreditation for Marriage and Family Therapy Education that includes
           i. completion of a one-year practicum in marriage and family therapy under supervision
          ii.  500 hours of direct clinical experience in marriage and family therapy
          iii. 100 hours of supervision of such experience;
       4. registration with the Georgia board with a contract for obtaining postmaster's experience under direction and supervision
After you've applied, taken, and passed the national licensure exam, you will be licensed as an Associate Marriage and Family Therapist (LAMFT). As an LAMFT, you begin accruing full-time post-master's experience in the practice of marriage and family therapy under direction and supervision. Within a period of not less than two years and not more than five, you are required to accrue a minimum of 2,000 hours of direct clinical experience and 100 hours of postmaster's supervision of such experience. After accruing these client and supervision contact hours, you will submit the full LMFT application and become a licensed MFT (LMFT).
 The following diagram, offered on the AMFTRB website shows the general process of applying for and taking the MFT National Exam: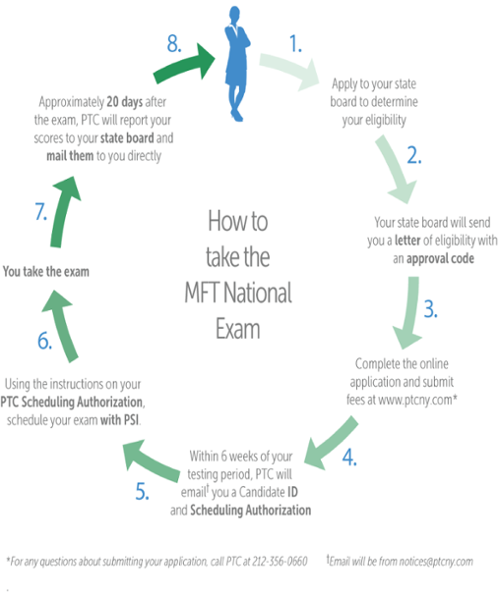 Local Community Housing Information


Several real estate companies in the area also rent houses. Here are three companies that MFT students have used:

Things to Do

Valdosta-Lowndes County Conference Center and Tourism Authority offers an extensive listing of things to do in our region.
Stadium 16 Theaters
Outdoor Enthusiasts
Cultural Enthusiasts

ArtSouth, Art, Music, and Theatre Events
Theater Guild Valdosta: The Dosta Playhouse
Annette Howell Turner Center for the Arts
South Georgia Regional Library

Area Churches

Some MFT students like to attend a local church. Ask them! They'll be happy to recommend their favorites.
You can also check out this Google list of area churches to find a faith community faith that suits you best.

Cable, Satellite TV, and Utilities

Colquitt Electric Membership Corporation, (229) 244-6893
Amerigas, (229) 244-9805
South GA Propane, (229) 253-8811
Georgia Power, (229) 655-5888
Water, Lowndes County Utilities, (229) 671-2500 229-671-2500. You can visit their website to learn about establishing a new water account
Medicom , (229) 244-3852
Direct TV, (800) 347-3288
Dish Network, (1-888-825-2557)
AT&T, (229) 293-9309
Philo TV at VSU (live TV and DVR on the campus network)
MESA
MESA is a group of faculty and staff who provide activities that mentor, engage, support, and promote the academic achievement of Hispanic students through organized collaborative efforts.
Click here for more information.
Multicultural Affairs at VSU 
The mission of the Office of Equal Opportunity Programs and Multicultural Affairs is to promote and sustain an environment of diversity, equity, respect, and inclusiveness for all members of the university community through education, intervention, compliance, training, assessment, programming and support services.
Student Life
The mission of the Office of Student Life is to promote student development and leadership by providing quality programs and services that fulfill the diverse educational, recreational, social, and multicultural needs of the student population and the university community. If you are interested in viewing student organizations offered at Valdosta State University, click here.
Valdosta State University LGBTQ+ Resources 
The purpose of campus LGBTQ+ resources is to foster an active and diverse culture at Valdosta State University. This provides opportunities for students to build friendships and encourages open-mindedness and diversity within the community. See this page for more information.
Community Friends for International Students 
The purpose of community friends for international students is to give each new VSU international student a friend in the Valdosta community who will become a resource for the student and help the student in times of homesickness and cultural adjustment.  A Community Friend also provides the student an opportunity to share his/her culture. The Friend can be an individual or an entire family.  By inviting an international student to dinner, taking her to the mall, or participating in other such social activities, a Community Friend helps an international student feel welcome and helps compensate for the separation from friends and family. This is also a unique opportunity to learn about another culture and country and make a difference in the life of an international student. For more information, contact Irina McClellan, International Student Advisor, 229-333-7410. 
FUNDING AND GRANT OPPORTUNITIES
Grants for Multicultural Students 
A web site which offers multicultural students opportunities for grants at all school levels and for various degrees http://staff.lib.msu.edu/harris23/grants/3specpop.htm
Academic Information 
A Web site which offers multicultural student resources and scholarship opportunities: http://www.academicinfo.net/studentminority.html
FinAid 
A web site which offers links and information on financial aid funding and fellowships:
http://www.finaid.org/otheraid/minority.phtml
Hispanic Scholarship Fund 
HSF is the nation's leading organization supporting Hispanic higher education. HSF was founded in 1975 with a vision to strengthen the country by advancing college education among Hispanic Americans, the largest minority segment of the U.S. population. In support of its mission to double the rate of Hispanics earning college degrees, HSF provides the Latino community more college scholarships and educational outreach support than any other organization in the country.
http://www.hsf.net/
The United Negro College Fund 
UNCF is the nation's largest, oldest, most successful and most comprehensive minority higher education assistance organization. UNCF provides operating funds and technology enhancement services for 38 member historically black colleges and universities (HBCUs), scholarships and internships for students at almost 1,000 institutions and faculty and administrative professional training. 
http://www.uncf.org/scholarships
National Consortium 
The National Consortium of Directors of Lesbian Gay Bisexual and Transgender Resources in Higher Education has a combined vision and mission on the Consortium is to achieve higher education environments in which lesbian, gay, bisexual, and transgender students, faculty, staff, administrators, and alumni have equity in every respect. http://www.lgbtcampus.org/
The American Indian Graduate Center 
AIGC is unique in the higher education landscape in the support and services provided and in having grown in its services by expanding partnerships with other agencies. We now collaborate with like-minded organizations and graduate schools that support many of our American Indian and Alaska Native students. For over thirty years the American Indian Graduate Center (AIGC) has awarded more than 9000 fellowships to qualified Native American and Alaska Native students to pursue graduate degrees in all fields. http://www.aigc.com/
In the past, students have found it helpful to begin reading about the field of Family Therapy before they begin classes. Some of the books may be used in your classes—but faculty are notorious for tinkering with their syllabi and changing texts from year to year, and since faculty often make text decisions only a short time before classes start, there is no predicting if any of these texts will show up in one of your classes or not! The following books are all worth reading before you arrive: 
Becvar, D., & Becvar, R. (1982) Systems theory and family therapy: A primer. Boston, MA: University Press of America.
This book is an introduction to systemic thinking. The authors provide the reader with the basic concepts of systems theory and its application in a clear and concise manner. They use many case examples and illustrations.


Coombs, G., & Freedman, J. (1990). Symbol, story, & ceremony: Using metaphor in individual and family therapy. New York: W. W. Norton.
In this book, Coombs and Freedman invite us to learn how to use and apply metaphors in therapy as well as give us examples of a wide variety of metaphors.


Flemons, D. (2002). Of one mind: The logic of hypnosis, the practice of therapy. New York: W. W. Norton.
A simply marvelous book that draws epistemological parallels between the logic that drives both hypnosis and family therapy. The book is chock-a-block full of fascinating case examples and stories about how to think and practice relationally.


Hoffman, L. (2002). Family therapy: An intimate history. New York: W. W. Norton.
A personal account of the history of family therapy from the very first exciting days of its inception by an independent band of systems-thinkers to the present day. Using personal examples, case stories, and discussions of theory, Hoffman takes us with her as she takes a personal historical journey through the family therapy field.


Miller, S., Duncan B., & Hubble, M. (1997). Escape from Babel: Toward a unifying language for psychotherapy practice. New York: W. W. Norton.
This book helps the reader become aware that while there are many different models of therapy, the magic is not in the model, but in a mix of factors. The authors have researched many models of therapy and identified underlying themes and characteristics common to all therapy, regardless of model.


Treadway, D. (2004). Intimacy, change, and other therapeutic mysteries: Stories of clinicians and clients. New York: Guildford.
In his fictional book, Treadway, a therapist himself, explores situations which therapists and clients may encounter. He explores day-to-day examples of therapy as well as what occurs beyond the therapy room to show the effects of therapy on both the therapist and client.
If you have a question that we did not address, please don't hesitate to call us at (229) 219-1281, and we'll do our best to answer it. And, whether you are a client or a student, go to our online suggestion box, and let us know your thoughts, comments, and suggestions about the program or the clinic.
Marriage and Family Therapy
903 N. Patterson St.
Valdosta, GA 31698
Mailing Address
1500 N. Patterson St.
Valdosta, GA 31698
MFT Program
FamilyWorks
FamilyWorks Fax
Fax: 229.219.1280