MESA is a faculty/staff led committee that serve the Hispanic students at VSU. Our role is to provide resources, services, and connections to Hispanic students through mentorship, engagement, support, and academic achievement. The purpose of MESA includes:
Develop activities to promote student engagement amongst themselves, the university and the community at-large.
Organize group and individual academic assistance programs.
Inform and provide resources to support Hispanic students personal and economic well-being.
Increase visibility of contributions Hispanic Students make to the university and community through publications and events.  
Each letter of the acronym represents a component of MESA with each having its own subcommittee: Mentor, Engage, Support, and Achieve.
Please contact Dr. Regina Suriel via rlsuriel@valdosta.edu or (229)333-5926 to learn more and get involved with MESA!
Learn about MESA
Congratulations to the MESA 2020-2021 Scholarship Recipients: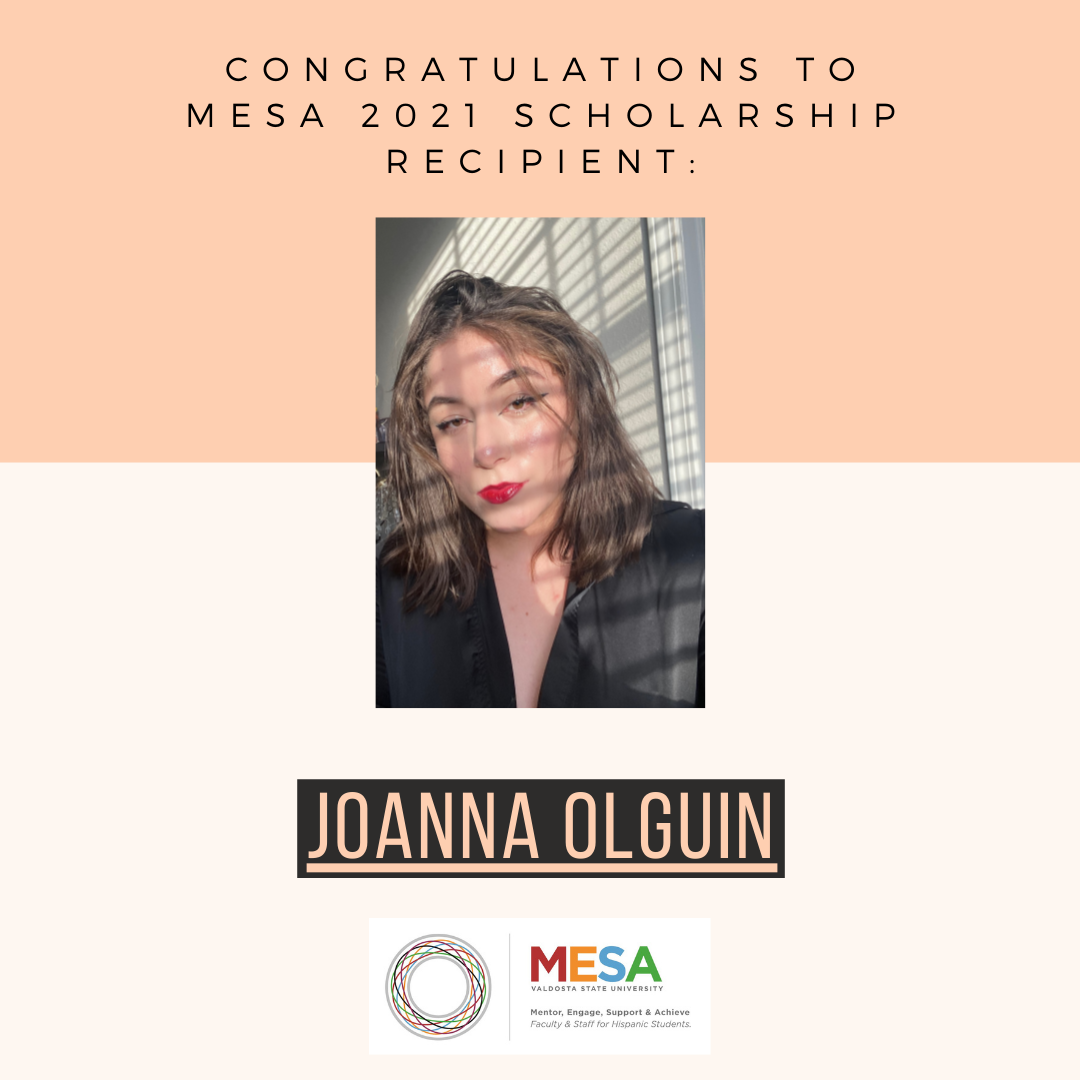 Joanna serves as mentor to first-year students of College Assistance Migrant Program, PAL Facilitator for English 1102, and Diversity and Inclusion Comprehensive Task Force. "The essence of America is the idea that anyone can emerge from humble situations and do extraordinary things and it is that dream that I seek to accomplish. Though I have gone through a variety of hardships—I have yet to give up. I am constantly seeking new opportunities, new goals, new ways to better myself, and most importantly: new ways to help my community. I want to live a life of service."
Diana has taken advantage of numerous opportunities including Study Abroad trip to Senegal to learn French, Pi Sigma Alpha Political Science Honor Society, PAL facilitator for the POLS 3100 class, and National Council of Undergraduate Research. "Living in the United States has blessed me with many chances for better education, better health, and more safety overall. Unfortunately, I understand that the rest of the world does not have equal opportunity. I know I am not yet at a stage of my life where I can make a major difference but one day I will be. But it all starts by listening and hearing everyone's story. Not only this, but I want to leave an impact on lives by building relationships. I want to be remembered as someone who made a difference in someone else's life for the better."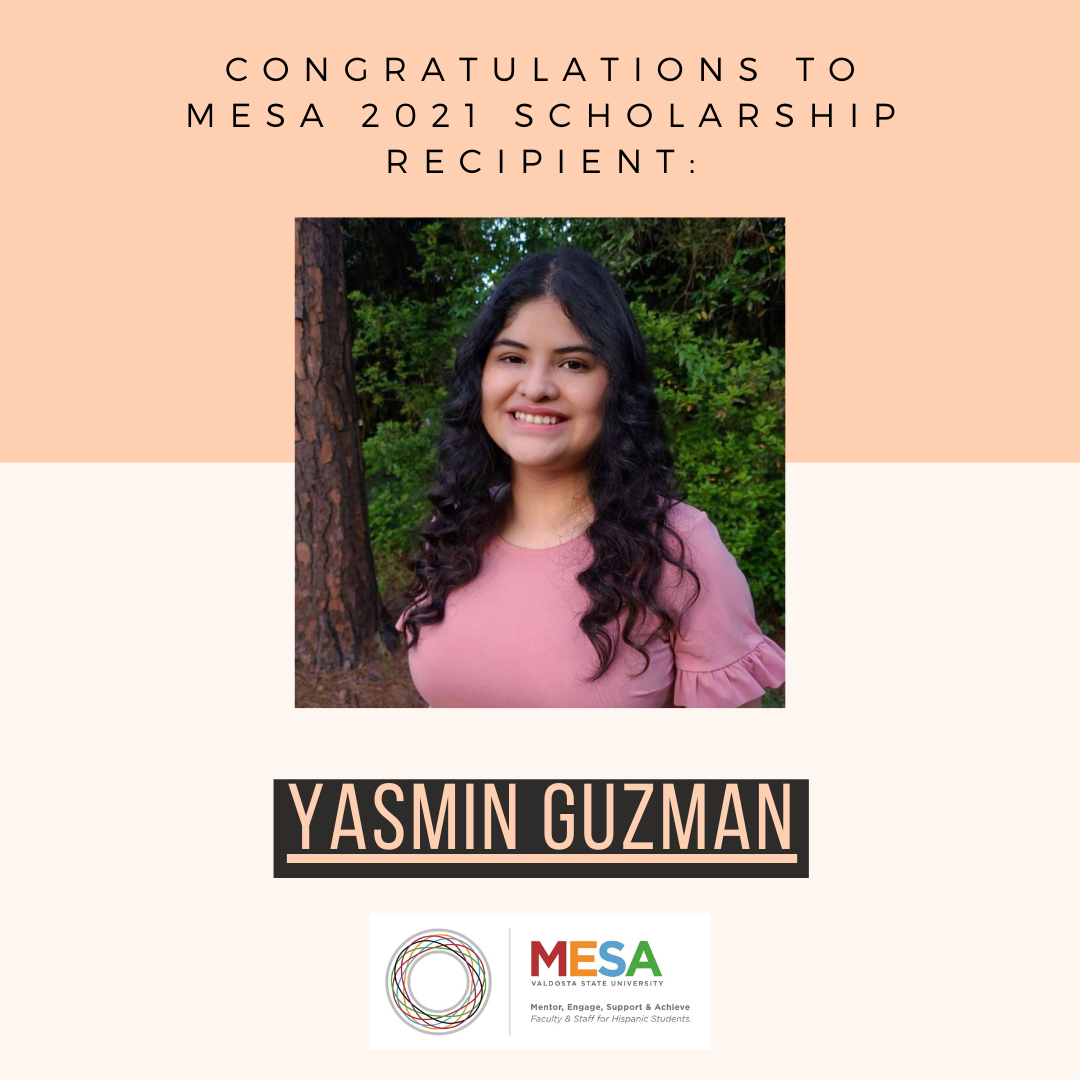 Yasmin is an active member on campus who has participated in VSU Ambassadors Program, Honors Student Association, Tri-Beta, Latin American Students Association, and VSU WNV Mosquito Surveillance Program. "As a member of the less than 3% Hispanic population of my hometown, I have experienced the fear and uncertainty that many families face in health care due to language barriers and cultural differences. Through my experience with migrant farmworkers, I have strengthened my determination towards becoming a Pediatrician. My goal as a future pediatrician is to become a healthcare provider that will bring comfort, relief, and inspiration to people who are not fluent English speakers."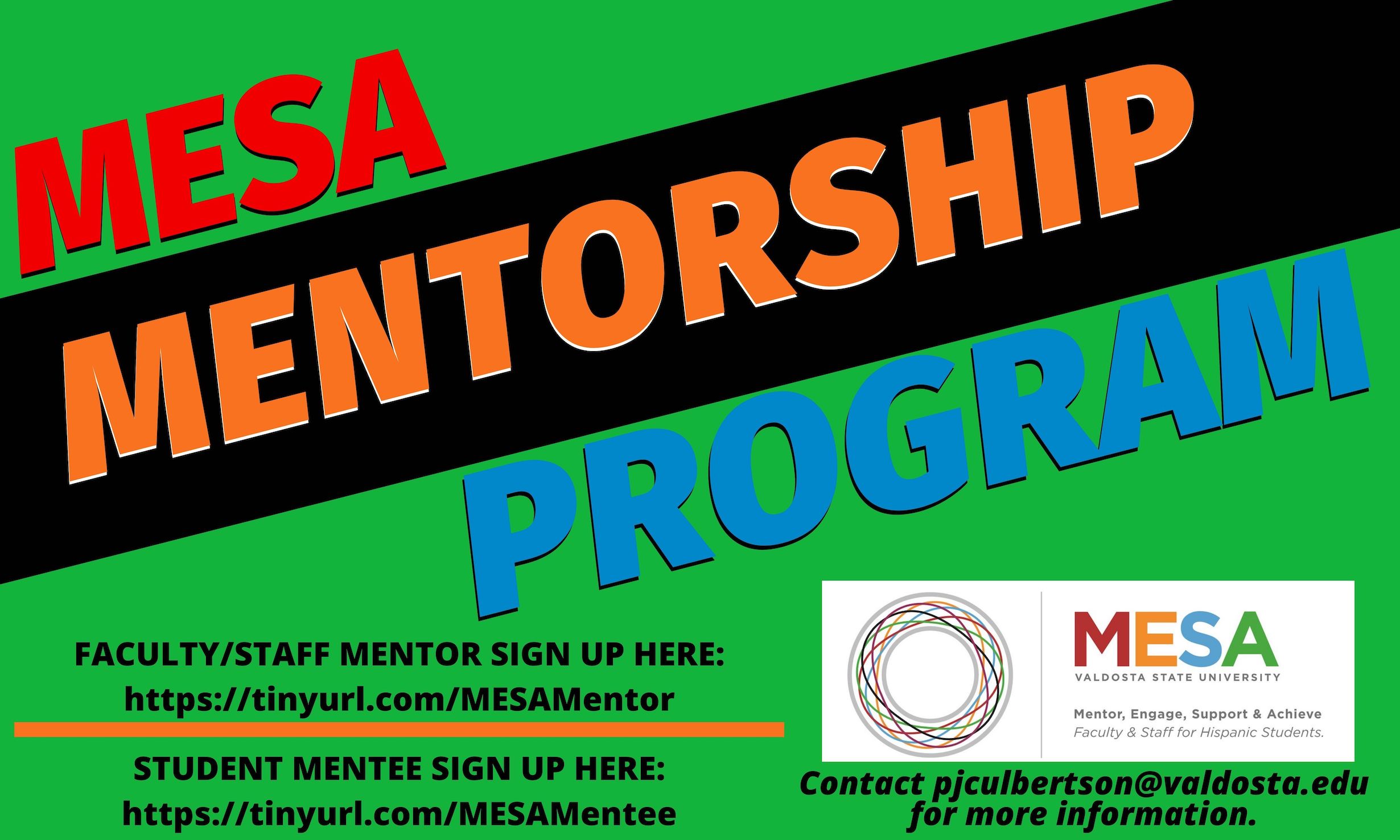 Students: Sign up for a MESA Mentor! 
A MESA Mentor is a faculty/staff member who will meet with you monthly and/or as needed to assist with your academic, social, and extracurricular success at VSU.
Please complete the form here so we can assign a MESA Mentor to you based on compatibility. Contact pjculbertson@valdosta.edu should you need additional information. 
SIGN-UP FORM: https://tinyurl.com/MESAMentee
Faculty/Staff: Sign up to be a MESA Mentor & Join the Committee! 
As a mentor, you will be assigned 1-2 students and meet with them monthly and/or as needed to assist with their academic, social, and extracurricular success at VSU.
Please complete the form here so we can assign a MESA Mentor to you based on compatibility.  Contact pjculbertson@valdosta.edu should you need additional information. 
SIGN-UP FORM: https://tinyurl.com/MESAMentor  
Thank you to our current MESA Mentorship Program participants!
MESA Mentors:
Octavio Aguado
Dr. Meagan Arrastia-Chisholm
Sandra P. Barrios
Nicole Bustos
Dr. Linda de la Garza
Lizbeth Heath
Dr. Nandan Kumar Jha
Yvonne LeRoy-Landers
Dr. James Martinez
Dr. Hoa Nguyen
Dr. Gwen Scott Ruttencutter
Engagement Subcommittee Chair: 
List of related cultural student organizations 
Please access Blazerlink Presence to view student organizations and contact to learn how to get involved. https://valdosta.presence.io/organizations 
Caribbean Student Association 
College Assistant Migrant Program 
Latin American Student Association 
Sigma Lambda Beta International Fraternity, Incorporated 
Sigma Lambda Gamma National Sorority 
Society of International Students 
Spanish Club 
Student Government Association (all cultures) 
Campus Activities Board (all cultures) 
---
Past events    
Pachanga! Inclusive Latinx Festival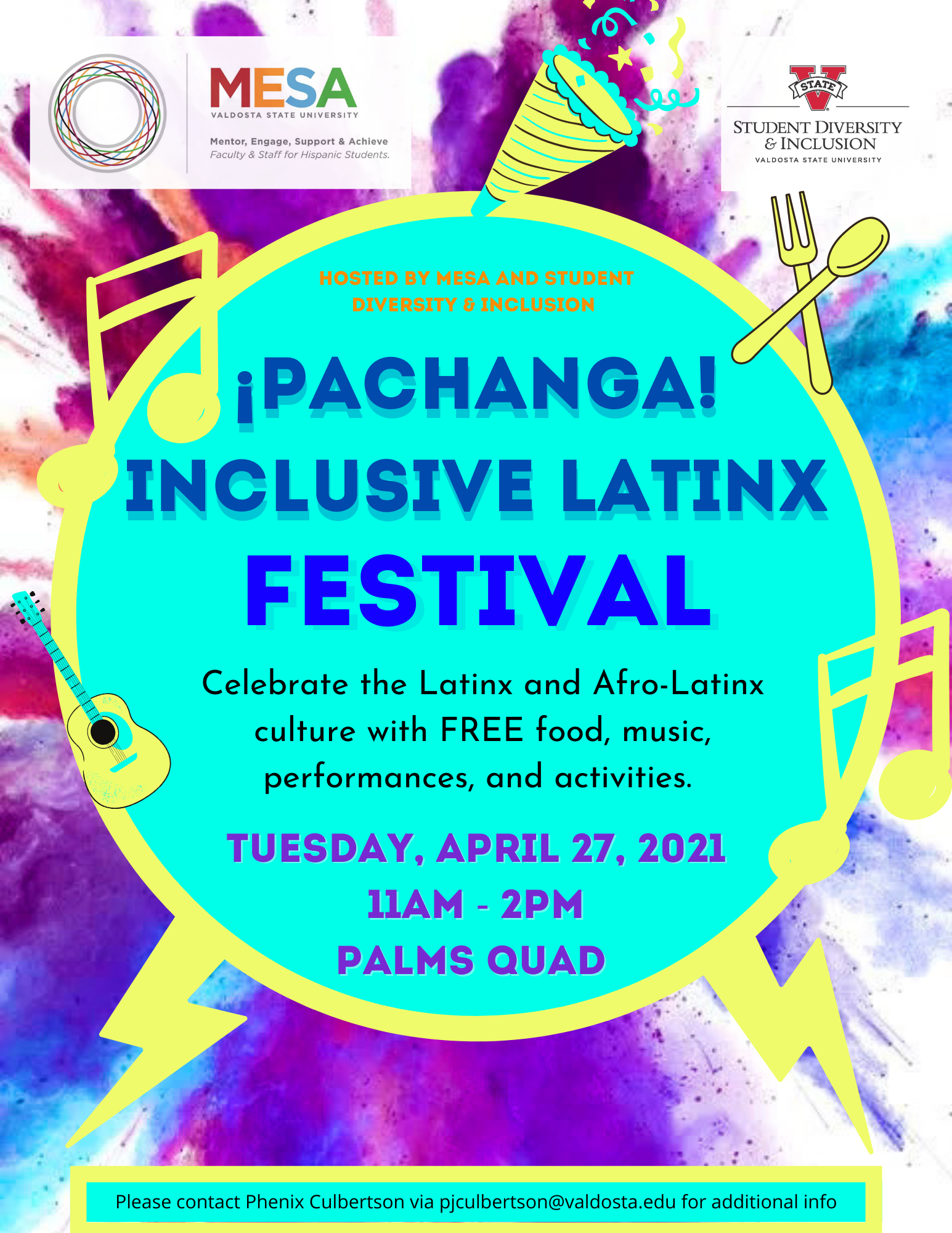 Not Hidden Figures: A Workshop on Diversity & Inclusion in Undergraduate Research
Collaboratively hosted by MESA & Blazer Summer Research Institute Steering Committee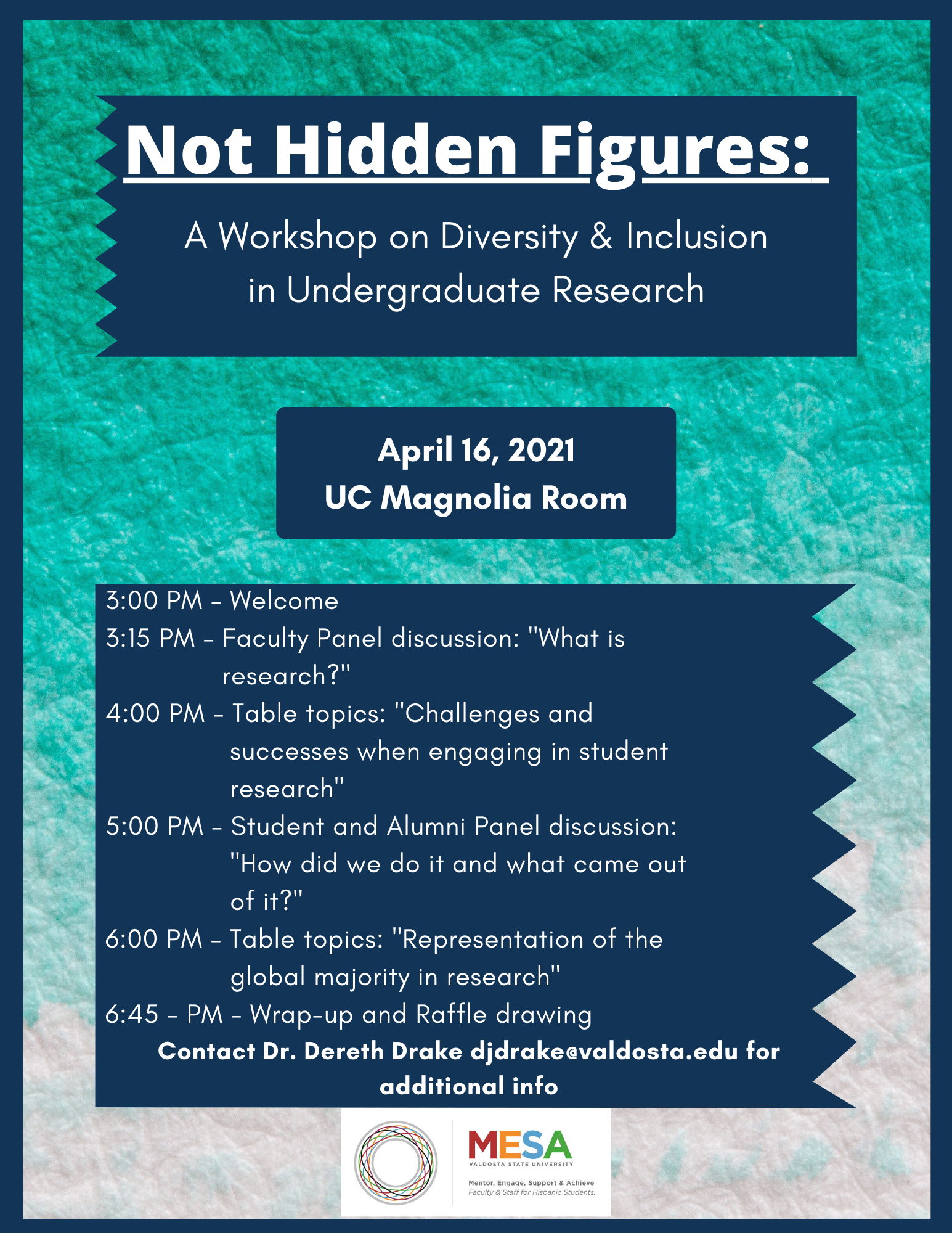 Consejos from Across the Industries: Tips for Success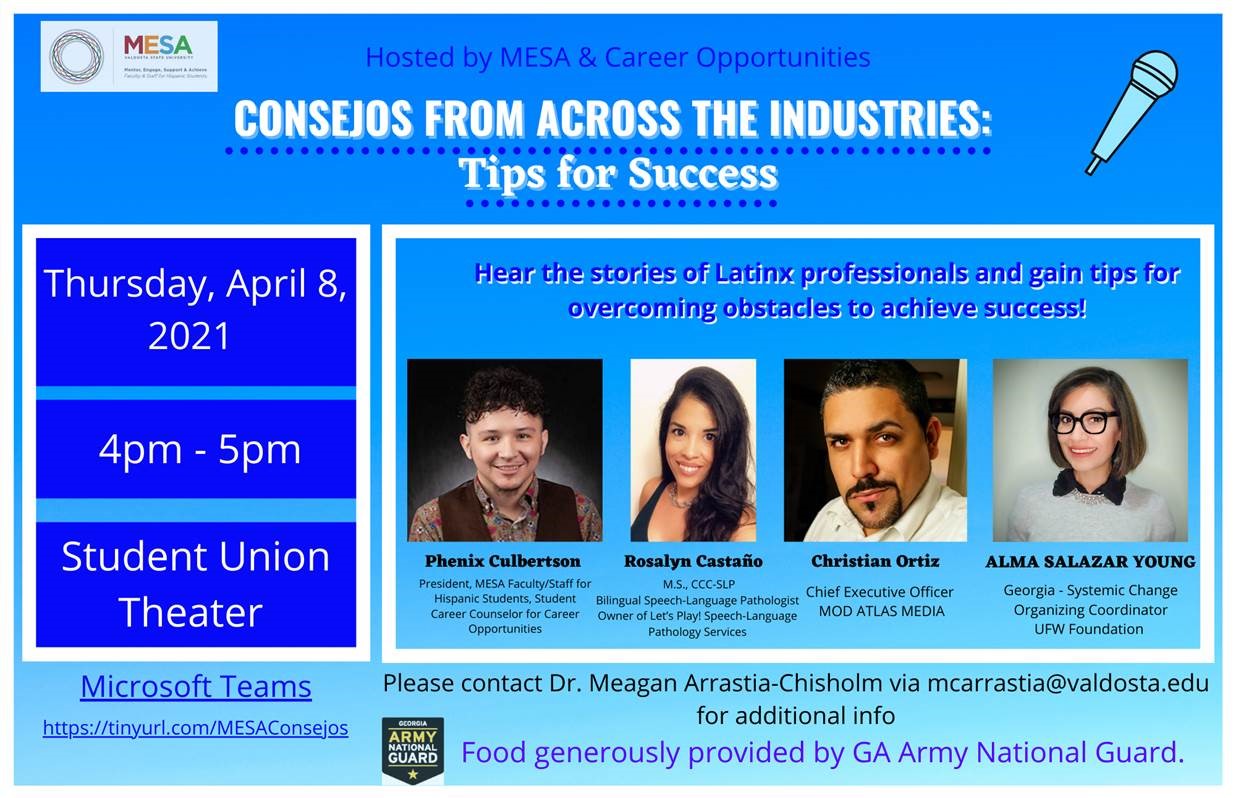 Educational Opportunities & Success, Guest Speaker Representative Brenda Lopez Romero (First Latina Lawmaker in Georgia Legislature)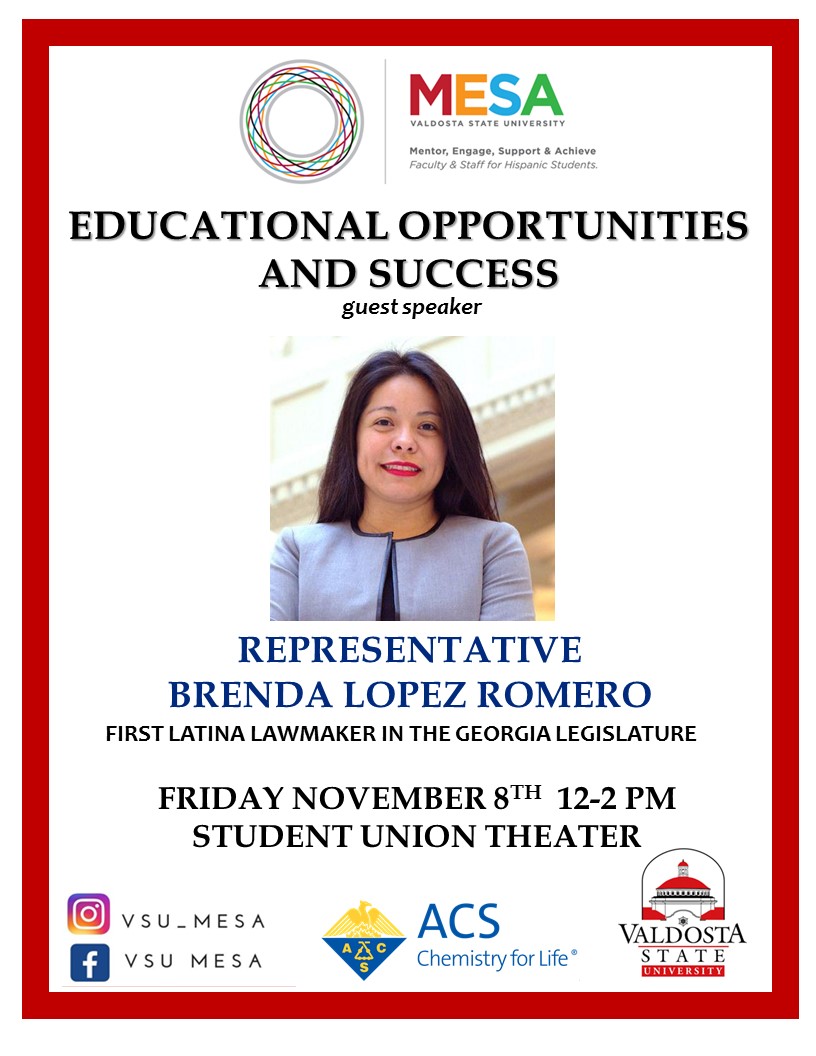 Moving Forward: Tools for Success, Guest Speaker Ricardo Munoz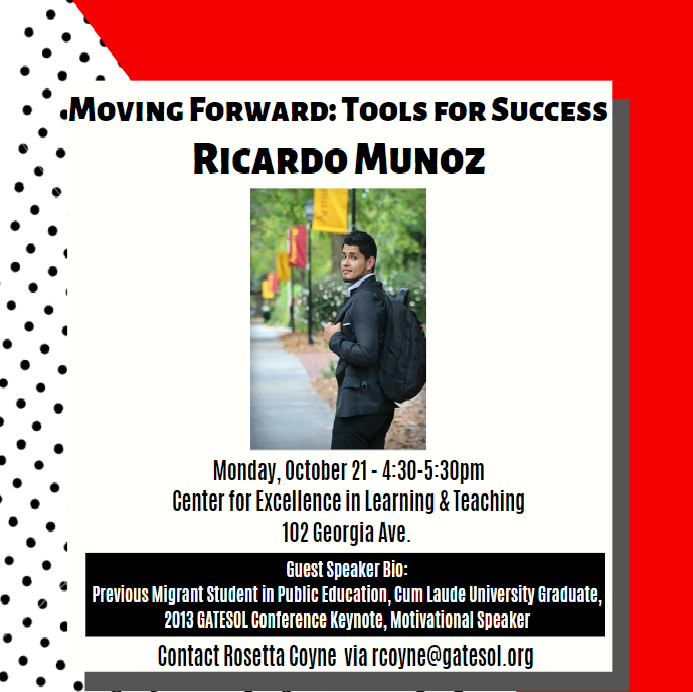 Academic & Career Workshop Collaboration with MESA, Career Opportunities & Academic Support Center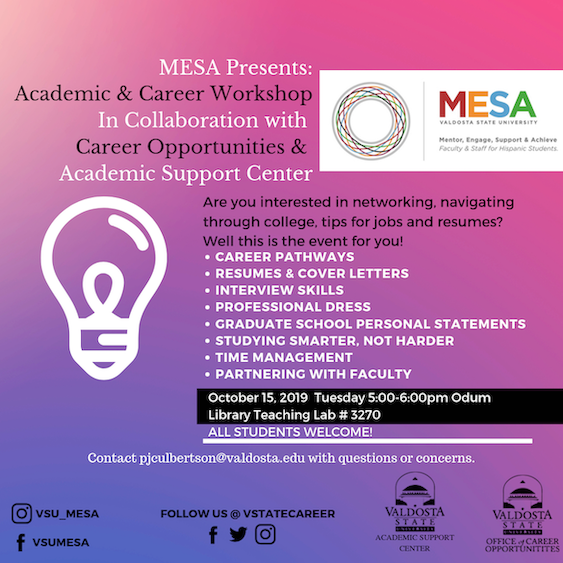 Queer Migrations and the Latinx Television Reboot 
https://youtu.be/G5eLYzFrWWE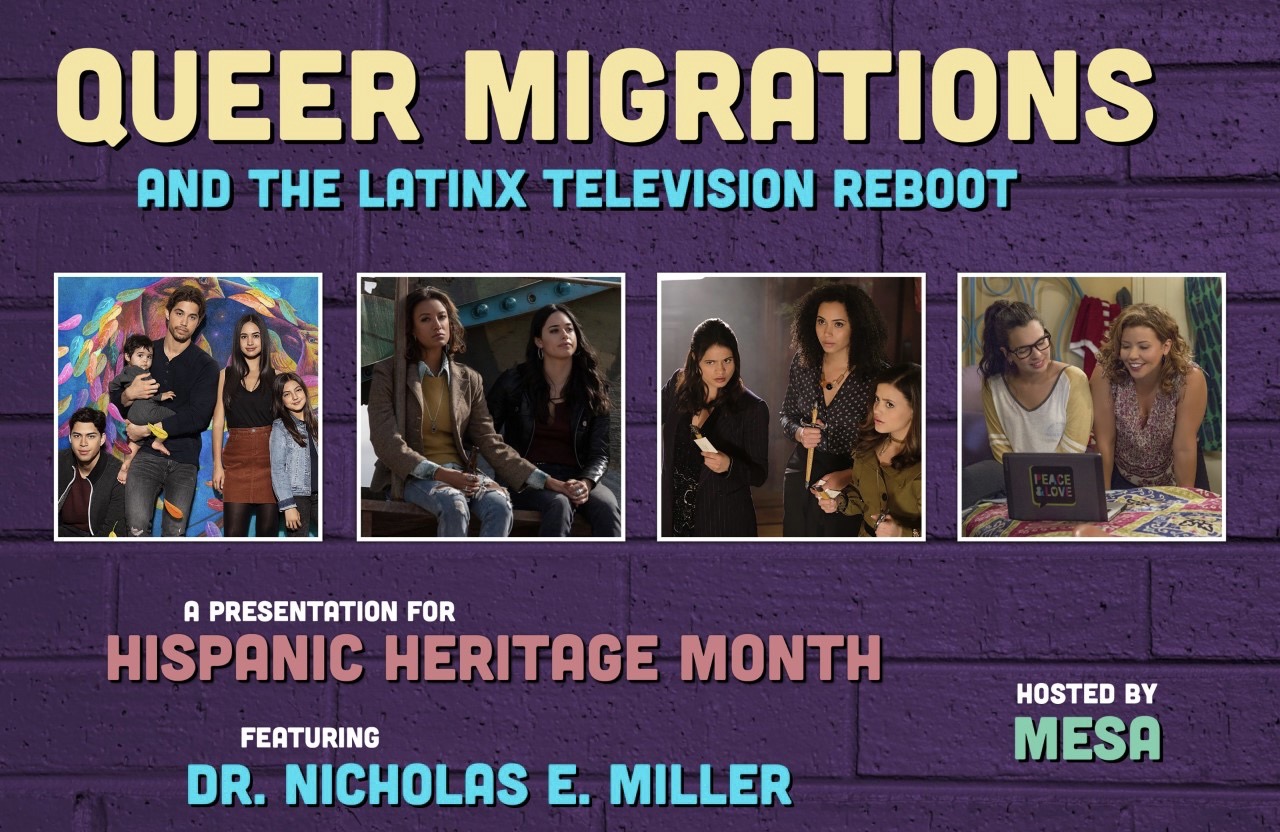 Salsa on the Lawn
https://youtu.be/f5HQYhHbe_4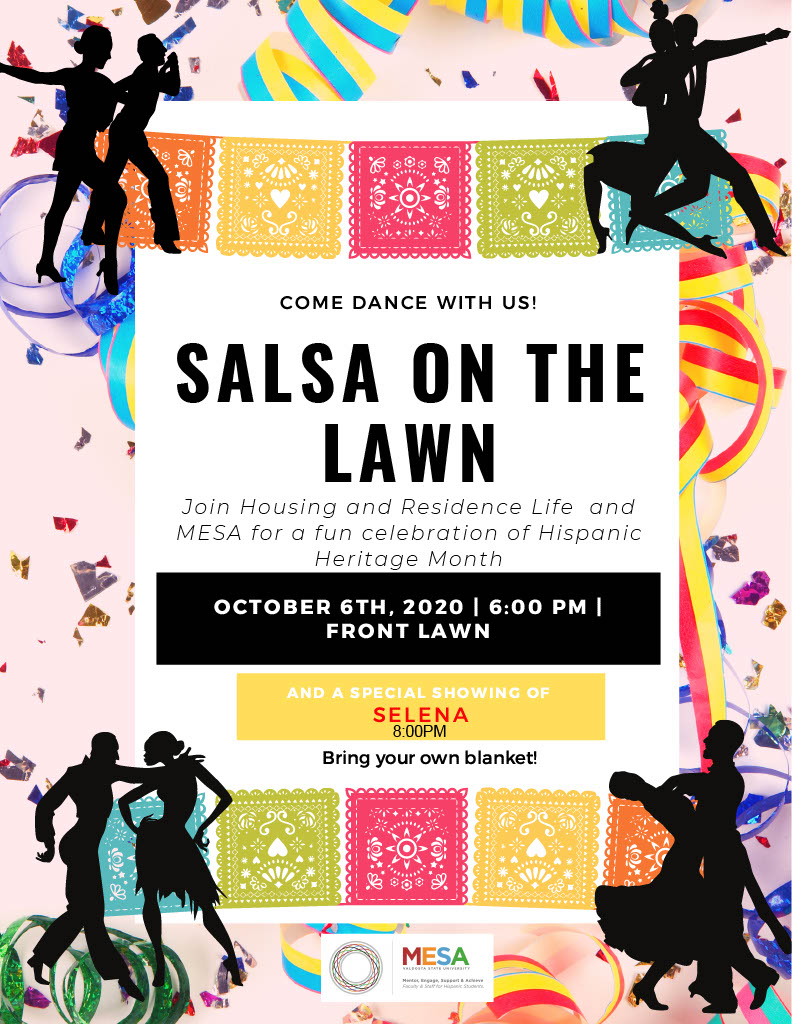 Selling the Value of Diversity & Language to Employers
https://youtu.be/U2ObWxqdV7A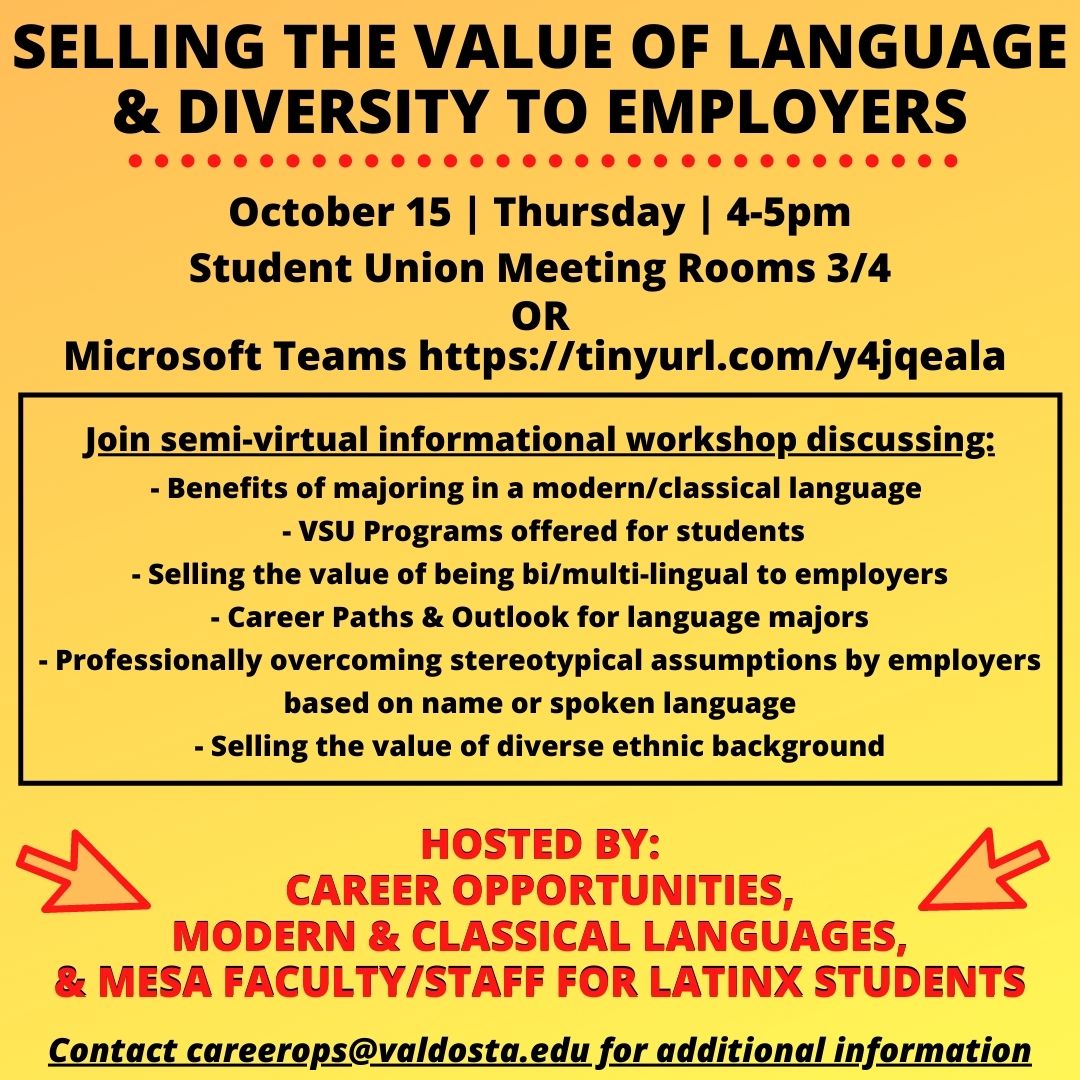 Support Subcommittee Chair: Dr. Meagan Arrastia-Chisholm 
---
Scholarship Recpients 2020-2021
Joanna Olguin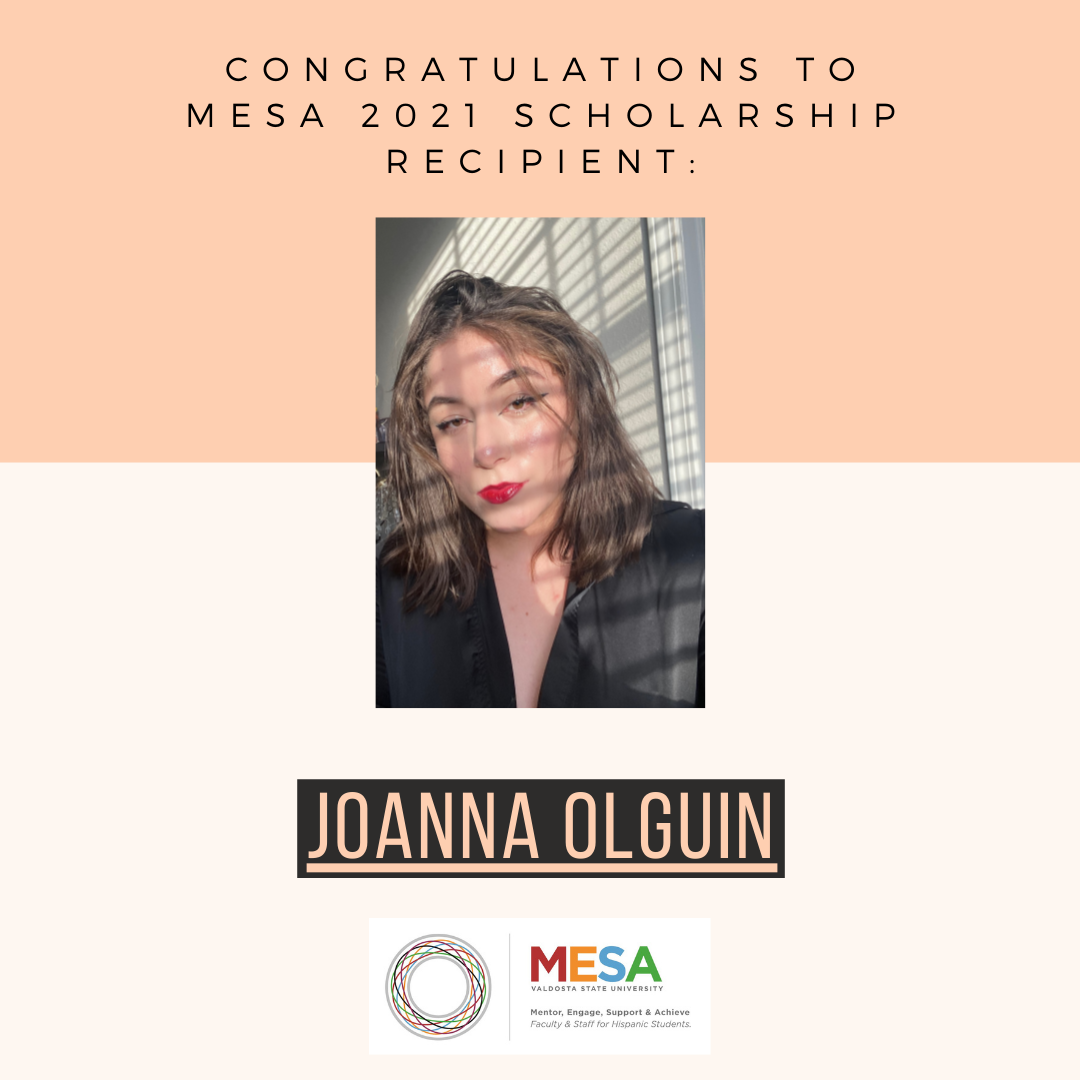 Diana Henriquez
Yasmin Guzman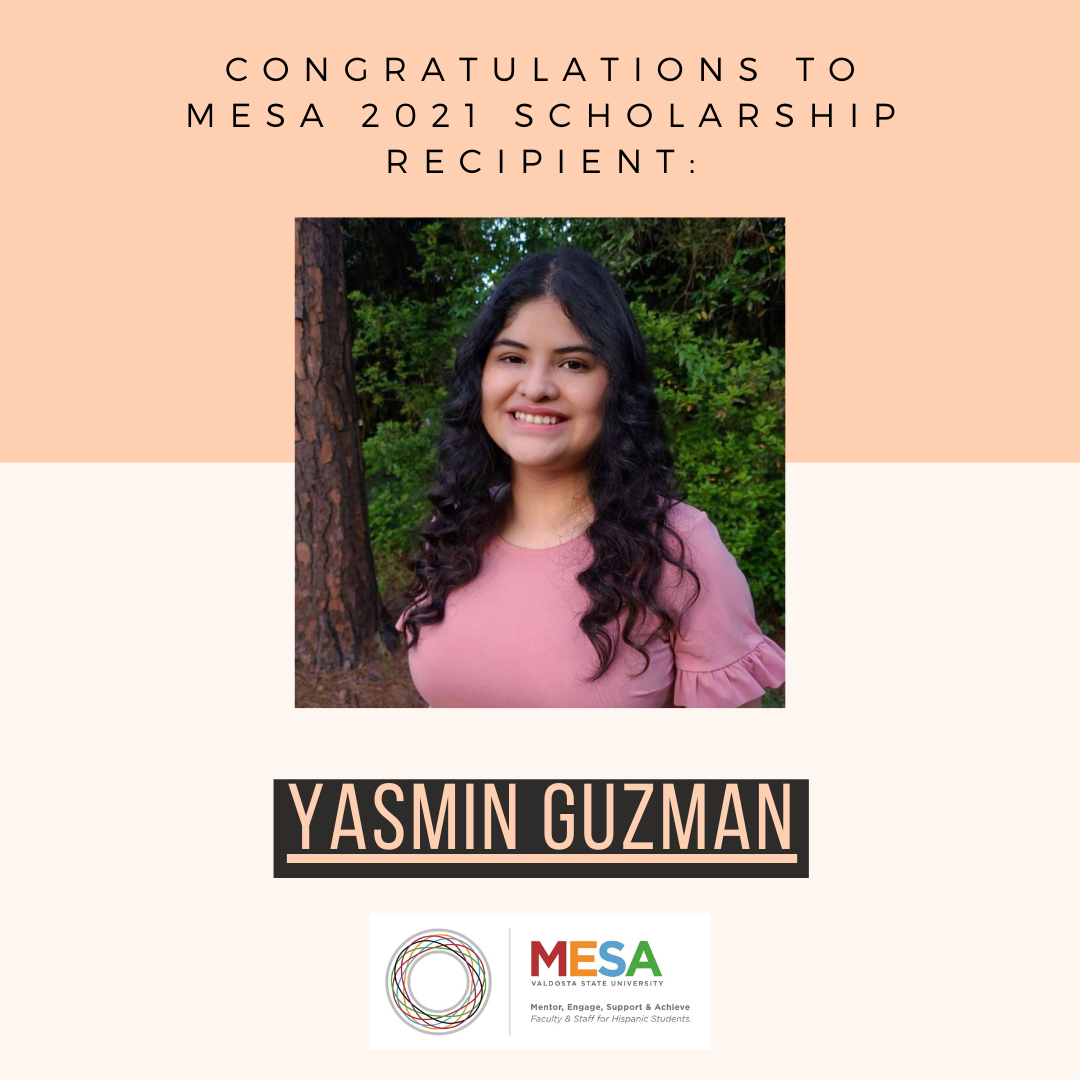 Scholarship Recipients 2019-2020
Marisa Lauer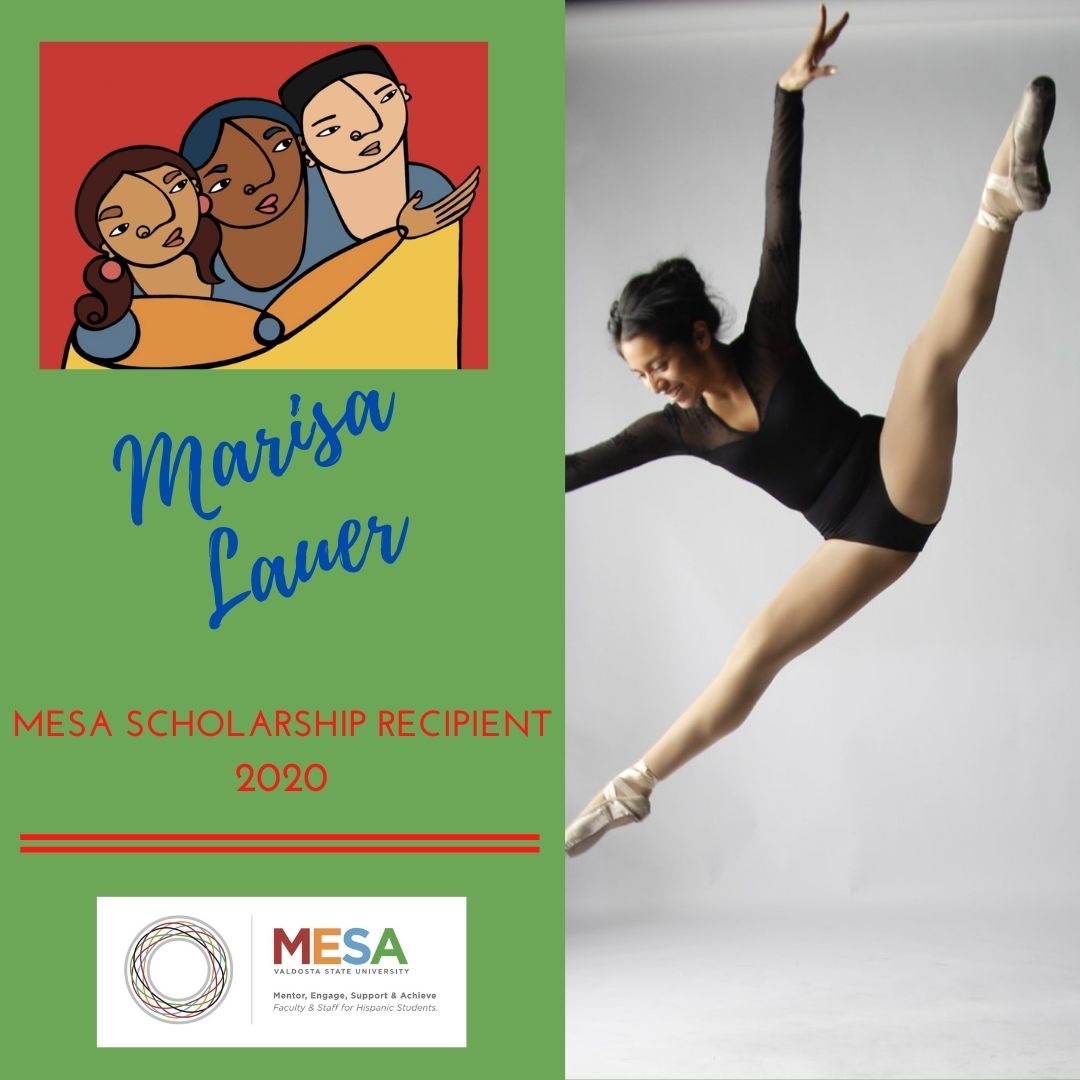 Eddy Castellanos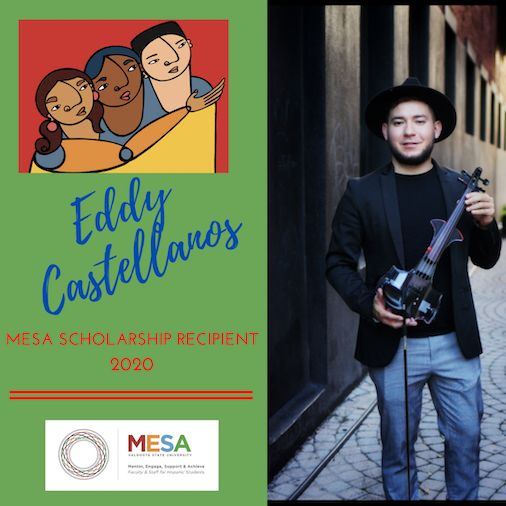 Achieve Subcommittee Chair: 
Please access the following resources to augment you academic and career achievement. 
MESA
1500 N. Patterson Street Valdosta, Georgia 31698
Mailing Address
1500 N. Patterson St.
Valdosta, GA 31698