About the VSU Walking Trail System
The VSU Walking Trail System is a joint collaboration between Blazer Wellness and USG. The scenic route offers current and historical facts about various buildings and artworks at VSU. The fitness route maps a 1.35-mile path around the campus. Our goal is to engage the VSU community by providing opportunities to learn about the campus. VSU is rich with history, art, and beautiful scenery. Walk through our campus and tour the many different things that we have to offer.   
Scenic Route
The scenic route lets you explore some of the most recognizable landmarks around the VSU Campus.  Simply capture the QR-Code on each sign to see fun facts and photos about each stop.  See the numbered map below outlining all 14 stops on the scenic route.  Enjoy a relaxing stroll through our beautiful campus while learning about our history.  
Fitness Route
Throw on your running shoes and let's get moving!  This path follows the sidewalk trail that traverses main campus. The digital map below shows where the route begins and ends in red. There are quarter-mile markers along the path so you know how far you've gone.  Follow this route as many times as desired to reach your personal fitness goals. One trip around the VSU Fitness Route will be 1.35 miles in total.
Mile 0 - Trolley Stop
Mile 0.25 - before reaching the exit from the Fine Arts parking lot
Mile 0.5 - after reaching the Student Union
Mile 0.75 - after passing the parking lot by the Whitehead Camellia Trail
Mile 1 - before reaching Powell Hall on your right
Mile 1.25 - after passing the West Hall fountain entrance way
Mile 1.35 - Completion by reaching the Trolley Stop
Digital Map Main Campus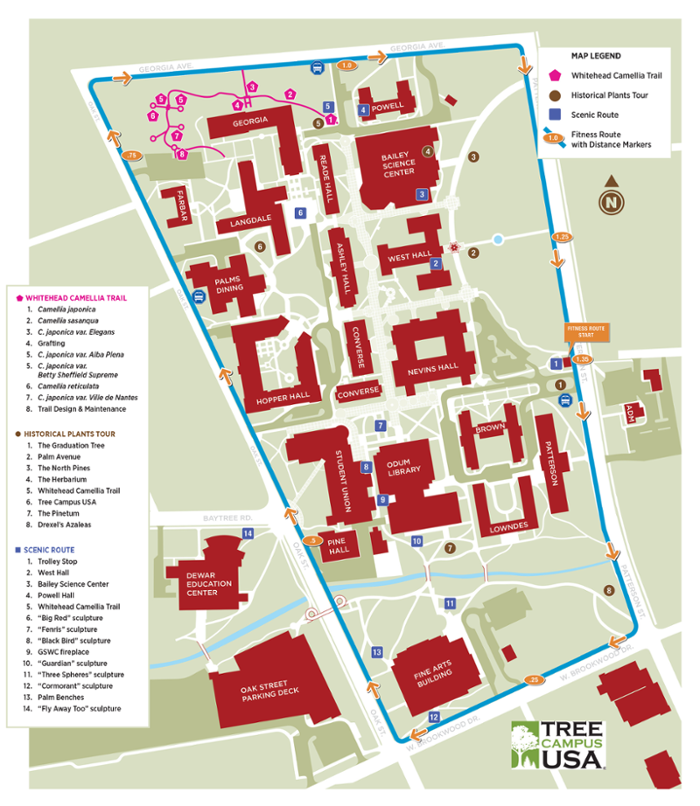 North Campus Walking Trail
This 0.45 mile trail is available for our community to enjoy thanks to the efforts of a University System of Georgia Well-Being initiative in collaboration with The VSU Center for Exercise Medicine and Rehabilitation and Blazer Wellness. A healthy activity target is to walk for 150 minutes per week. Walking one lap will add 10 minutes towards this weekly target. Found along North Campus will be 14 poll signs directing the walk path for individuals walking around the Thaxton, Pound and the Health Sciences and Business Administration buildings.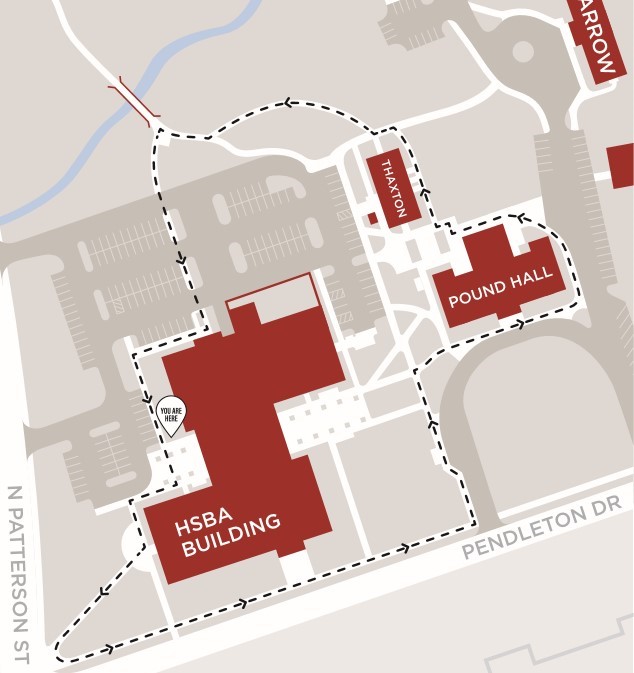 Blazer Wellness
24 Hour Support Lines
Click to call