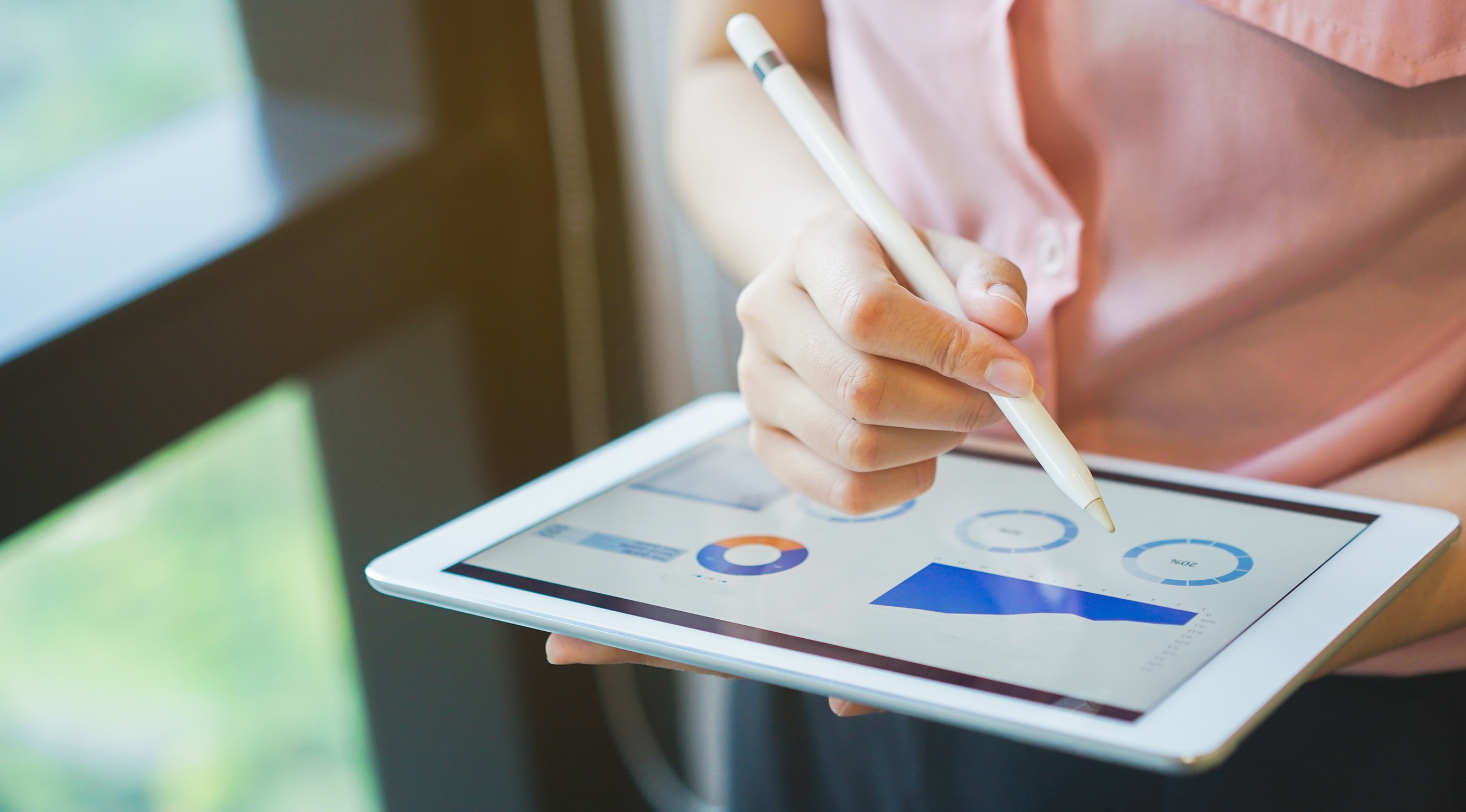 Student FAQs and Resources
The Center for eLearning supports VSU and VSU-collaborative students with technology-enhanced courses using BlazeVIEW or GoVIEW. In addition to online courses using BlazeVIEW, such as SmartPath, the Center provides assistance to students in USG collaborative initiatives including the Georgia ONmyLINE (GOML), eLanguage, and eCore programs delivered via GoVIEW.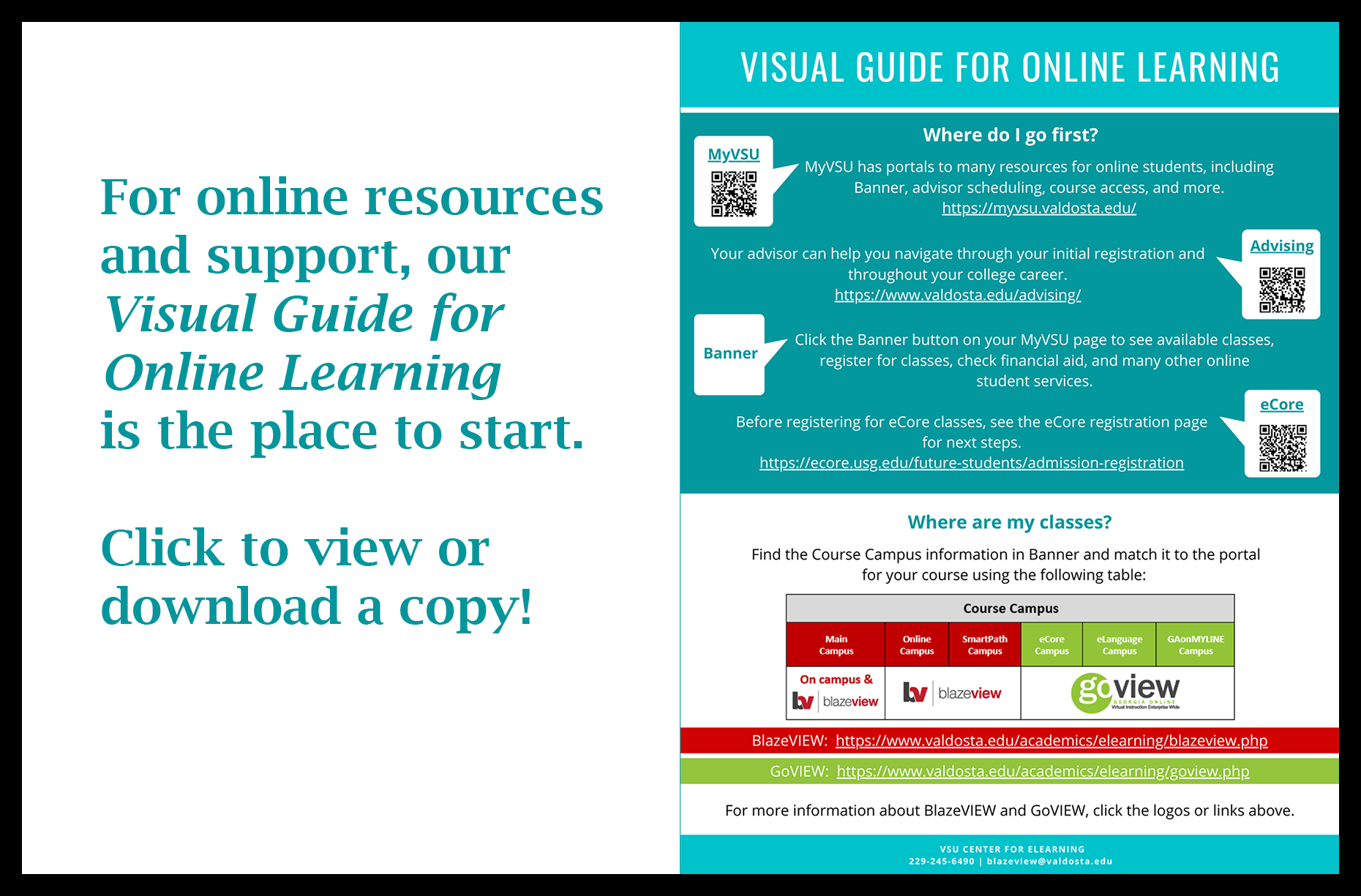 ---
Frequently Asked Questions
Where can I find available courses and register each semester?

Before registering for a course each semester, please make an appointment to see your advisor. Information about advising and how to make an appointment can be found on the How Advising Works at VSU page.

Visual Schedule Builder is a dynamic, real-time class scheduling and registration tool. VSB arranges your desired courses into conflict-free timetable options and displays them in an easy-to-read weekly schedule.

Log into

 

MyVSU using your VSU email and password.
Click

 

Visual Schedule Builder

 

from the Portals list.

* If Visual Schedule Builder is not listed on your screen, click View All and scroll down to select it from the alphabetical listing of portals.

With Banner, you can search for available courses for the semester. You can also register for courses, check grades, and access your student account and financial aid information.

Log into

 

MyVSU using your VSU email and password, then

 

click the Banner button.
From this page, click the Registration Menu, then click Registration.
On the Registration page, click Browse Classes to search for available courses.

NOTE: Before you can register for your first eCore class, you will need to complete the eCore Introduction Quiz.  For more information about eCore, see the eCore questions on this page or go directly to

eCore Admissions and Registration

.

Where are online classes located?

What is the difference between SmartPath and eCore?

SmartPath and eCore both offer courses that satisfy core curriculum requirements at VSU. The main differences are:

Comparison between SmartPath and eCore Courses

Comparison between SmartPath and eCore courses

SmartPath

eCore

Portal
BlazeVIEW
GoVIEW
Instructors
VSU faculty only
USG faculty from colleges and universities across Georgia
Cost
eTuition Rate
eCore Rate
Online Course and Technical Support
Support resources are located on the VSU campus and include the Solutions Center and the Center for eLearning.
Support resources are primarily your eCore Liaison and the eCore support team.

 

SmartPath courses are offered through BlazeVIEW and are taught solely by VSU faculty, with support resources located on the VSU Campus. 

eCore classes are offered through GoVIEW and are taught by faculty from across the university system. Course support is primarily through your eCore liaison and the eCore support team.

For more information on tuition and fees for online undergraduate courses, see the eTuition and Online Courses for Undergraduate page.

Do I need to take the eCore Quiz?

You only need to take the eCore Introduction Quiz if you meet all of the following criteria:

You have never taken an eCore class before.
The class you want to sign up for is an eCore class. The campus location is listed in Banner and the Visual Schedule Builder as eCore Campus.

How do I register for an eCore class, and what if the class is full?

Before registering for a course each semester, please make an appointment to see your advisor. Information about advising and how to make an appointment can be found on the How Advising Works at VSU page.

If you have never taken an eCore class, you will need to complete the eCore Introduction Quiz before you will be able to register.  For more information about eCore, see the eCore questions on this page or go directly to eCore Admissions and Registration.

Click on the image below to view or download the How to Register for an eCore Class guide.

If the eCore class you are trying to register for is full, please contact the VSU eCore liaison to request an override into the class.

 

 

How do I add/drop/withdraw from my online course after the semester starts?

Before making any changes to your course schedule, please make an appointment with your advisor to examine how these changes may affect your progress, grades, and financial obligations.

Adding or Dropping an Online Course

Students may add or drop a class during the official drop/add period at the beginning of each semester.  The official drop/add period is generally the first week of classes during regular fall/spring terms but is shorter during summer and other shorter terms. "Dropping" a class is not the same as "withdrawing" from a class, see "Dropping Vs. Withdrawing". 

Pre-registration, Regular Registration, and Late Registration

From before classes begin and usually the first week of class, although this may be a shorter period during abbreviated terms. Consult the

 

Academic calendar for the schedule each semester.
During this time, students may add and drop through Banner.   


After Registration is closed

Generally after the first week of class.
If students need to drop or add, they must obtain a drop/add form and a late registration appeal form from the Registrar's Office. You can download these on their forms page. 

The Adding or Dropping a Course page can provide you with more detailed information and resources.

Withdrawing from an Online Course

Students may withdraw from courses following the drop/add period until approximately one week after midterm by completing the online withdrawal process on Banner. A grade of "W" will appear in the student's official records if the student has withdrawn five or fewer times per the Limited Withdrawal Policy. For the sixth and each subsequent withdrawal that counts under this policy, students will receive a grade of "WF."

For more information about withdrawing from a course and what to do if you need to withdraw after the designated withdrawal date, please visit the Withdrawal Policy page.

How do I login and find my classes in BlazeVIEW and GoVIEW?

Access to BlazeVIEW and GoVIEW - Account Creation

Your BlazeVIEW or GoVIEW account will be created within 24-48 hours following your registration in a course that meets through that system.

A BlazeVIEW account is created after you register for a course that meets in BlazeVIEW. A GoVIEW account is created after you register for a course that meets in GoVIEW.

You will only be able to access BlazeVIEW or GoVIEW if you have a current or previous course within that system. 

Access to Your Course

Please remember you will not have access to your courses until the first day of class as indicated in Banner. Your course access will end approximately 60 days following the last day of the course. Be sure to download and save any information you may need later before your course access ends.

If you have a B-term short semester course, verify the start date in your schedule if you are unable to access the course. If the start date has passed and you are still unable to access the course, please email blazeview@valdosta.edu for assistance.

BlazeVIEW Access and Login Process

To access BlazeVIEW, login to MyVSU and click the BlazeVIEW icon at the top of the screen. You will automatically be logged in to BlazeVIEW.

GoVIEW Access and Login Process

To access GoVIEW, go to VSU Courses in GoVIEW and click the green Login to GoVIEW button.

Your GoVIEW username is the first part of your VSU e-mail address (before @valdosta.edu), followed by _vsu. (Example: VSU email address jadoe@valdosta.edu will have the GoVIEW username: jadoe_vsu.) 

The first time you log in to GoVIEW, click "Forgot Password" on the login screen and enter your username on the screen that opens. Do not enter your email address.



A password link will be sent to your valdosta.edu email address. The email will be sent from

 

donotreply@donotreply.view.usg.edu

. If you do not see this email in your inbox, please check your junk folder as well.

If you do not receive the 'donotreply' password link email within 24 hours, contact the eCore Helpdesk at 678-839-5300, 1-855-933-2673 or

 

ecore@ecampus.usg.edu

.

Finding and Pinning Courses

Your courses for the current semester should be automatically pinned in both the Course Search list and the My Courses widget. If you cannot locate your courses, try the steps in the How to Find and Pin Your Courses in BlazeVIEW guide. 

How do I access BlazeVIEW and other VSU resources from my mobile device?

Access VSU resources through our apps! These apps are available for both Android and Apple mobile devices.

Brightspace Pulse allows students to access Blazeview from their phone or tablet. Students are encouraged to download the Brightspace Pulse app to keep up with notifications and activities in their online courses.

V-State Mobile is a free mobile app to access many campus resources and services through one central source on their mobile device.

How do I find books, materials, or access codes for my classes?

 Find them in your class

Your course syllabus is your primary source of information regarding how to locate and obtain books, materials, and access codes for your online classes. 

Many instructors also have a Getting Started or Resources module in their courses that includes digital resources and information for the course.

If you are unable to find the information within the course, reach out to your instructor for guidance.

Find them at the VSU Bookstore

The VSU Bookstore is available online for students to order textbooks, course materials, and supplies. The VSU Bookstore also has a wide selection of apparel and other merchandise as well.

Find them through Odum Library resources and services

Odum Library has a multitude of resources to assist online learners with finding all information and materials which they need. The GIL catalog is online and includes many online journals and eBooks.

Circulation: 229-333-5869
Reference Services: 229-333-7149

Where do I find calendars and important dates?

Course Calendar

Academic Calendars - These calendars lists important dates such as holidays, school closure dates, and the first and last days of class.  

Where can I get academic support and accommodations for my online classes?

The Academic Support Center provides peer tutoring for most core courses and some upper-division course. The ASC also provides workshops, technology assistance, and standardized exam assistance.

Services offered by the ASC include:

Peer Tutoring - FREE one-on-one and small group tutoring for academic coursework, standardized exams, and writing skills
Online Tutoring - tutoring appointments during hours when the ASC is not open or when peer tutors are unavailable
Supplemental Instruction - tutors who are embedded in the course to offer peer-assisted study sessions for students
Workshops - sessions on time management, goal setting, and more
Technology Assistance - personal assistance with technology concerns such as using Microsoft Office Suite products

The Access Office ensures all students have equal access to courses and coursework while also assisting with accommodations for classwork and testing. They offer the following services for both in-person and online learners:

Faculty Liaison - These individuals assist students in requesting accommodations from faculty.
Technology Services - These services include: speech recognition software, screen magnification software, text-to-speech software, CCTV, computerized notetaking, closed captioning software, Braille embossing, and other resources as needed. 
Classroom and System Testing Modifications - With appropriate documentation, students may be eligible for and request testing accommodations such as extended testing time, reader, or scribe.
Sign Language Interpreting and Notetaking - Students may request interpreting services for classes, workshops, and tutoring. For academic requests, notetaking may also be provided.
Priority Registration - Eligible students registered with the Access office are permitted to register on the first day of early registration

Where do I go for technical support for my online classes?

The Center for eLearning has multiple paths for access to support and guidance. Contact the Center for eLearning for assistance with BlazeVIEW or GoVIEW learning management systems, as well as many of the integrated learning tools.

For 24/7 BlazeVIEW or GoVIEW technical support, visit the GeorgiaVIEW Help Center. 

Phone: 1-888-772-0423
Toll-free (for hearing-impaired with assistive technology only): 1-800-892-4315
Chat live 24/7 with a support specialist through the orange tab:  GeorgiaVIEW Live Support 

VSU IT Services

Technology Services Portal (TSP)

The Technology Services Portal (TSP) is accessible through the Portals section of MyVSU. Use the TSP to submit a support ticket or explore the knowledgebase for solutions to common problems. Alternatively, you can navigate to it directly by visiting solutions.valdosta.edu and login with your MyVSU username and password.

Additional resources and IT FAQs are located on the Solutions Center website. You can also reach the Solutions Center by phone at 229-245-HELP (4357).

Embedded Support Resources

Many embedded course tools (ex. Pearson MyLab, Respondus, eTextbooks) have support resources built in to them. If you have a problem with an embedded course tool, please look for a link or other contact information within that tool for additional support. 

What other resources are available to online students?

Academic, Personal, and Professional Guidance

The Counseling Center is located in the Student Health Center. All counseling appointments are free to VSU students.

Career Opportunities is open to all VSU students and alumni. This office helps students with interviews, resumes, and job searching.

The Office of University Advising and Student Transitions (UAST) provides professional academic advising for students in 7 college advising centers to build lasting relationships with our students. 

Campus News and Information

Valdosta State University News page presents campus-wide news and information.

The Spectator is the online Valdosta State University Student Newspaper. Written by students, the articles showcase important news about faculty, students, campus activities, and athletics. 
Campus Address
Odum Library
Second Floor - Suite 2621
1500 N. Patterson St. Valdosta, Georgia 31698 Email Address
blazeview@valdosta.edu
Mailing Address
1500 N. Patterson St.
Valdosta, GA 31698