eCore
What is eCore?
eCore® is short for electronic core-curriculum and allows University System of Georgia (USG) students the opportunity to complete their first two years of their collegiate careers in an online environment. eCore® courses are taught entirely online, except for the occasional proctored exam. eCore® courses are designed, developed, taught and supported by faculty and staff from the USG.
VSU students can enroll in eCore® classes to complete their core coursework in a fully-online environment.  If you are a current undergraduate, a transient student from another institution, or a junior or senior, graduate student or just need to pick up a core course, eCore® gives you the flexibility of an online course with a guarantee of quality in both instruction and content.  For more information about eCore®, visit the website or contact the VSU eCore® Advisor.
To view information about eCore® including textbook orders, proctored exams and course offerings visit the eCore® USG website.
How do I register for an eCore class?
To begin the registration process, please take the eCore® Introduction Quiz now.  If you are a current VSU student, please include your Student ID and VSU email address. If you are not a current VSU student, please visit the Admissions Website to begin your admissions process. You will be unable to register for an eCore class without completing the eCore® Introduction Quiz.
Once you complete the introduction quiz, VSU's Center for eLearning will email your VSU email address a welcome letter with detailed instructions for accessing your GoVIEW account and registering.
Register for eCore classes through Banner.
Calendars
eCore® is part of the University System of Georgia Collaborative Programs.  Often the eCore® Calendar varies from the VSU Academic calendar. Please use the eCore® calendar, https://ecore.usg.edu/about/academic-calendar/ for registration and important course dates.
Adds, Drops, and Withdrawals
VSU students taking eCore® classes follow the VSU Academic Policies and Procedures for add/drop and withdrawal (hardship and medical).
Equivalency Guide
VSU/eCore® Course Equivalency Guide includes a description of the eCore® program, information on VSU and eCore® course equivalents, registration and help information.
Need assistance?
Email the VSU eCore liaison at blazeview@valdosta.edu or call eLearning at 229-245-6490.
eCore Registration Flowchart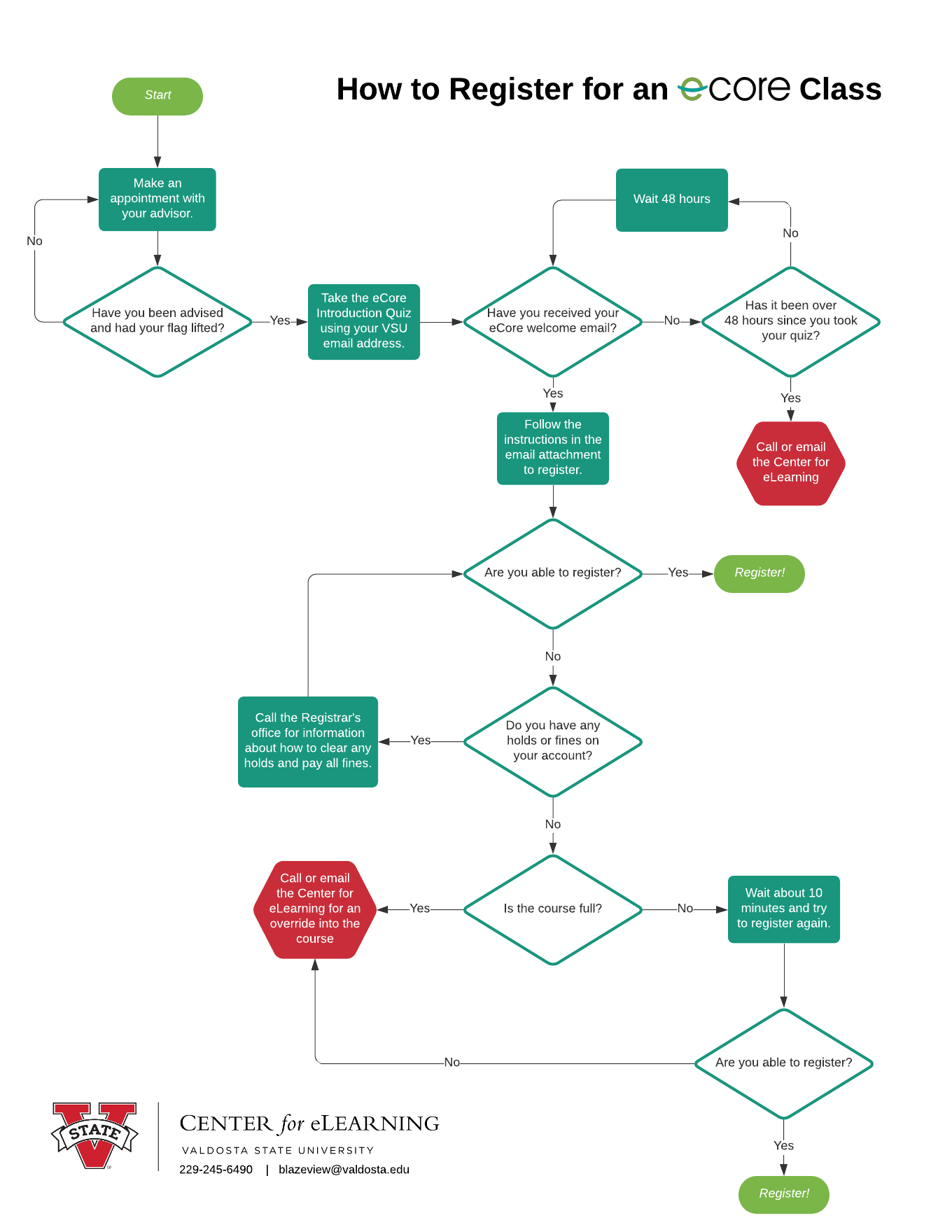 Campus Address
Odum Library
Second Floor - Suite 2621
1500 N. Patterson St. Valdosta, Georgia 31698
Mailing Address
1500 N. Patterson St.
Valdosta, GA 31698