What is eCore?
eCore is short for electronic core curriculum and allows University System of Georgia (USG) students the opportunity to complete their first two years of their collegiate careers in an online environment. eCore courses are taught entirely online, except for a proctored exam if the student chooses to take the exam in person through a testing center. eCore courses are designed, developed, taught and supported by faculty and staff from across the USG.
VSU students can enroll in eCore classes to complete core coursework in a fully online environment.  Whether you are a current undergraduate, a transient student from another institution, a graduate student, or you just need to pick up a core course, eCore gives you the flexibility of an online course with a guarantee of quality in both instruction and content. 
For more information about eCore, including course information, proctored exam requirements, and requirements, visit the eCore USG website or contact the VSU eCore Liaison.
Registration
To begin the registration process, please contact your advisor. Before taking your first eCore class, please complete the eCore Introduction Quiz. 
You will need to have your VSU student ID (870#) and your VSU email address to complete the quiz. If you are not a current VSU student, please visit VSU Undergraduate Admissions to begin your admissions process. 
Once you complete the introduction quiz, the VSU Center for eLearning will email a welcome letter to your VSU email address within 48 hours (2 business days). This letter will include detailed instructions for how to access your GoVIEW account and register for your eCore classes through Banner.
Academic Calendar
eCore is part of the University System of Georgia Collaborative Programs. The eCore Academic Calendar dates often differ from the VSU Academic Calendar dates. Please review and save the eCore Academic Calendar for registration and other important course dates.
Adds, Drops, and Withdrawals
VSU students follow the VSU Academic Policies and Procedures for adding, dropping, and withdrawing from eCore courses.
Overview and Equivalency Guide
The eCore Overview and Equivalency Guide includes a description of the eCore program, information on VSU and eCore course equivalents, registration, and support information.
Need Assistance?
The following resources are available to assist you with your eCore classes.
eCore Registration Flowchart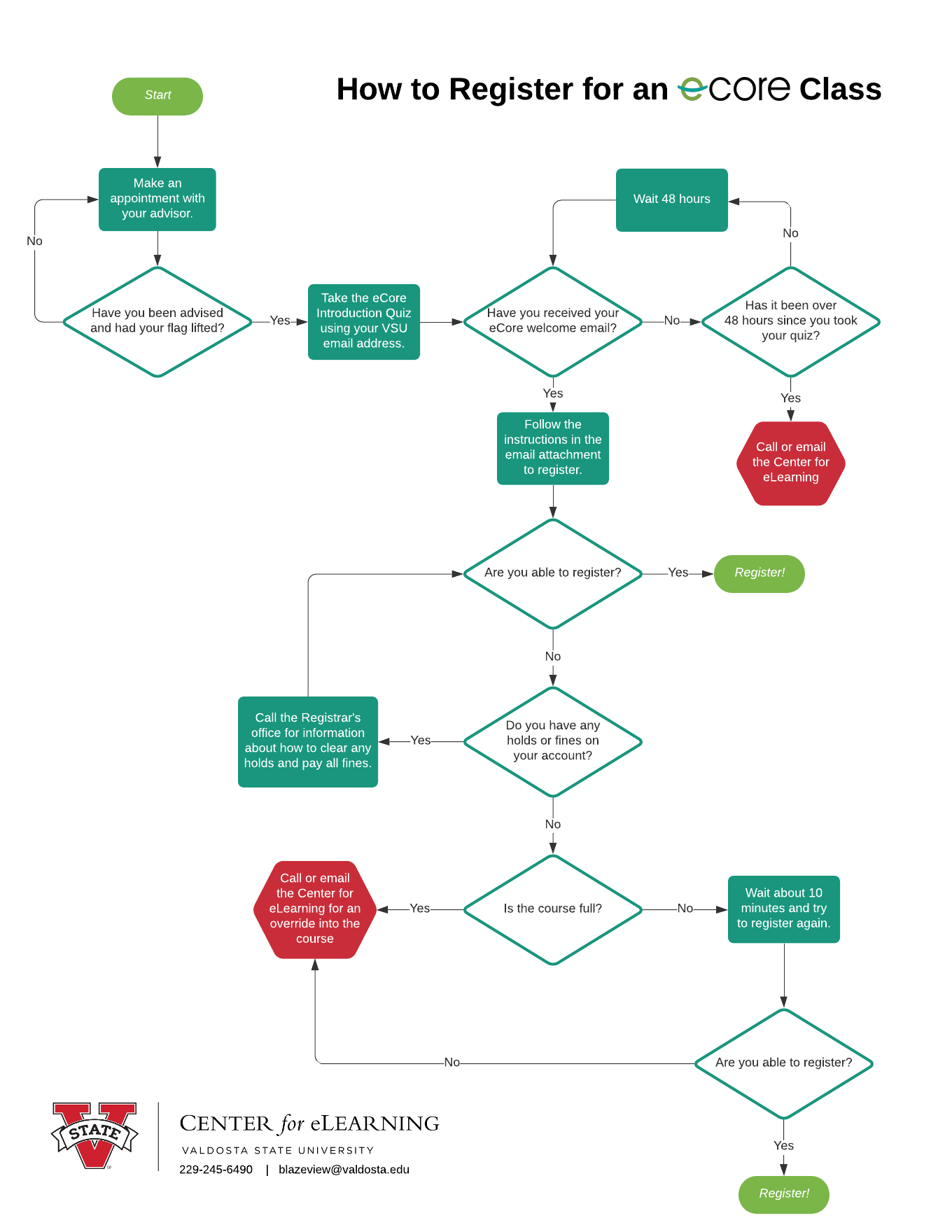 Center for eLearning
Odum Library
Second Floor - Suite 2621

Email Address
blazeview@valdosta.edu
Mailing Address
1500 N. Patterson St.
Valdosta, GA 31698

Office Hours
M-Th: 8 AM - 5:30 PM
F: 8 AM - 3 PM