First-Year Student Orientation Guide
On-Campus Summer & Fall 2022
orientation sessions is now open!
 Summer 2022:    June 6
 Fall 2022:              May 18, 20   June 2, 3, 10, 11, 23, 24, 25   July 15, 16, 22, 23
Instructions to Register for an orientation session:  
the registration form will only become available to accepted students once they have reviewed to their acceptance letter within the New Applicant Portal.  The orientation registration link will be displayed in the portal.
 Get ready to takeover our campus!   Orientation for Summer & Fall 2022 on-campus sessions are designed with your needs and questions in mind.  Each session includes time to explore VSU, while also providing an opportunity to engage with members from across campus about housing, dining, student life, and so much more. Safety for our orientation families, along with that of our students, faculty, and staff remains the highest priority. COVID-19 Operating Guidelines
Get a Sneak Peek of Your Orientation Session Schedule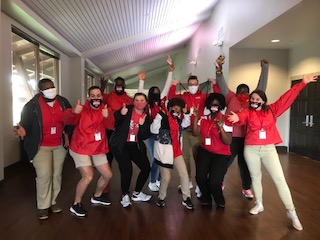 We continue to prioritize the safety of our orientation families, along with that of our students, faculty, and staff, so even if you are considered at-risk, you are still welcome to come join us in person for orientation.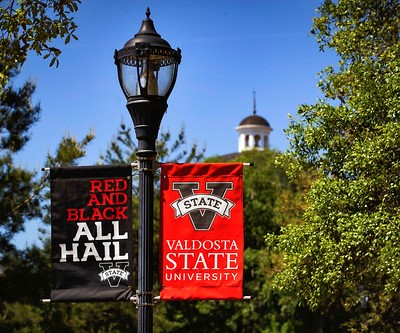 Action items to complete before your session:
Register for a Blazer Beginnings Orientation Session in your Applicant Portal 


Choose your preferred orientation session date, submit the non-refundable orientation fee ($55 for student, $25 per guest); students are limited to 4 guests only. Programming is specific to new students and parents/guardians.

Complete the MyMajors Assessment.      (to assist your academic advisor with your class schedule). The MyMajors Assessment is used to help confirm your major selection and/or to help students who are exploring to discover majors at VSU. The program will recommend your best-fit majors that match your academic achievement, aptitude, unique interests, and preferences. Your advising team will review your assessment and utilize the information as they prepare to build your academic schedule. 

Decide whether to join a First-Year Learning Community (FLC).   FLCs provide an opportunity to begin your college experience with other students who share similar interests and career objectives. In an FLC, 2-3 of your courses will be linked. You will have the same group of 22-25 students in each FLC course. Iindicate your decision to join an FLC on your Pre-Enrollment Survey.
4. Complete your Pre-Enrollment Survey. 
The Pre-Enrollment Survey should be completed after MyMajors Assessment and provides much needed information to your academic advising center. Through the Pre-Enrollment Survey, we learn about your interest in academic majors & career goals, incoming course credit (via AP/IB/AICE/Dual Enrollment), and your preference for summer and/or fall academic courses. 
Once your advising team has received your MyMajors Assessment & Pre-Enrollment Survey, they will begin building your academic schedule. Complete and submit these items as soon as possible.
Upload Photo for Your VSU 1Card (student ID).

Follow the Submission Guidelines to upload your photo through your New Student Checklist. You will receive your VSU 1Card at the end of your orientation session day. Please bring a valid, government-issued photo ID to claim your card. 1Card Photo Link


Complete the Remaining Action Items on your New Student Checklist. 

Your New Student Checklist includes important tasks that you must complete to prepare to begin classes. Begin completing these now. The New Student Checklist Cheat Sheet offers additional information that will help you complete the items on your New Student Checklist.

Plan your trip to campus.

A full day of campus activities are planned for you and your family. We suggest comfortable walking shoes, an umbrella, and a light weight sweater/jacket for indoor air conditioning. Masks are encouraged for your personal safety, but not required at this time. Review the First-Year Student Orientation Day schedule for more information.

Lunch is included. Both vegan and vegetarian meal options are available. Contact the Office of Orientation if you have other dietary concerns at orientation@valdosta.edu                                                                                      

Click here for Driving Directions to campus and the Student Union, where your day will begin!

Get excited for YOUR Blazer Beginnings Orientation Session!

For information about the day, include start and end times, please review the First-Year Student Orientation Day schedule.
Day of Your Session
For information about the day, including start and end times, please review the First-Year Student Orientation Day schedule.
 Things To Do After Your Session Day Has Ended
 Complete the Blazer Beginnings Orientation Survey. 

Tell us about your day! You will receive an email and text with the survey at the conclusion of your session day. 

Review & Accept Your Financial Aid Awards.

Once your FAFSA (and any required verification materials) is submitted, it will be processed by the Office of Financial Aid. You are then awarded any financial aid for which you are eligible. You must review any financial aid offered to you and accept it.

For step-by-step instructions on how accept your awards, visit the Financial Aid & Fee Payment section of the New Student Checklist Cheat Sheet on this website.

Pay for Summer and/or Fall Tuition and Fees.

Student account balances must be paid in full or covered by sufficient authorized financial aid no later than the fee payment deadline to avoid class cancellation. Fee submission deadlines are listed on the VSU Bursary page.

For step-by-step instructions on how to pay tuition and fees, visit the Financial Aid & Fee Payment section of the New Student Checklist Cheat Sheet.

Learn about Textbook Purchase Options.

When you receive your class schedule, you will be able to acquire your textbooks. We encourage you to learn about the various textbook purchase options.  For detailed information about textbook purchase options, visit the Class Registration & Textbooks section of the New Student Checklist Cheat Sheet.

Purchase your Textbooks and Course Materials through the VSU Bookstore.

After reviewing the various purchase options, contact the bookstore (in-person or online) to locate the textbooks and materials required for your summer and/or fall classes as indicated on your class schedule.

Located on the 1st floor of the Student Union, the bookstore has access to all of your textbooks. For more information: VSU Bookstore.

Continue to Monitor your Email Account for semester updates
Additional Tips for Success:
Locate and memorize your VSU ID#. Email admissions@valdosta.edu if you do not have your ID number.
Access your VSU Email.  If you need assistance locating your VSU email address, email admissions@valdosta.edu. VSU email is the official campus communication.
University Advising & Student Transitions
Office of Orientation
Campus Address
Converse Hall, 3rd FL


Main Campus

Valdosta, Georgia 31698

 
Mailing Address
1500 N. Patterson St.
Valdosta, GA 31698

Monday - Thursday

8:00-5:30pm

Friday

8:00 - 3:00pm