CampDISCOVERY - World of Dance

Human Resources - PHR Exam Prep

CampDISCOVERY - Rec Warriors in the pool

A Soldier's Story - Learning in Retirement
Professional and Community Education
Coronavirus Update
Following the guidance of state and federal government officials, we regret to announce that we are cancelling all remaining face-to-face Spring semester PACE classes and events, including the Learning in Retirement program. The safety of our students, instructors, and staff is of the utmost importance. Online classes will continue as usual. Planning for the Fall semester is well underway, and we expect to be back in business next August with a full schedule of classes and events.
Everyone take care and be well!
Attention Teachers!
Like many of you, we are seeing the devastating effects of COVID-19 on people's lives. Many people, businesses, and organizations are stepping up and coming together to support their communities. Now, as always, PACE remains committed to providing you with quality teacher development education and support.
We have initiated a 10% discount on all of our open-entry, online Teacher Development & Recertificaton courses from VESi (Virtual Education Software, Inc). Your discount will be automatically applied when you register online.
If you prefer to register by phone, or have questions, call us at 229.245.6484 and include in your message the best time to call you. We are working remotely and will respond within 24 hours.
Stay safe and well!
CampDISCOVERY: Spring Break
We regret to announce that we have cancelled our CampDISCOVERY Spring Break 2020 program in order to ensure the safety of our campers and staff, and to help stem the spread of the coronavirus in our community.
We have been contacting those who have already registered their children to offer the choice of full refund or credit toward a CampDISCOVERY Summer 2020 program.
 We are sorry to disappoint our campers and their parents, but I know you will understand that the safety of our CampDISCOVERY kids and their families is of the utmost importance.
Digital Arts Camps - CampDISCOVERY: Summer 2020
We continue to accept registrations for our summer Digital Arts Camps for ages 8 - 14. Planning continues for CampDISCOVERY: Summer 2020 and we expect to be back in business with great camps for your children. 
Check out the complete list and details of all our Digital Arts Summer Camps on our Kids' Programs page. Many old favorites are back AND we have 6 EXCITING NEW camps this summer.
Please check back for updates on CampDISCOVERY here at our website or by emailing pace@valdosta.edu.
New Camps:
Rocket Kart Racers: Design a Mario Kart Style Game
eSports Apprentice - Streamers & Gamers
Inventor's League: Prototyping for the Future
Flip through THEBridge course catalog...
We still have many ONLINE opportunities for you. Enhance current skill or learn a new one. Explore a change in career or start training now for the career you've always dreamed about.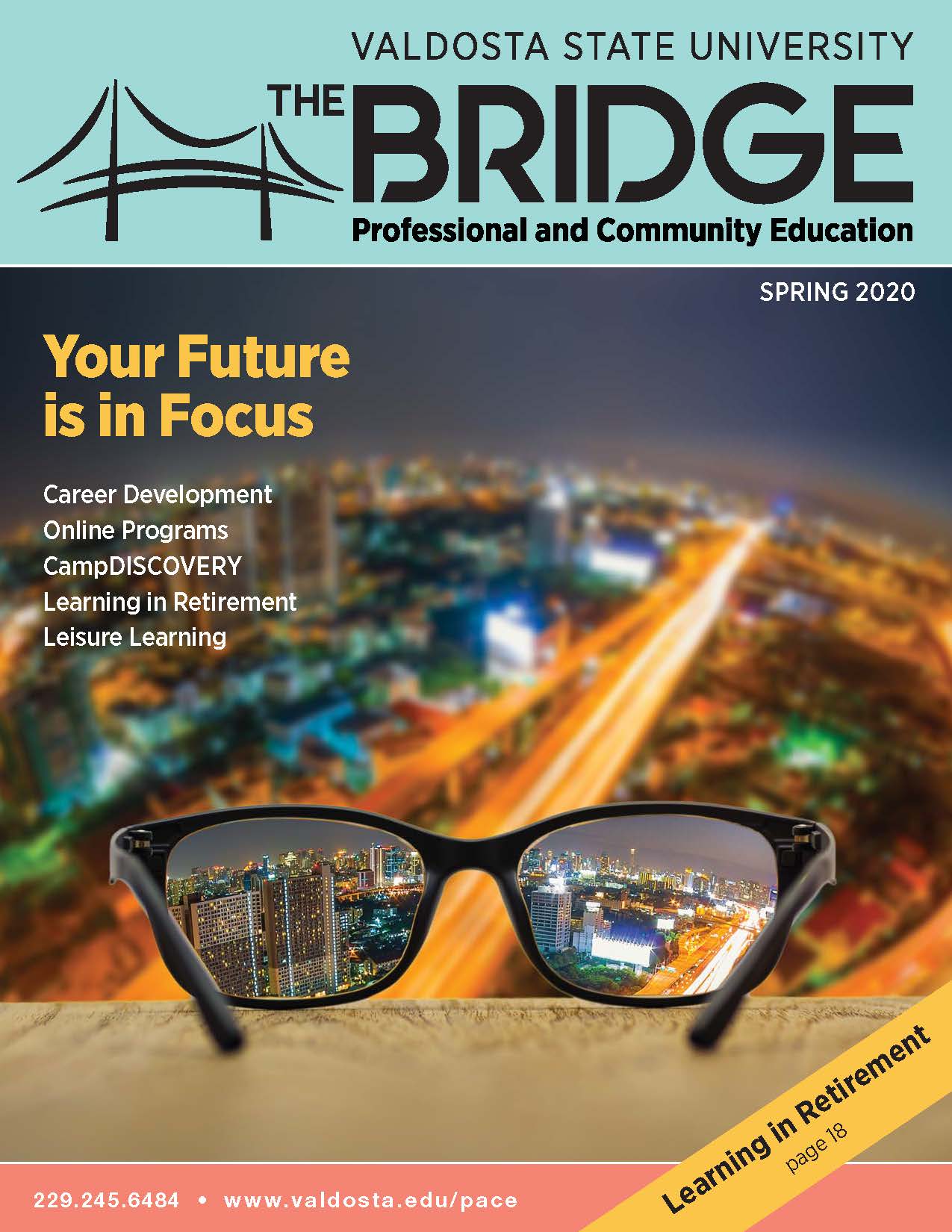 Call us at 229-245-6484 to get on our mailing list.
  Print pages from this standard pdf of THEBRIDGE.

Help a child attend CampDISCOVERY!
Donate to our CampDISCOVERY Scholarship Fund to help support children who could not otherwise attend CampDISCOVERY in 2020 and beyond. You can donate funds for a whole camp or any amount you choose.
You can still donate online to Learning in Retirement!
A tax deductible contribution of $75 will provide a scholarship for an individual who would like to participate but cannot afford a  membership. Donations of any other amount are welcome as well, and will be used to support our programming and special events.
Campus Address
Professional and Community Education
903 N Patterson Street
Valdosta GA 31698
Mailing Address
1500 N. Patterson St.
Valdosta, GA 31698

Monday - Thursday: 
8 AM - 5:30 PM
Friday: 
8 AM - 3 PM