CampDISCOVERY - World of Dance

Human Resources - PHR Exam Prep

CampDISCOVERY - Rec Warriors in the pool

A Soldier's Story - Learning in Retirement
Welcome to Professional and Community Education
Coronavirus Updates
We continue to keep the safety of our students, instructors at the forefront of our planning decisions. Online classes are continuing as usual. Please check back for Fall semester updates.
NEW!   Nonprofit Management Certificate
Gain a foundational knowledge of fundraising, effective leadership, and financial management to start or improve your nonprofit organization. Program is entirely ONLINE. Learn more...
NEW!   Essentials of Human Resources - ONLINE
Begin your HR journey or build upon your current skills to advance your career. Course includes aPHR prep. Read more on our Career Development page. Starts Sept 21. Register Today!
Preparation for PHR/SPHR Certification - ONLINE
Complete details available on our Career Development page. Starts Sept 8. Learn more and REGISTER today.
CampDISCOVERY: Summer 2020
We are unable to offer CampDISCOVERY children's programming this summer. Use our Contact Us link to sign up for our email/mailing list or email us directly at pace@valdosta.edu so you can be notified of future children's programs. Questions? Call 229.245.6484 and leave us a message. 
Attention Teachers! 
We offer 30+ Teacher Development & Recertificaton courses ONLINE in partnership with VESi (Virtual Education Software, Inc). It's easy to register online or call us to register by phone at 229.245.6484. We are working remotely so please allow 24 hours for a reply to phone messages or email pace@valdosta.edu.
THEBridge
We still have many ONLINE opportunities for you. Enhance current skills or learn new ones. Explore a change in career or start training now for the career you've always dreamed about.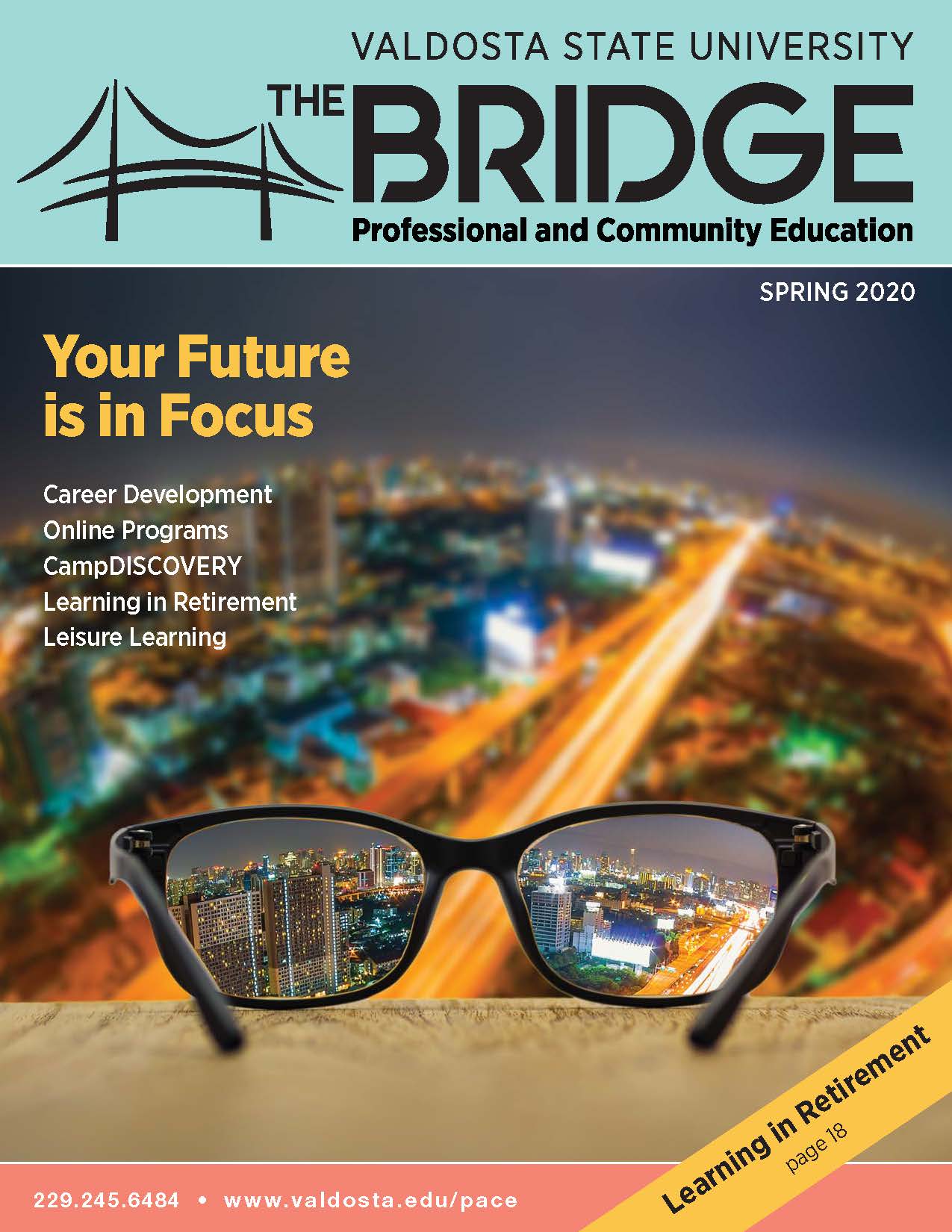 Call us at 229-245-6484 to get on our mailing list.
  Print pages from this standard pdf of THEBRIDGE.
You can still donate online to...
Learning in Retirement
A tax deductible contribution of $75 will provide a scholarship for an individual who would like to participate but cannot afford a  membership. Donations of any other amount are welcome as well, and will be used to support our programming and special events.
CampDISCOVERY
Donate to our CampDISCOVERY Scholarship Fund to help support children who could not otherwise attend CampDISCOVERY in 2020 and beyond. You can donate funds for a whole camp or any amount you choose.
Campus Address
Professional and Community Education
903 N Patterson Street
Valdosta GA 31698
Mailing Address
1500 N. Patterson St.
Valdosta, GA 31698

Monday - Thursday: 
8 AM - 5:30 PM
Friday: 
8 AM - 3 PM