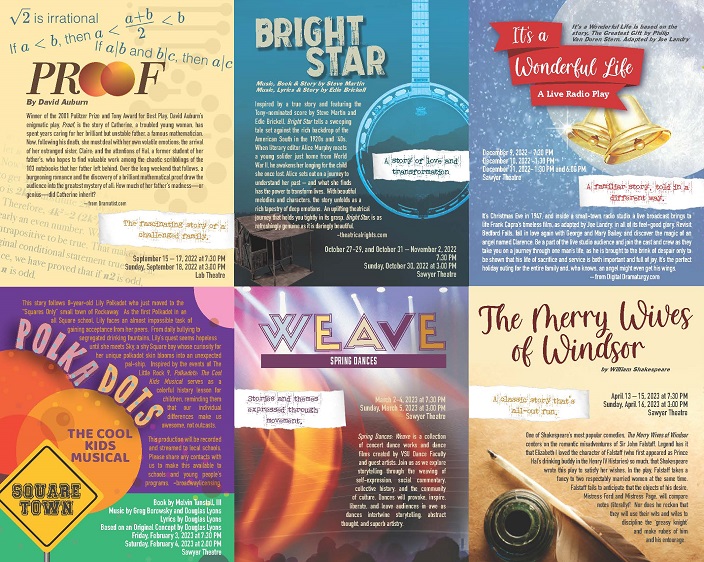 Offerings and streaming dates of our season are subject to change.
Upcoming Productions: 
Spotlight Series Virtual Playbill 
Past productions of this season:
PROOF
by David Auburn
Winner of the 2001 Pulitzer Prize and Tony Award for Best Play, David Auburn's enigmatic play, Proof, is the story of Catherine, a troubled young woman, has spent years caring for her brilliant but unstable father, a famous mathematician. Now, following his death, she must deal with her own volatile emotions; the arrival of her estranged sister, Claire; and the attentions of Hal, a former student of her father's, who hopes to find valuable work among the chaotic scribblings of the 103 notebooks that her father left behind. Over the long weekend that follows, a burgeoning romance and the discovery of a brilliant mathematical proof draw the audience into the greatest mystery of all: How much of her father's madness—or genius—did Catherine inherit?  
– from Dramatist.com
This production contains mature themes and adult language.
September 15-17, 2022 at 7:30 PM
Sunday, September 18, 2022 at 3:00 PM
Lab Theatre, 2nd Floor, VSU Fine Arts Building
BRIGHT STAR
Inspired By A True Story
Music, Book & Story by           Music, Lyrics & Story by
Steve Martin                            Edie Brickell
Inspired by a true story and featuring the Tony-nominated score by Steve Martin and Edie Brickell, Bright Star tells a sweeping tale set against the rich backdrop of the American South in the 1920s and '40s.
When literary editor Alice Murphy meets a young solider just home from World War II, he awakens her longing for the child she once lost. Alice sets out on a journey to understand her past – and what she finds has the power to transform lives. 
With beautiful melodies and characters, the story unfolds as a rich tapestry of deep emotions.  An uplifting theatrical journey that holds you tightly in its grasp, Bright Star, is as refreshingly genuine as it is daringly beautiful.                        
- from theatricalrights.com
This production contains mature themes.
October 27-29,  and October 31- November 2, 2022 at 7:30 PM
Sunday, October 30, 2022 at 3:00 PM
Sawyer Theatre, 1st Floor, VSU Fine Arts Building
IT'S A WONDERFUL LIFE: A Live Radio Play
Adapted by Joe Landry
'It's a Wonderful Life' is based on the story, 'The Greatest Gift' by Philip Van Doren Stern
It's Christmas Eve in 1947, and inside a small-town radio studio a live broadcast brings to life Frank Capra's timeless film, as adapted by Joe Landry, in all of its feel-good glory. Revisit Bedford Falls, fall in love again with George and Mary Bailey, and discover the magic of an angel named Clarence. Be a part of the live studio audience and join the cast and crew as they take you on a journey through one man's life, as he is brought to the brink of despair only to be shown that his life of sacrifice and service is both important and full of joy. It's the perfect holiday outing for the entire family and, who knows, an angel might even get his wings.                       
– from Digital Dramaturgy.com
Friday, December 9, 2022 at 7:30 PM
Saturday, December 10, 2022 at 1:30 PM
Sunday, December 11, 2022 at 1:30 PM and 6:00 PM
Sawyer Theatre, 1st Floor, VSU Fine Arts Building
IT'S A WONDERFUL LIFE: A Live Radio Play virtual playbill.
POLKADOTS: THE COOL KIDS MUSICAL
Book by Melvin Tunstall III
Music by Greg Borowsky and Douglas Lyons
Lyrics by Douglas Lyons
Based on an original concept by Douglas Lyons
This story follows 8-year-old Lily Polkadot who just moved to the "Squares Only" small town of Rockaway.  As the first Polkadot in an all Square school, Lily faces an almost impossible task of gaining acceptance from her peers.  From daily bullying to segregated drinking fountains, Lily's quest seems hopeless until she meets Sky, a shy Square boy whose curiosity for her unique polkadot skin blooms into an unexpected pal-ship.  Inspired by the events of The Little Rock 9, Polkadots: The Cool Kids Musical serves as a colorful history lesson for children, reminding them that our individual differences make us awesome, not outcasts.
This production will be recorded and streamed to local schools. Please share any contacts with us to make this  available to schools and young people's programs.
- broadwaylicensing.com
Friday, February 3, 2023 at 7:30 PM
Saturday, February 4, 2023 at 2:00 PM
Sawyer Theatre, 1st Floor, VSU Fine Arts Building
SPRING DANCES: WEAVE
Spring Dances: Weave is a collection of concert dance works and dance films created by VSU Dance Faculty and guest artists. Join us as we explore storytelling through the weaving of self-expression, social commentary, collective history, and the community of culture. Dances will provoke, inspire, liberate, and leave audiences in awe as dances intertwine storytelling, abstract thought, and superb artistry.
This production may contain mature themes and language.
March 2 - 4, 2023 at 7:30 PM
Sunday, March 5, 2023 at 3:00 PM
Sawyer Theatre, 1st Floor, VSU Fine Arts Building
The Merry Wives of Windsor
by William Shakespeare
One of Shakespeare's most popular comedies, The Merry Wives of Windsor centers on the romantic misadventures of Sir John Falstaff. Legend has it that Elizabeth I loved the character of Falstaff (who first appeared as Prince Hal's drinking buddy in the Henry IV Histories) so much, that Shakespeare wrote this play to satisfy her wishes. In the play, Falstaff takes a fancy to two respectably married women at the same time.  Falstaff fails to anticipate that the objects of his desire, Mistress Ford and Mistress Page, will compare notes (literally)!  Nor does he reckon that they will use their wits and wiles to discipline the 'greasy knight' and make rubes of him and his entourage.
From the director:
Why would we set The Merry Wives of Windsor on a Golf Course in Georgia in the 1960's? Well, the music was pretty good. But also, this is a story that is not bound to an Elizabethan understanding, it's timeless. Many of Shakespeare's plays are timeless due to the themes that they address; be it love, greed, death jealousy... the list goes on, and these are themes that are as relevant today as they were 400 years ago.  The Merry Wives of Windsor is no exception to this Principle. This play deals with the volatile, but simultaneously, profoundly empathetic potential of contemporary society. It is a true melting pot of eclectic human beings that come together to form a community. I think this is a story as poignant today as it ever was. 
This production contains mature themes.
April 14 - 15 and 17, 2023 at 7:30 PM
Sunday, April 16, 2023 @ 3:00 PM
Sawyer Theatre, 1st Floor, VSU Fine Arts Building
THE MERRY WIVES OF WINDSOR Virtual Playbill 
Theatre and Dance Box Office
Fine Arts Building
204 West Brookwood Dr.
Valdosta. GA, 31698
Mailing Address
1500 N. Patterson St.
Valdosta, GA 31698
Box Office:
Office:

Monday - Saturday
2:00 pm - 5:00 pm

During academic year