BFA Theatre
Theatre Tracks
---
The Theatre program at VSU offers a BFA with emphases in Performance, Production, Musical Theatre and Theatre Management. The Theatre program also offers a minor in Theatre.  Admission to the Musical Theater and Performance emphases requires an audition[1] and acceptance to the emphasis is one step beyond acceptance to the University. For more information on auditions see the link on this page.
Students have many opportunities to develop their skills as the program offers a comprehensive season during the academic year with musicals, children's plays, period pieces, and modern works.  Prospective students will be interested to note that our 2017 production of Lauren Gunderson's I AND YOU (at left) and our 2014 production of SHE STOOPS TO CONQUER (video clip above) were presented at The Kennedy Center/American College Theatre Festival's Region IV Festival (Region IV is a nine-state region).  VSU Theatre & Dance is proud of this double honor within a three year period.
In addition the University hosts Peach State Summer Theatre[2], The Official Musical Theatre of Georgia, which is a professional summer stock company that performs three musicals per season.  Roles and positions in the productions are competitively selected and a number of our majors participate.  The regular season, combined with Peach State, will provide you with extensive experience.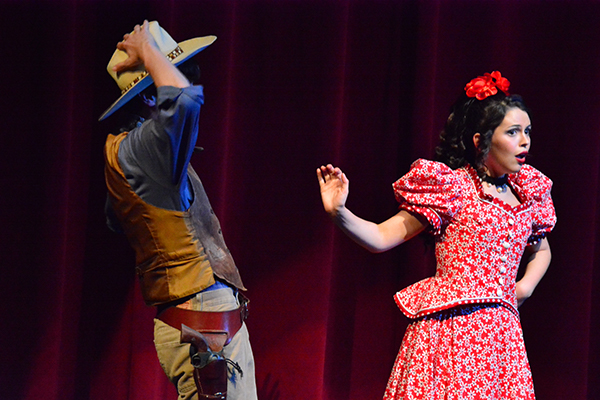 The Theatre program also offers students a number of networking opportunities.  In addition to Peach State, the program maintains a Pro-Conn Program (Professional Connections).  Pro-Conn brings professionals to campus to give workshops, advice, and answer questions regarding the theatre industry.  On a biennial basis, Pro-Conn coordinates field trips for students to major markets for workshops and networking opportunities. 
How do we know we are successful?  Just look at our alumni.  Many of our alumni are those who return to campus as part of the networking opportunities or as part of the student showcase. We view this alumni relationship as a strong advantage to our program. 
Our alumni can be seen on Broadway in the recent revival of ANNIE, On and Off-Broadway in the recent production of 39 STEPS, in regionaltours of JOSEPH AND THE AMAZING TECHNICOLOR DREAMCOAT, on the Alliance stage in the recent BULL DURHAM, in films such as WHEN THE TEAM STANDS TALL and TROUBLE WITH THE CURVE, on television in the series ALL MY CHILDREN, as writers on the hit television series, NASHVILLE, and in regional theatres and theme parks across the country. 
Our production students are Scenery Supervisor at The Public Theatre in New York and was Technical Director at the Aurora Theatre in Atlanta, scenic artists at the Metropolitan Opera, responsible for wigs and hair at the Metropolitan Opera, stage managers in New York, Lighting Production Planner at Disney World.  Our alumni are theatre technicians at theatres across the country.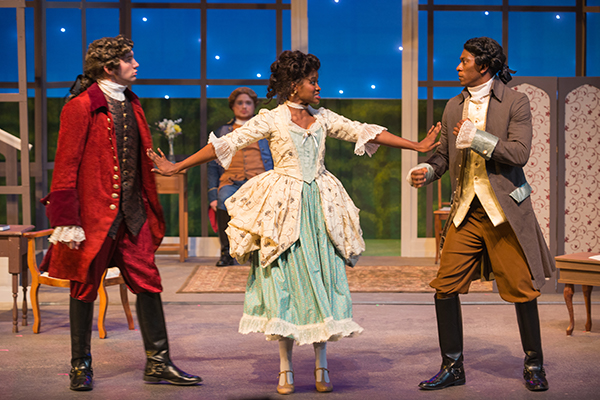 Our performances are also recognized for excellence.  For example, She Stoops to Conquer, was one of nine productions (out of 220) invited to the Region IV Kennedy Center American College Theater Festival.  This was a great experience as the regional festivals are intended to "showcase the finest of each region's entered productions and offer a wide range of activities, including workshops, symposia, and regional-level scholarship and award programs".
GPA Requirement
Students entering the University directly from high school must maintain a GPA of 2.0 or better on all course work undertaken in order to continue as Theatre and Dance majors. If in any given semester a student's overall GPA falls below 2.0, the student will have one semester (fall or spring) to bring it back up to or above 2.0. If the overall GPA remains below 2.0 for two consecutive semesters, the student will be requested to change majors. Any student who fails to respond to that request will automatically be transferred to an undeclared major status.
Students who enter the University as transfer students who wish to continue a major in Theatre or Dance must have a GPA of at least 2.0 on all course work undertaken. Upon acceptance as a major, a student must maintain an overall 2.0 GPA as described above.
Students changing majors from another program within the University must also have at least a 2.0 overall GPA to transfer to the Theatre or Dance major, and they will be subject to the same maintenance requirements already described.
Skills you will learn
As a major in the Theatre program you will:
develop critical thinking, problem-solving, planning and organizational skills
learn teamwork.
work to deadlines
develop perseverance, self-discipline, and patience while developing physical stamina and creative abilities
strengthen and refine their acting, technical, management, and voice skills before entering the professional world. 
develop a broad understanding of music, literature, history, and other arts to help interpret ideas and feelings in performance.                               
Sample careers for Theatre graduates 
Employment opportunities for Theatre graduates include:
Arts Administrator
Lighting Designer

Costume Designer 

Scenic Designer
Technical Director
Stage Manager
Actor/Actress
Playwright or Script Writer
Producer
Director
Technician 
229.249.2602
Campus Address
Fine Arts Building
204 West Brookwood Drive
Valdosta, GA 31698
Mailing Address
1500 N. Patterson St.
Valdosta, GA 31698
Monday - Thursday8:00 am - 5:00 pmFriday8:00 am - 3:00 pm