S. Walter Martin
1966 - 1978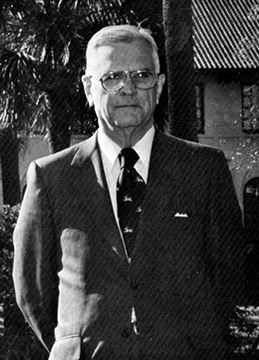 Dr. Sidney Walter Martin was the fifth president of Valdosta State College.  Appointed by the board of Regents in 1966, Dr. Martin's presidency lasted 12 years (1966-78). He was born on February 1, 1911, in Tifton, Georgia.  Dr. Martin received an A.B. from Furman University in 1932, a M.A. from the University of Georgia in 1935, and a Ph.D. from the University of North Carolina in 1942.  He married Clare Philips on July 30, 1940, and they had one son and one daughter.
Before his appointment at Valdosta State College, Dr. Martin spent 22 years at the University of Georgia as a professor, Dean of Facilities, and Dean of the College of Arts and Sciences (1935-57).  He was then appointed as president of Emory University (1957-62), and finally he was the Vice Chancellor of the University System of Georgia (1962-66) until he came to Valdosta State College in July 1966.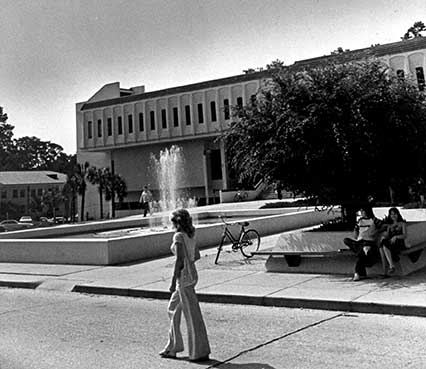 Dr. Martin continued the building trend that had begun under Dr. Thaxton.  During his presidency, Dr. Martin dedicated Odum Library, the Fine Arts Building, the Education Center, the College Union, and three dormitories: Langdale Hall, Lowndes Hall, and Georgia Hall.  He also reorganized the college and started graduate programs.  These physical changes mirrored social changes that took place on campus during this time.  The students were less homogenous, and college assumptions such as "in locus parentis," or the college acting in place of the parents, fell away.  Among new programs were two often associated with Martin: nursing and Air Force ROTC.  The name of the sports teams—The VSU Rebels—was changed to the VSC Blazers; and women's intercollegiate sports finally began with the Lady Blazers.
Dr. Martin retired in summer 1978, to be replaced by Dr. Hugh C. Bailey.  For the rest of his life, Dr. Martin remained active in the Methodist Community, with VSC, and he wrote numerous scholarly articles for historical journals.  He died June 2, 2000 in Valdosta.
1973 Homecoming Queen Skip McDonald
Phone
Archivist
Campus Address
William H. Mobley IV Reading Room 
Odum Library
1500 N. Patterson St.
Valdosta, Ga. 31698
Mailing Address
1500 N. Patterson St.
Valdosta, GA 31698

Monday - Thursday

9:00am-5pm

Friday

9:00am-3pm

The Odum Library is a Federal Depository Library.