Blazer Beginnings Orientation
Virtual orientation is now open!
Check your VSU email for directions on getting started.
---
First-Year Students - Welcome to Blazer Beginnings Orientation! 
Blazer Beginnings Orientation is VSU's introduction to campus life for new students. All students are required to attend an orientation session prior to enrolling in classes, with few exceptions. Sessions are led by current VSU students and support staff, who are here to answer your questions and show you how VSU is ready to support your success as a new Blazer! You will also meet with your academic advisor, who will finalize your class schedule your first semester, and have the chance to connect with Financial Aid, support services, and student life.
See our upcoming and recorded webinars!
How we're managing COVID-19 Precautions
Due to the recent events involving COVID-19, the University has put our community's health and well-being at the forefront of each decision. Because of that, all Blazer Beginnings Orientation sessions for new summer and fall students are being moved to a fully virtual format. For information on Valdosta State's response to the COVID-19 pandemic, visit our information page. For a sense of the Blazer Nation's spirit in the midst of these challenges, please watch our video here.
While virtual orientation is not new at Valdosta State, we are diligently working to create a more robust, engaging, and comprehensive experience. Below, you can review the anticipated timeline and overview for First-Year Student Virtual Orientation sessions this summer. If you are an incoming transfer student, click here.
---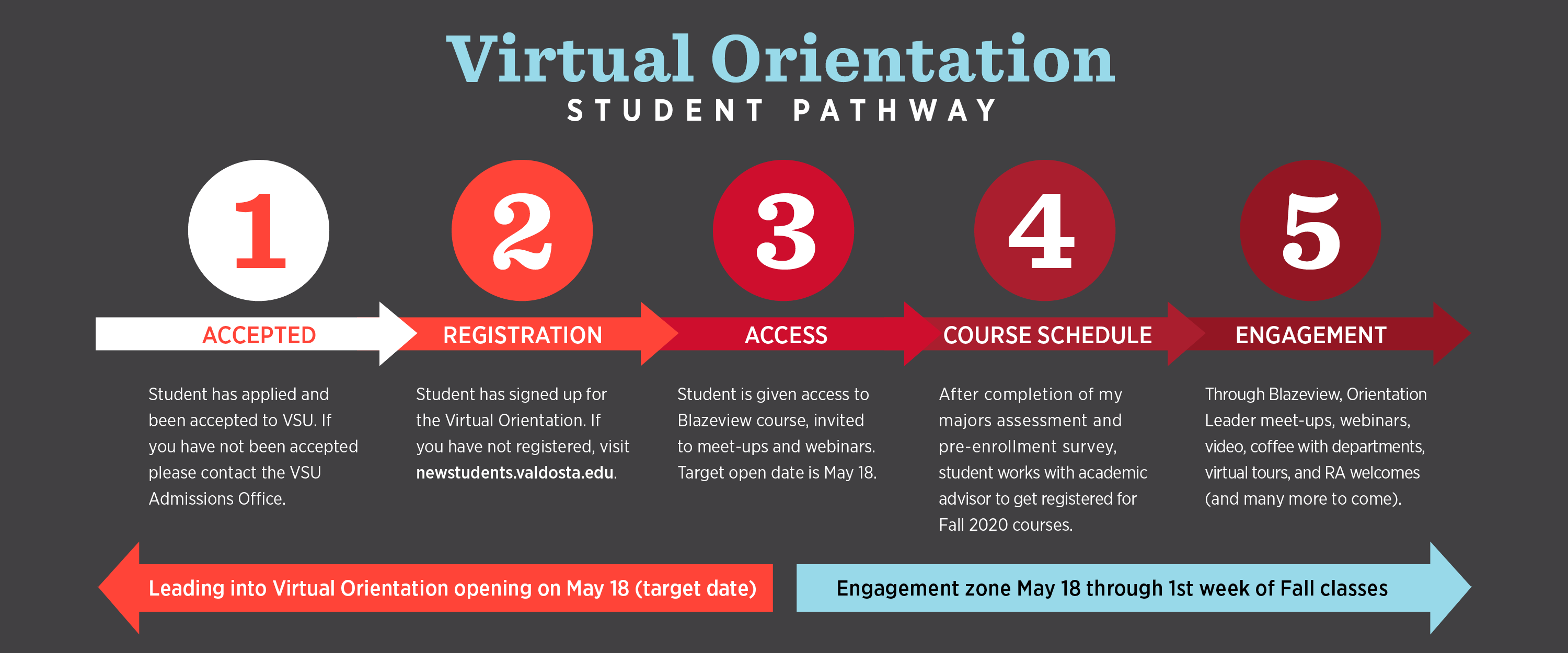 What to Expect for Virtual Orientation
As you can see above, we opened the Virtual Orientation experience on Monday, May 18. You will receive email communication to your new @valdosta.edu email account, so please continue to monitor your email during this season. The first step is the hardest, and you're already there: being accepted! We're excited that you've been chosen by our team to attend VSU. If you haven't been accepted, please contact the VSU Admissions office before proceeding.
You can expect a mix of online resources, live webinars, online interactions with orientation leaders, and more programming through August.
For a list of the activities to complete prior to arriving on campus, please see the Blazer Beginnings Virtual Orientation Checklist.
---
---
How to Register
To register for your Virtual Blazer Beginnings Orientation, follow this link to our reservation website. You will then select your session – and, to help our students and families in the transition during the COVID-19 pandemic, we are waiving the fee normally required for attendance.
Preparing for your session
Submit official copies of your high school transcripts and AP/IB/AICE/Dual Enrollment transcripts to admissions, if you have not done so previously. We recommend you hold on to a copy for yourself as the information will be needed to fill out the MyMajors Assessment and Pre-Enrollment Survey.
Virtual Orientation Overview (May 18 - August 17)
The first step is for students to complete the MyMajors Assessment and Pre-Enrollment survey. The assessment and survey will be accessed through our learning platform, BlazeVIEW. For information on how to access BlazeVIEW, visit our Frequently Asked Questions. To learn about the importance of the MyMajors Assessment and Pre-Enrollment Survey to creating your course schedule, please watch this video from a few members of our advising team.
Once you have completed the MyMajors Assessment and Pre-Enrollment Survey, complete the Financial Aid Agreement requirement, which is also located in BlazeVEIW. Once this has been completed, our academic advising team will begin building your class schedule. Please continue to monitor your valdosta.edu email address.
Through Blazeview, you'll interact with your Orientation Leader, a VSU student to be your guide to all things Blazer Nation as you transition to college. We'll offer meet-ups online, webinars with campus departments, virtual coffee chats with academic departments and professors, virtual tours of the campus, welcome messages from your residence hall advisors, and many more to come.                                         

The Blazer Beginnings Virtual Orientation Checklist outlines all of the major tasks to complete as part of orientation to prepar for begining classes in the fall.
Need Answers?
We know there are many questions related to orientation, so please take a moment to review our Frequently Asked Questions.
All summer semester courses will be held fully online. Your academic advisor will help summer students build a schedule, but no coursework will be face-to-face between now and the end of July. If you are currently admitted to start in May/June and would like to start in August instead, complete a brief form to update your entry term here.