Louis Stokes Alliance for Minority Participation (LSAMP)
About SWGA-SPA and LSAMP
Valdosta State University is a member of the Southwest Georgia STEM Pathways Alliance (SWGA-SPA) program.  The SWGA-SPA is funded by the National Science Foundation (NSF) Louis Stokes Alliance for Minority Participation (LSAMP) program, created to provide support to underrepresented minority (URM) students (African Americans, Hispanic Americans, American Indians, Alaska Natives, Native Hawaiians, and Native Pacific Islanders).  The goal of this program is to transform the STEM learning environment by significantly increasing the number of URM majors graduating with baccalaureate degrees and applying to graduate programs in the STEM disciplines.
The Southwestern Georgia STEM Pathways Alliance is an alliance of six institutions in southwestern Georgia, including Valdosta State University. The SWGA-SPA program will support admitted students by providing financial support in addition to academic and research support through faculty mentoring, research internships, group meetings, annual conferences, and graduate school preparation.
Program Benefits:

In addition to the financial stipends, participants will receive the benefits of the following program components:

Mentoring
Research internship opportunities
Annual research conference and graduate school fair meetings
Preparation for the Graduate Research Examination (GRE)
Who Can Apply?
To be eligible for the program, the following requirements must be met:
Be a URM student enrolled at one of the partner institutions listed in the table below
Pursue an associate or undergraduate degree in an LSAMP approved STEM discipline
Be a U.S. Citizen or permanent resident with a documented qualifying condition (see application for types of conditions)
Have a GPA of at least a 2.5 in high school (for entering Freshman) or college as calculated by the HOPE scholarship program or a 145 GED score
 Partner Institutions in LSAMP SWGA-SPA
| | |
| --- | --- |
| Abraham Baldwin Agricultural College | Georgia Southwestern State University |
| Columbus State University | Valdosta State University |
| Columbus Technical College | |
 To maintain eligibility requirements, participants must:
Be a full-time URM student in an LSAMP approved STEM discipline, with a cumulative institutional GPA above the applicant eligibility requirement
Participate in required activities
Demonstrate a commitment to excellence both inside and outside of the classroom within their chosen STEM discipline
To Apply - Click Here (Application Period Opens Spring 2022)
VSU LSAMP Contact Information
Interested in applying but unsure if you meet the requirements?  Want to learn more about LSAMP and SWGA-SPA?  Do you have questions regarding the application process, research opportunities, and how LSAMP can benefit you?  Please reach out to any of the following faculty members and they will be happy to answer any questions.
Dr. Peggy L. Moch, Co-PI, VSU Campus Coordinator: plmoch@valdosta.edu
Dr. Sandra Trowell, VSU Assistant Campus Coordinator: strowell@valdosta.edu
Dr. Linda de la Garza, VSU Mentor Coordinator: ldelagarza@valdosta.edu
VSU LSAMP Activities
There are many opportunities to get involved with VSU LSAMP including monthly meetings, activities, research opportunities, and conferences.  View the list below and discover how you can get plugged in.
2022 SWGA-SPA LSAMP Meetings

January 19 - 19:00 @ NH 2124
January 26 - 19:00 @ NH 2124 preparing for LSAMP Spring 2022 Summit
February 23 - 19:00 @NH 2124 Activity on Imposter Syndrome
March 23 - 19:00 @ NH 2124
April 20 - 19:00 @ NH 2124
2021-2022 Conferences

February 26-27, 2021: SWGA-SPA Summit CSU
October 22-24, 2021: LSMRCE Virtual Conference
November 15, 17, & 19, 2021: The Eaton Experience. Register online here.
February 25-26, 2022: SWGA-SPA Summit (poster guidelines and event information can be found below under Research Opportunities)
March 7-8, 2022: Inclusive Future Faculty Symposium hosted by Arizona State University (learn more by clicking here.)
March 25-26, 2022: Georgia Academy of Sciences (more information can be found below under Research Opportunities)

2021-2022 Activities

March 15,2021: Orientation for new associate scholars @ 19:00 online
April 19,2021: Focus Group with Evaluators @ online
May 24-28,2021: Online Math Boot Camp at ABAC
June 7-11, 2021: Summer Bridge Research Camp @ VSU
June 5-10, 2022: Summer Bridge Research Camp @ ABAC (click here to view flyer)
Research Opportunities
Blazer Summer Research Institute for Summer 2022
The BSRI Steering Committee has announced the Blazer Summer Research Institute for Summer 2022 for VSU undergraduate students and mentors.  Linked below are some important documents to help guide you through the application including a fact sheet just for VSU students.  Final funding approval will be made in early Spring 2022 which will enable the committee to make final determination on the number of awards to be given out for this year's program. Please see the BSRI website, linked below, for more details or contact Dr. Dereth Drake at djdrake@valdosta.edu if you have any questions about the program or application process.  
Please note - the deadline for submissions is December 15th, 2021.
https://www.valdosta.edu/academics/graduate-school/research/office-of-sponsored-programs-research-administration/blazer-summer-research-institute.php
2022 BSRI Documents:
2022 SWGA-SPA Summit (February 25-26, 2022)
The 2022 SWGA-SPA (Southwestern Georgia STEM Pathways Alliance) Summit, hosted by Valdosta State University, will be held on February 25th-26th, 2022.  The Summit can be accessed by registered participants at https://app.gather.town/events/zx2Pp6kWap60R6afG1YS.
Below you will find the guidelines for presentations of LSAMP sponsored research.  Follow them to prepare your poster for the February 2022 Alliance Summit (Feb 25, 26 2022).
Poster requirements:
Size: 36" x 48"

Attached is a template you may use. Please change colors and modify for your institution and presentation needs. Second file is an example from LSAMP student, poster presented in 2020.

Acknowledgements must include the following statement:

This material is based upon work supported by the National Science Foundation under Grant No. HRD-1817519.

All 

poster

s must include both NSF and SWGa 

LSAMP

logos. You may also include VSU logo.
Some conferences might prefer the vertical or horizontal option for the poster, modify accordingly. As of now, the summit will be Virtual, so horizontal presentation is preferred.
Some additional resources can be found below:
Georgia Academy of Science (March 25-26, 2022)
This is the FIRST CALL FOR PAPERS for the 2022 Georgia Academy of Sciences. The meeting will be held in person at Valdosta State University March 25-26, 2022.
The abstract submission form (a MS Excel file) that includes abstract submission guidelines and the contact information of presenters can be downloaded from the Georgia Academy Website: http://www.gaacademy.org/annualmeeting.html. Please follow the directions provided in the Excel abstract submission form. This file includes, as separate tabs in the spreadsheet, the presenter information form, an abstract form guide that contains instructions and an example of a completed form, and the abstract form to complete. Please follow the directions and proofread the completed tabs in the spreadsheet before submitting.
The ABSTRACT SUBMISSION DEADLINE is Monday, December 6th, 2021. Presenters should send the completed Abstract Submission form, including the presenter information, as an email attachment to the appropriate Section Chair. Section Chair contact information is available at http://www.gaacademy.org/sectionofficers.html. Section Chairs will acknowledge receipt of abstract submissions by contacting by email the sender(s) of submitted abstracts. All presenters, and the faculty sponsor (if applicable), must be members of the Academy. Membership information is available on the Academy site at: http://www.gaacademy.org/membership.html
For research that will not be completed by the abstract submission deadline, abstracts of research in progress will be acceptable.
Registration fees:
Faculty members who have paid dues for 2022: $135
Student members who have paid dues for 2022: $50
Faculty non-members:  $170 (includes dues for 2022)
Student non-members: $60 (includes dues for 2022)
Registration for the meeting will be available soon via a link on the Academy meeting page at http://www.gaacademy.org/annualmeeting.html. 
Updates will be provided through email or on the Academy meeting page.
Abstracts received by December 6th, 2021 will be submitted to referees for review. Referees will make minor corrections if necessary. If major changes are suggested, referees will notify Section Chairs who will pass those recommendations on to submitters for action. Section Chairs will notify authors of acceptance by January 10th, 2022.
Faculty are encouraged to present at the meeting, but priority will be given to students if time slots are limiting. Presentations can eventually be converted to manuscripts that can be submitted to the Georgia Journal of Science for publication consideration. This is a great opportunity to establish or enhance a publication record for both students and faculty. 
Summer Undergraduate Research Programs at USG
To view all summer undergraduate research at University System of Georgia (USG) institutions, please visit https://cosinfo.gatech.edu/usg-stem-summer.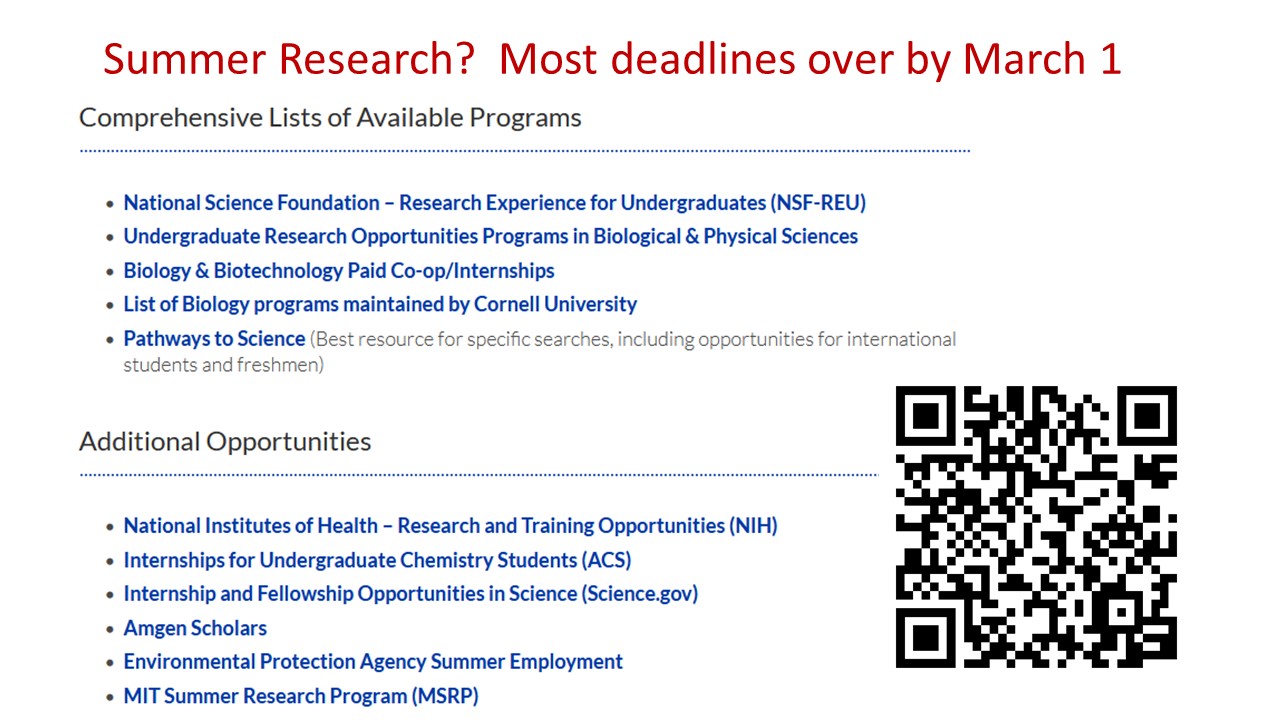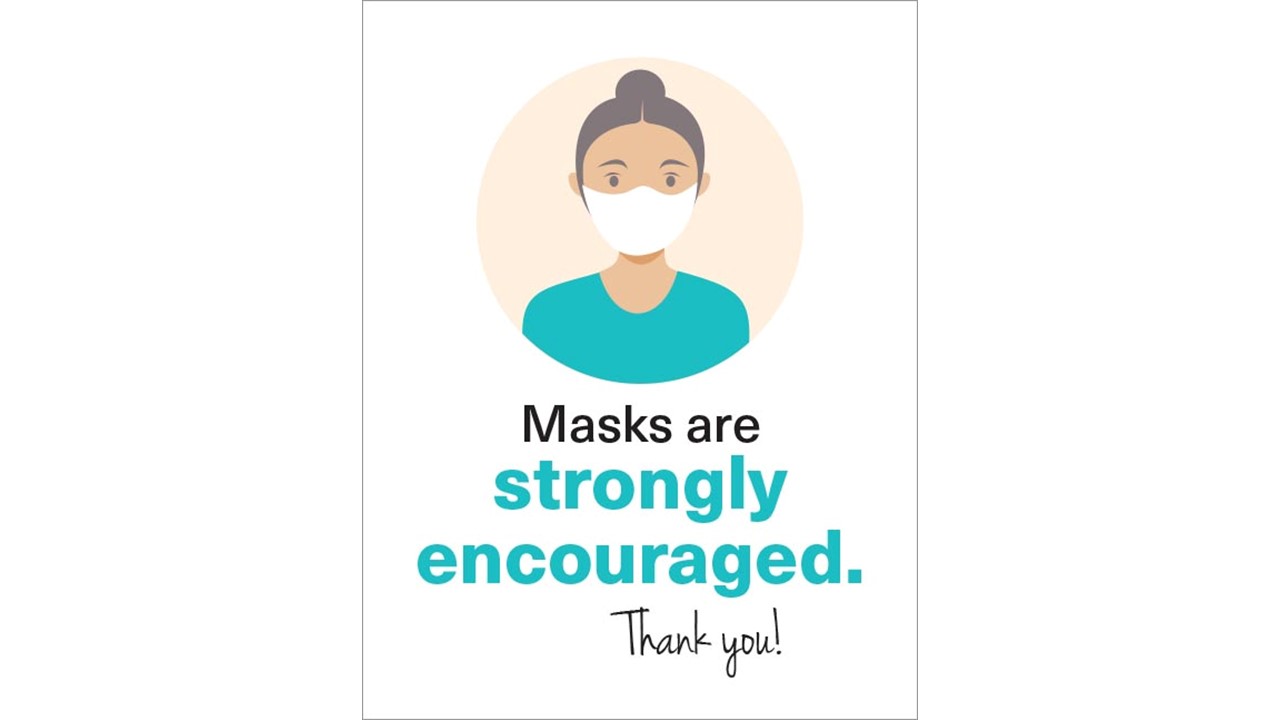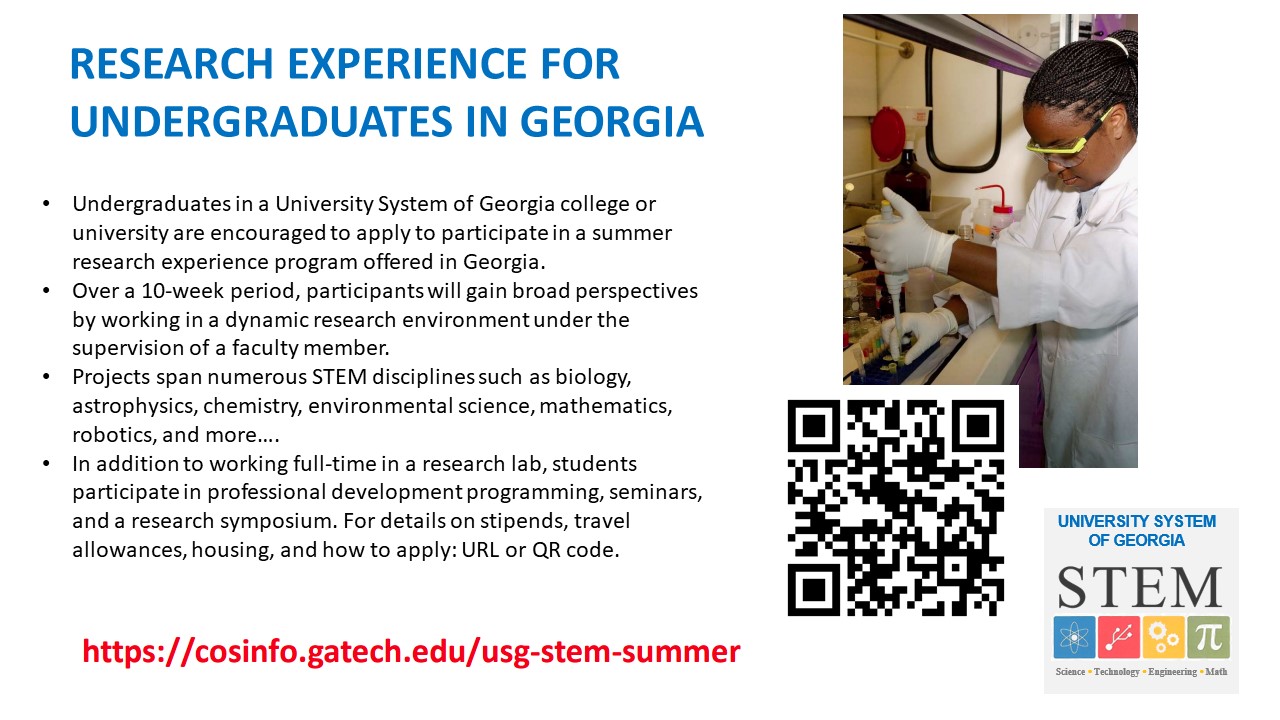 4th Annual Posters at the Georgia State Capitol (March 30, 2022)
The fourth annual "Posters at the Georgia State Capitol" will take place March 30, 2022, from 12:30 p.m. - 3:30 p.m. (includes set up and take down times). Any student who is enrolled as an undergraduate student in March 2022 in a public or private institution located in the state of Georgia is eligible to apply. Posters at the Georgia State Capitol applications will be accepted until January 28, 2022 at 5:30 p.m.
To apply, students must submit 200 – 250 word abstract, a personal statement, a statement of presentation experience, and a mentor support letter. Complete information on how to apply and the opportunity itself are located here: https://www.gcsu.edu/murace/posters-state-capitol
CEMITURE and I-Cemiture (May 16 - July 22, 2022)
The Georgia Southern Chemistry & Biochemistry Department invites science majors to apply for:
CEMITURE, supported by the Division of Chemistry (CHE) in the National Science Foundation (NSF), is a Research Experience for Undergraduates (REU) program. CEMITURE projects are performed in the United States on the Georgia Southern campus and only accepts undergraduates.
I-CEMITURE (International-CEMITURE), awarded by the NSF Office of International Science & Engineering (OISE), is an International Research Experience for Students (IRES) which takes place at the University of Lorraine in Épinal, France. I-CEMITURE will accept undergraduate and graduate students. Travel to France is covered by I-CEMITURE.
Each program offers a stipend of $5500 as well as housing and funds for meals and travel at no cost to the student. Research projects span chemistry, biochemistry, biology, and environmental and materials science. Participants work under the direction of faculty mentors with solid track records for effective mentorship of undergraduates. Our faculty are committed to ensuring their students are credited as co-authors on publications and presentations, and that students take an active part in the dissemination of the work.
The program will be augmented by professional development sessions for enhancing the participants' career preparation, scientific communication skills (writing and presenting) and overall growth as scientists. We will also provide funds for presentations at regional or national meetings in the fall and spring following the internship.
Past summer interns have secured co-authorship on peer-reviewed publications and presented their work at local, regional, and national conferences.
Prior research experience is not required.
Information for the 2022 program:
Auburn University Summer REU Opportunity (May 15 - July 23, 2022)
Auburn University will be offering an REU opportunity in the summer of 2022, Bioprocessing for Conversion of Waste into Products of Value. You can view the program summary here, or visit https://www.aub.ie/reu for more information.
University of Pennsylvania Summer REU Opportunity (June 5 - August 13, 2022)
This program offers an integrated paid ten-week summer research experience for eight (non-Penn) undergraduate students in an established lab at an R1 university with an introductory workshop on brains and behavior and ongoing programming to support student development and well-being. You can learn more about the REU opportunity by viewing the MindCORE website here.
University of Delaware Summer REU Opportunity (June 6 - August 12, 2022)
The University of Delaware is currently accepting applications for a new National Science Foundation Research Experiences for Undergraduates (REU) site in Sustainable Resilient Transportation Systems in Newark, DE. Students accepted to this competitive program will spend 10 weeks (June 6-August 12, 2022) on University of Delaware campus in Newark, DE working on convergent research aimed at reducing transportation-related emissions and, consequently, helping address climate change. More information about the REU site and application process can be found on www.reu-transportation.com.
University of Kentucky Summer REU Opportunity (June 6 - August 12, 2022)
The University of Kentucky is encouraging students to apply for their Research Experience for Undergraduates (REU) program in Physics and Astronomy - you do not have to be a physics or astronomy major, and youdo not have to have prior research experience to participate. More information is available at pa.as.uky.edu/reu, including a list of offered research projects and eligibility requirements.
Syracuse University Summer REU Opportunity (June 6 - August 12, 2022)
The Syracuse University Louis Stokes Alliance for Minority Participation (LSAMP) Research Program is a paid summer research opportunity that provides undergraduate scholars with the opportunity to work with distinguished faculty and staff as well as network with others in their field of interest. Student scholars have the opportunity to conduct and present research over a ten-week period under the direction of a faculty research mentor at Syracuse University.
Students may apply for research opportunities in any of the following STEM disciplines: Applied Mathematics, Architecture, Biochemistry, Biology, Biotechnology, Chemistry, Computer Science, Earth Science, Engineering (Aerospace, Biomedical, Chemical, Civil, Computer, Electrical, Environmental, Mechanical), Information Sciences, Mathematics, Neuroscience, Nutrition Sciences, Physics, Statistics, Systems Science. Applications can be found at: https://academicopportunity.syr.edu/lsamp/programs/summer-reu/
Portland State University Summer REU Opportunity
Our Portland State University CCAR Research Experiences for Undergraduates Site is focused on conducting research projects related to climate and atmospheric sciences, particularly atmospheric chemistry, physics, air quality, meteorology and climate change. Research experiences are designed for students majoring in the natural/physical sciences but we do not expect students to have a background in climate or atmospheric science. Some areas of investigation include climate induced extremes, hydrometeorology, global greenhouse gas modeling, biogenic volatile organic compound emissions, and others. For more information visit https://www.pdx.edu/center-climate-aerosol-research/reu.
News Items
Dr. Patricia Bath, inventor of laserphaco and the first Black woman physician to receive a medical patent, will be posthumously inducted into the National Inventors Hall of Fame (NIHF). Read more about Dr. Bath and her accomplishments here.  To view the entire list of 2022 NIHF inductees, click here.
There are numerous Hispanic scientists that have made groundbreaking contributions to a wide variety of STEM fields.  They may not yet be household names but they deserve recognition for the impact they've made within their respective disciplines.  Click here to read more about these influential scientists.
The faculty of VSU's Chemistry Department recorded a message for National Chemistry Week, celebrated the week of October 17th - 23rd, 2021.  View the message by clicking here.
LSMRCE Newsletters
Additional Resources
Helpful Links:
VSU Undergraduate Research Council
Internships:
Department of Energy STEM Internships and Fellowships
Science Undergraduate Laboratory Internships (SULI)
Minority Serving Institutions Partnership Program (MSIPP)
Mickey Leland Energy Fellowship Program (MLEF)
Minority Access is recruiting undergraduate, graduate, and law students for its National Summer 2022 Internship Program. These internships are paid and are full-time positions (40 hours per week). Eligible candidates must be a U.S. citizen or permanent resident, be enrolled in a degree program at an accredited college or university, and must have at least a 3.0 GPA on a 4.0 scale. Referrals of qualified candidates with backgrounds in various business-related disciplines, computer science/IT, economics, public policy, personnel psychology, and law for positions in Washington, D.C., New York, NY, Charlotte, NC, Dallas, TX, Cincinnati, OH, San Francisco, CA, and other locations will begin February 25, 2022.
Referrals of other majors and other locations are expected to begin in March 2022. All majors are welcome to apply and resumes are accepted until all positions are filled.  If you are a current student who meets these qualifications and are interested in applying, email your current resume and unofficial transcript to internships@minorityaccess.org. For more information, please contact the Minority Access, Inc. Internship Program Office at 301-779-7100.
Organizations and Institutions:
National Society of Black Engineers
Society for Advancement of Chicanos/Hispanics and Native Americans in Science
Organizations and Institutions Supporting the Advancement and Training of Minorities in Mathematical Sciences
American Meteorological Society
VSU Support:
For help reviewing your resume or interview tips, contact Contact Career Services.
For help with posters and presentations, contact the Library's Media Center Department.
For bibliographic research and library questions, contact the Library.
For the Office of Institutional Research, click here.
For Grants and Contracts, visit the Office of Sponsored Programs and Research Administration.
For information about research compliance, contact the Institutional Review Board.
For travel procedures, visit Financial Services.
For the Office of Strategic Communications, click here.
For the Center for Excellence in Learning & Teaching, visit CELT.
This material is based upon work supported by the National Science Foundation under Grant Number (1817519).
Any opinions, findings, and conclusions or recommendations expressed in this material are those of the author(s) and do not necessarily reflect the views of the National Science Foundation.
Campus Address
1036 Hugh C. Bailey Science Center
Mailing Address
1500 N. Patterson St.
Valdosta, GA 31698