Facilities & Studio Program-Areas
The Department of Art & Design is comprised of a wide range of studio areas, in 3 basic locations within 2 major buildings on campus. The Fine Arts Building is home to the Department of Art & Design office (Room 1070A on the first floor), the Fine Arts Gallery, faculty offices, and over 7 studio areas within the Art Program. Located in the University Center, across from the food court "breezeway," you will find 4 additional art studios and faculty offices. The University Center (South) houses Interior Design, Computer Graphics/Design, Art History and several faculty offices as well.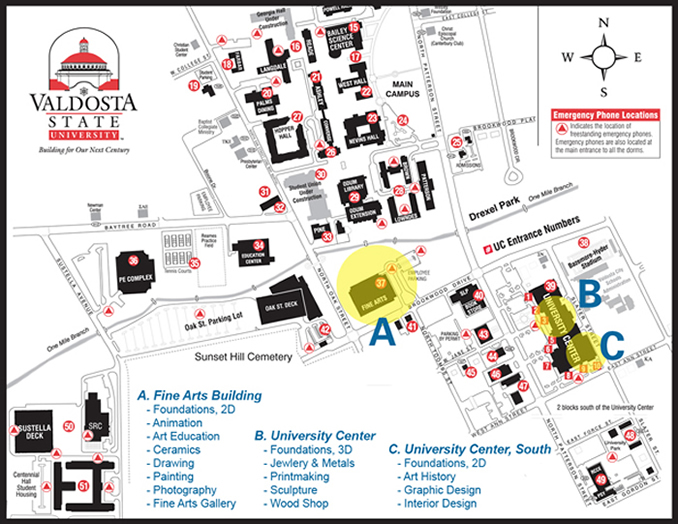 VSU Art Studio Program-Areas
FACILITIES -- OVERVIEW

Fine Arts Building (first floor):

Art & Design Administrative office suite:

Main A&D Office, Dept. Head office, 9 faculty offices, copy/mail room.

Martha G. Smart Student Gallery
Painting studios & outdoor covered patio
Art Education studio & outdoor covered patio
Drawing studio
Ceramics studios & outdoor covered patio

Gas kilns: Geil DLB downdraft, Alpine HF20 Updraft, Cross-draft forced air soda kiln, 3 small gas kilns, raku kiln
Computerized Electric Kilns: 2 Skutt PTK 1227 Pro, 1 Skutt 1231PTK Pro, 1 L&L e23t
Kiln Sitter Electric Kilns: Skutt KS818, KS714, & KS614-3 Test Kiln
16 Brent CXC wheels, extruders, slab rollers etc. 
Full glaze tech studio (mix glazes "in-house)
Delta/Wasp 3D ceramic printer

Fine Arts Building (second floor):

Photography studios, lighting lab/studio, clean/critique room, darkroom

Digital Photo Lab (27" iMacs [x20], high output large format Epson printers 18"x & 24"w / Makerbot 3D printers)

Drawing studio (figure drawing & advanced drawing)
Lecture classrooms (x5) shared by CoA (seat 30-40 with technology, etc.)
Professional Advising Suite (part of the CoA) 3 professional advisors and 2 GAs

University Center (Middle):

3 faculty offices and 1 staff office – Art Studio Supervisor
Printmaking studios includes multiple presses, tech room; (ventilation, screen-printing, lithography, intaglio/etching, woodcut, etc.) Clean/critique room seats 20+, includes abundant flat file storage
Sculpture studios & outdoor covered patio (MIG welders, cutting torches, plasma cutters, foundry for bronze casting, stone/marble carving, burnout kilns, and a comprehensive tool room w/pneumatic & hand tools)
Sculpture studio/wood shop have loading access, and roll up door/hoist system
Metalsmithing & Jewelry studios -- 

equipped with three ventilated soldering stations, an enameling kiln, equipment for lost wax casting, ergonomic workspaces for 13 students, and an array of hand tools for small metal fabrication.

Wood shop w/ventilation & outdoor covered patio

(Table Saw *SAW-STOP, panel saw, miter saws x2, band saws x3, lathes, drill press, jointer, planer, scroll saws x4, disc/belt sanders x2 oscillating spindle sander, outdoor portable saw mill w/trailer, and a large comprehensive tool room with hand/power tools).
Laser cutter/etching machine w/Apple iMac & software

University Center (South):

7 faculty offices, conference room, copy room and 3D scanning/printing room w/Makerbot 3D printers
Graphic Design Computer Lab (21" iMacs [x20], high output large format 48"w Epson p9000 printer)
Interior Design Computer lab (HP Z-Workstations w/ 27" monitors [x20], high output large format 48"w HP Z5200 printer)
Interior Design Studios (Drafting, modelmaking, resource room/library, storage rooms, etc).
Art History lecture room (Tech = 2 large screens, seats 40)
Foundations studio (seats 20+) includes a large restored 100 year old letter press w/assorted metal, wood and 3D printed type

FOUNDATIONS

A comprehensive base in Foundations promotes an understanding and application of the basic elements of design, creative and analytical thinking, and problem solving, all of which are essential to pursuing a program in the visual arts. By learning to make meaningful connections between art and design, students are able to formulate informed decisions regarding their educational experience in the Department of Art & Design.

ART EDUCATION

The Art Education program leads to a BFA degree and certification to teach in the public school system. Service forms a large component of the degree program, with students participating in professional activities, local, state, and national conferences, workshops, and research. Additionally, the program provides the experience of working directly with P-12 teachers and students in the classroom. Opportunities also exist for membership in the VSU chapter of the National Art Education Association (NAEA) and its state-based arm, the Georgia Art Education Association (GAEA). During the course of the degree program students not only learn about art, but also the art of becoming a professional educator, with outstanding opportunities for employment as a result.

CERAMICS

Individuals seeking instruction in Ceramics are exposed to a variety of methods and concepts, such as coil, pinch, slab construction, extruding, and wheel throwing techniques in a traditional studio environment. Emphasis is placed on the creation of both functional and sculptural forms which employ a wide range of materials and clay bodies including stoneware, porcelain, and earthenware, with an exploration of techniques such as electric/oxidation, raku, soda firing, and high fire reduction. Advanced ceramics students gain exposure to methods and concepts which include mold making, multiples, sets, installation, digital transgfers, and other multidisciplinary procedures to build a vast portfolio.

ART HISTORY

The Art History section offers students courses covering periods from Prehistoric through Contemporary, including classes on aesthetics and art criticism. Additionally, special offerings courses familiarize students with a diverse range of arts traditions, from African American and Native American to the arts of Latin American peoples. Critical thinking, written communication, and the role and function of the arts in a holistic context as they relate to global culture are emphasized. Students may also pursue directed studies with an emphasis on research and art historical methodology.  

GRAPHIC DESIGN

Graphic Design offers instruction through project based assignments that introduce students to the many facets of the design field, and provides practical experience in the applications of typography, layout, illustration, web design, and animation. The Graphic Design section has a state of the art Macintosh lab with twenty networked computers and large format printers for the creation of high quality comprehensives. Not only are students introduced to the field of Graphic Design, but they are also provided the opportunity for individual exploration through advanced courses. The advanced courses focus on the creation of quality works comprising a professional portfolio which facilitates entry into the job market.

INTERIOR DESIGN

Interior Design is a four year program leading to a BFA in Interior Design. The program is structured around standards for professionalism, and incorporates aspects that focus on the creation of sustainable, safe, and healthy environments that enhance the quality of life. Courses also emphasize design fundamentals, design history, knowledge of business principles, and building codes and regulations. Students develop communications skills through construction documents, color renderings, and oral presentations. The curriculum provides students with the necessary skills to effectively plan for both residential and commercial interior spaces, with electives that enrich and encourage individual creativity.

JEWELRY / METALSMITHING

In the Jewelry/ Metalsmithing area students learn metal fabrication and construction methods used to create jewelry and small-scale sculpture.  Students are encouraged to think creatively, explore alternative materials, and work across disciplines and media.  Metalsmithing is a medium rich with history and tradition, where artists have the opportunity to create meaningful, lasting objects of adornment and art.

PAINTING

Painting instruction in the Department of Art & Design includes both perceptually based study as well as more conceptual and experimental approaches to the medium. Students work with oils, acrylics, watercolors, encaustics, and mixed media. Introduction to the fundamental concepts of painting and materials is emphasized in introductory courses, while courses at all levels are designed to foster knowledge of the historical and theoretical background of painting. Upper division students are encouraged to explore the development of individual style and personal vision, preparing them for continued growth and excellence in a professional context.

PHOTOGRAPHY

Photography

 provides a wide based experience in the visual arts with course offerings satisfying requirements for electives in the Department of Art & Design degree programs and minors offered through a number of University departments. Instruction includes exposure to techniques incorporating black and white wet media processes, digital imaging, and time-based media. Students learn the fundamentals of analog and digital shooting and processing, in addition to color management, lighting techniques, video and audio capture, presentation (matting and dry mounting), and the analytical and conceptual assessment of photographic works in a professional yet intimate studio setting.

PRINTMAKING

Printmaking provides students with experience in another traditional studio area. The Department of Art & Design's printmaking section provides instruction in intaglio, lithography, and screen printing. The facilities include two etching presses, one lithographic press, and one combination press. Introductory courses expose students to a variety of printmaking techniques, while advanced courses provide opportunities for individual exploration and development in selected media. All levels of instruction emphasize safe studio practices and use of less toxic printmaking techniques.

SCULPTURE

For students interested in sculptural arts, the Sculpture area offers instruction in a variety of media and techniques, including subtractive sculptural processes in stone and wood, as well as bronze and aluminum casting. Students gain experience in three dimensional design, beginning and advanced sculpture, and workshops focusing on advanced techniques. Facilities include a large and well equipped tool room housing both hand and power tools, pneumatic equipment, welding facilities, kilns, a nineteen foot saw mill, work tables and storage. The sculpture studio is located adjacent to a well equipped wood shop.
229.259.5121
Campus Address
VSU - College of the Arts
Department of Art & Design
Fine Arts Building
Room 1070A - 1st Floor
Valdosta, GA 31698
Mailing Address
1500 N. Patterson St.
Valdosta, GA 31698
Monday-Thursday
8:00 a.m. - 5:30 p.m.
Friday
8:00 a.m. - 3:00 p.m.