Dedo Maranville Fine Arts Gallery
The University System of Georgia (USG) continues to recognize COVID-19 vaccines and boosters offer safe, effective protection and urges all students, faculty, staff and visitors to get vaccinated and/or boosted either on campus or with a local provider. As USG works closely with the Georgia Department of Public Health to prioritize the health and safety of campus communities, the system encourages people to wear masks based on their preference and assessment of personal risk. Please refer to the VSU campus operations web site for updates and developments.
---
The Valdosta State University Dedo Maranville Fine Arts Gallery is committed to providing a teaching and learning environment serving a diverse student body and local audience. The Gallery fills a unique niche in the region as a venue for exhibitions showcasing student artwork as well as art from outside the region. Diverse exhibitions serve both the state and regional community by providing cultural enrichment and expanded educational opportunities to everyone. 
The Dedo Maranville Fine Arts Gallery has state of the art lighting, sound and video systems, climate controls, security system and 'Mila' portable walls. *Gallery Floor Plan & Description (pdf)
VSU's Dedo Maranville Fine Arts Gallery and Martha G. Smart Gallery are located on the first floor of the Fine Arts Building, at the intersection of Brookwood Drive and Oak Street.
~ Gallery Hours: Monday-Thursday: 8:30am-5:30pm, Friday: 8:30am-3pm (Admission is free of charge)
* Facebook @vsugallery | Instagram @vsufineartsgallery
For additional information or to schedule a guided tour of the exhibition call (229) 333-5835 or contact:
- Mark Errol, Interim Gallery Director | mterrol@valdosta.edu or
- Marlana Hufstetler, DoA&D Adminstrative Assistant | mdhufstetler@valdosta.edu 
---
2022/Fall Exhibition Schedule - (details TBA)
VSU Art & Design Faculty Exhibition
Richard Heipp - Solo Exhibiton
VSU Art & Design Student Foundations Exhibition
Fall 2022 Art & Design Senior Exhibition
2023/Spring Exhibition Schedule - (details TBA)
Valdosta National 2023 - All Media Juried Competition
Raina Belleau - Solo Exhibition; Enchanted Forest Fire (Installation)
VSU Student All Media Juried Competition
Spring 2023 Art & Design Senior Exhibition
---
The Dedo Maranville Fine Arts Gallery presents BA and BFA graduates of the VSU Department of Art & Design for the Spring 2022 term. We invite you to join us in a celebration of their accomplishments on Saturday, April 16, from 1 to 3 PM. The graduating class of Spring 2022 will be exhibiting a variety of artwork including drawing, painting, graphic design, photography, mixed media, ceramics, sculpture, and jewelry metalworking. The event is also free to the public. 
"In Situ (adj.)
situated in the original place. 
To be situated in the original place, that's us. We have come together with a melody of creativity and vision to form this body of work. Valdosta State University has been our place of origin to cultivate who we are as a collective, and as individual artists. In Situ embodies our foundation as artists coming together for our Senior Exhibition. This is the first time many of us have found a place of community that has nurtured our artistic skills and abilities individually and brought us together as a group. Many perspectives, beliefs, skills, passions and mediums have blended to form the In SituExhibition.This is just a glimpse of how we have worked and grown together over the past few years, helping and accepting each other and our artistic processes. This body of artwork has been carefully selected to share pieces of ourselves in a unique way. It embraces a farewell to where we have developed insitu in order to start the next chapter of our journey, taking our love for art with us wherever we go next." 
Exhibiting Artists: 
Tiffany Renken 
Taylor Gray
Ta'kesia Parker
Sophia Roland
Raegan Register
Myles Holcomb
Keshon Jernigan
Jessica Smidley
Jen Arellano-Medoza
Hannah Gandy
Gloria Townsend
Garrett SchererBailey Bullard
DaMea Hughes
Alexis Silveria
Abigail Brock  
---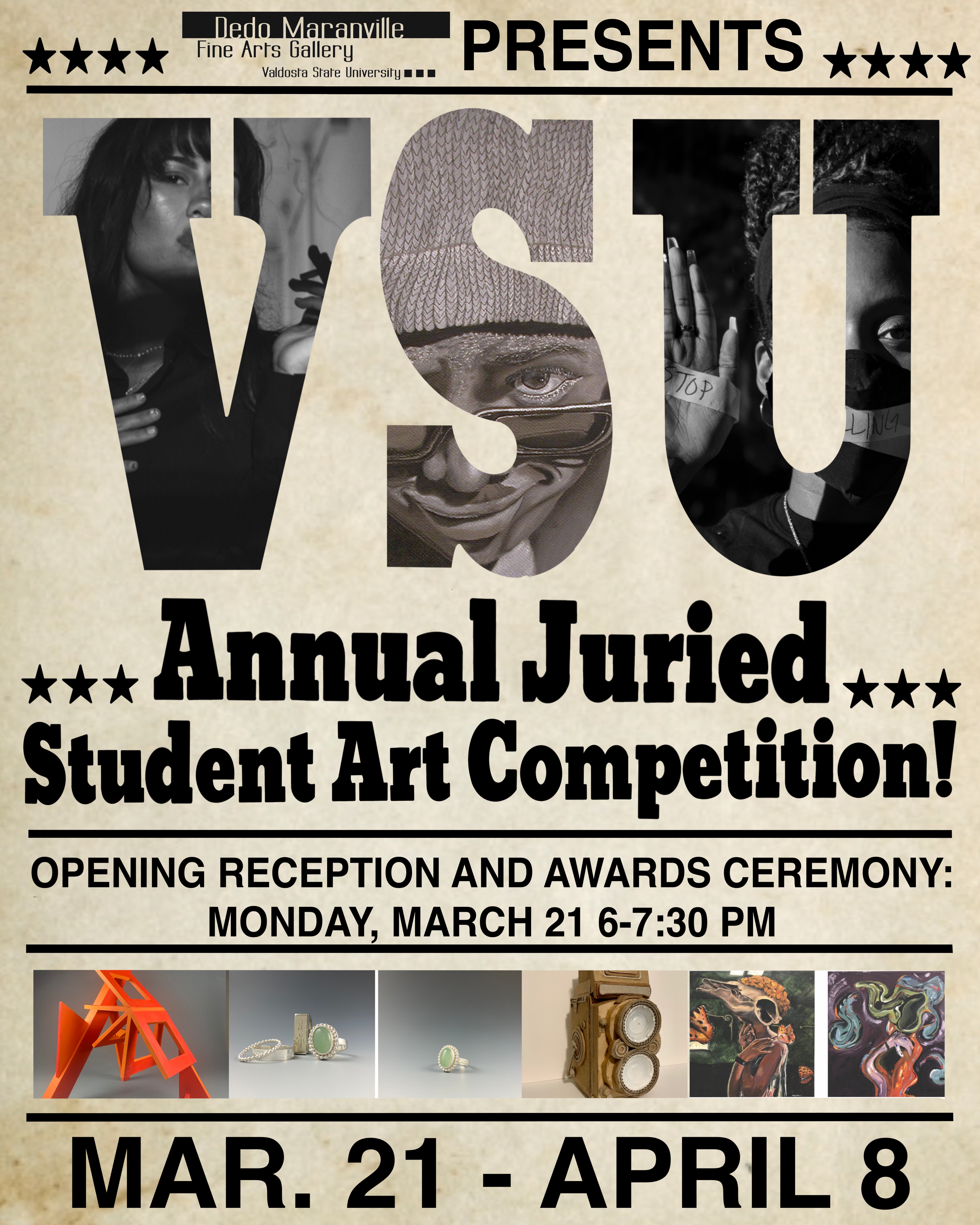 VSU DEDO MARANVILLE FINE ARTS GALLERY:
Juried Student Art Competition 2022
24th Annual All-media Student Exhibition
March 21-April 8
Opening Reception: Monday, March 23, 6-7:30pm
Awards announced at 6:30PM
Two years ago, when the Student Competition was all set to open after Spring Break (as it is this year as well) we received the call that no one was to return to campus after Spring Break because of a mysterious virus that was creating a pandemic across the globe. Now, two years later, we are proud to open the 24
th
all-media juried Student Competition.  
The Student Competition is open to all VSU Students. Students from all majors were invited to enter up to 4 artworks. 73 students submitted 207 different works of art, of which juror Richard Heipp selected 50 individual works from 34 students. He will award First through Fourth Place, to be announced at the opening reception and awards ceremony, Monday, March 21, at 6:30 PM.   
The participating student artists exhibit a wonderful range of diverse media, styles and artistic outlooks in this annual showcase of emerging talent. Interior design, graphic illustration, photography, drawing, painting, ceramics, sculpture, animation, and mixed media are all included in this exciting multi-media exhibition. This is one of the most eagerly awaited exhibitions as any and all VSU students are eligible to compete and show their art.  
About the Juror/Judge: Richard Heipp received has BFA from the Cleveland Institute of Art and his MFA from the University of Washington.   
He taught painting at the University of Florida since 1981.  Prof. Heipp served as the Director of the School of Art + Art History from 2010 – 2015. He retired in May 2021 after 40 years at UF as Professor Emeritus to dedicate more time to his studio practice. 
---

VSU DEDO MARANVILLE FINE ARTS GALLERY:
Black Is... New work by Samuel Dunson and Traci Mims
February 14-March 4
Reception and Artist talk: Monday, February 14, 6-7:30pm

Please help keep our community safe. It is strongly suggested to wear a mask and social distance in the gallery during the reception. Food and beverages will not be served at this reception.
The VSU Fine Arts Gallery is proud to present Black Is…New Work by Samuel Dunson and Traci Mims. This powerful dual exhibition addresses social and personal concerns including racism, sexism, and family.  Through the use of mixed media painting, collage, drawing, and printmaking, the artists explore diverse themes of Black identity.
Samuel Dunson teaches painting, drawing and 2D design, as well as art appreciation at Tennessee State University (TSU.)  He received his MFA in Painting from Savannah College of Art and Design under a Presidential Fellowship, and a BS in Studio Art from TSU. The Arts have played a major role in his life since his youth.  He was fortunate enough to be born into a household where exposure to the Arts was as important as academic study.  He now exhibits his paintings in group and solo shows on a regular basis.  His works have been reported and critiqued in art journals and newspapers alike. His mixed media painting, Self Portrait won First Place in the 2021 Valdosta National, and he served as judge of this year's Valdosta National.
Traci Mims is a native of St. Petersburg, Florida currently living and working in Jacksonville, Florida.  Ms. Mims is formally trained in the visual arts with degrees from Florida A and M university (BA) and Tyler school of art, Temple University (MFA).
She says "Art has always been a part of my life. I have been drawing since the age of 4." About the meaning and content of her work she states "My work focuses on themes related to Black identity and is often expressed in the form of cultural allegory and social realism. I am motivated by art that has an underlying message that engages the viewer in a way they can relate to. Art for me is many things but mainly it is my passion and my voice when I have a statement to make. It has also been my protest when circumstances of injustice arise. I never grow weary creating, only resentful that there is not more time in a day to print, draw or paint."
---

VSU DEDO MARANVILLE FINE ARTS GALLERY:
Valdosta National 2022: All-media Juried Competition
January 18-February 4
Reception and Awards Ceremony: Tuesday, January 18, 6-7:30pm
The gallery is not open earlier than 6:00 PM on January 18.
(Food and drink will not be offered at the reception)
The Valdosta national 2022 all media juried competition opens at 6 PM on Tuesday, January 18, with the reception and reward ceremony. The exhibition will run through Friday, February 4, and it's free and open to the public. The selection process was highly competitive. 344 individual works of art by 136 adult artists from 39 states across the country were submitted for the Dino Moranville fine arts gallery's 34th annual showcase of contemporary visual art. Valdosta National 2022 Judge Samuel Dunson invited 58 works by 58 artists from 30 states to be featured and to compete for $1500 in awards, which will be announced at Tuesday's reception. The exhibited artists show and excitingly diverse variety of media and artistic visions. The show is united by strong social, political, and conceptual concerns as well as implied narrative under currents. There are many surprising aspects to the artwork that are delightfully unpredictable. The show is bold, colorful and strongly relevant to our times.
Juror & Judge Samuel Dunson is an award-winning artist in Professor of Art at Tennessee State University with an MFA in painting from Savannah College of Art and Design (Presidential fellowship) and a BFA in studio art from Tennessee State University. His painting won first place in the Valdosta national 2021. www.samueldunson.com
---

VSU DEDO MARANVILLE FINE ARTS GALLERY:
make/mark: Annual Foundations Exhibition
The Annual Foundations Exhibition is an annual exhibition of exemplary student artwork created within the foundations area courses. This exhibition presents first year students with the honor of departmental recognition within the Department of Art & Design. 
Additionally, 
the exhibition provides a way for students, faculty and guests to understand 
objectives for each course and the 
learning outcomes
 for each 
assignment on display
.
---

VSU DEDO MARANVILLE FINE ARTS GALLERY:
Department of Art & Design Faculty Exhibition 2021
August 23- September 24
(Please note that the gallery will not be open during the day of August 23rd, only for the reception.)

Public Reception: 
Monday, August 24, 6-7:30PM
Live keyboard music
by David Springfield
Please help keep our community safe.
It is strongly suggested to wear a mask and social distance in the gallery and in the lobby during the reception.
(Food and beverages will not be served at this reception)
Normal Gallery Hours:
Monday-Thursday: 8:30am-5:30pm, Friday: 8:30am-3pm
Art Faculty Exhibition:
Participating artists:
Julie Bowland, Tommy Crane,
Evelyn Davis-Walker, Clyde Edwards, Mark Errol, Jenny Evans, Lindsay Godin, Craig Hawkins, Abigail Heuss, Karin Murray, Selena Nawrocki, Ray Noll, Kyoung-Im Park, A. Blake Pearce, Richard Peterman, Michael Schmidt, Taylor Shaw, Kaleena Stasiak 
Because last year the Gallery was online only, we'd like to welcome new faulty members; 
Jenny Evans-Art Education, Lindsay Godin-Photography and Design, Taylor Shaw-Foundations, Kaleena Stasiak-Printmaking and Foundations.
The Dedo Maranville Fine Arts Gallery is thrilled to be back live and in-person, and proud to kick off the 2021-22 Arts Season with the Art & Design Faculty Exhibition. This multi-media exhibition will feature a wide variety of media, aesthetic outlooks and visual expression, representing the broad range of interests and talents of the VSU Art and Design faculty. This very popular annual event is where art faculty members show that they don't just "talk the talk," but also "walk the walk," as all studio instructors are also practicing artists.
Students, patrons, art lovers of all stripes, and community members alike will enjoy seeing the exciting new work by full and part-time art faculty, and listening to live music by the VSU Music faculty member, David Springfield.
Come celebrate the Arts with us!
---
VSU Call for Student Proposals
THE MARTHA G. SMART GALLERY
Located down the hall from the Dedo Maranville Fine Arts Gallery, the Martha G. Smart Gallery offers a unique venue for student/class exhibitions, installations, and collaborative ventures. A student interested in exhibiting must submit a signed gallery contract, a written proposal briefly stating the intent of the desired use of the exhibition space, and 5 images representational of their written proposal. For a group exhibition one student must assume responsibility and sign the contract, though all exhibiting student names must be listed in proposal. 
Apply for an exhibit now! Submit your proposal to Mark Errol - mterrol@valdosta.edu
------

make/mark: Annual Art & Design Student Foundations Exhibition
October 4-November 5, 2021
Opening Reception: Monday, October 4, 6:00-7:30PM

image: McKenzie Percy
---
Gallery Sponsors

Contact us to find out how to become a sponsor!
---
Links & Initiatives
Exhibition Schedule - Archive

 Check out the Dedo Maranville Fine Arts Gallery on Facebook
Virtual Exhibitions can be seen at vsugallery.org
229.259.5121
Campus Address
VSU - College of the Arts
Department of Art & Design
Fine Arts Building
Room 1070A - 1st Floor
Valdosta, GA 31698
Mailing Address
1500 N. Patterson St.
Valdosta, GA 31698
Monday-Thursday
8:00 a.m. - 5:30 p.m.
Friday
8:00 a.m. - 3:00 p.m.