On View in the 'Dedo Maranville Fine Arts Gallery'

Art & Design Faculty Exhibition - August 20 - September 7 Monday, August 20, 6pm-7:30pm
Dedo Maranville Fine Arts Gallery
The Valdosta State University Dedo Maranville Fine Arts Gallery is committed to providing a teaching and learning environment serving a diverse student body and local audience. The Gallery fills a unique niche in the region as a venue for exhibitions showcasing student artwork as well as art from outside the region.
Diverse exhibitions serve both the state and regional community by providing cultural enrichment and expanded educational opportunities to everyone.
Located in the Fine Arts Building (on the first floor - southwest corner), the gallery has been completely renovated and updated with state of the art lighting, sound and video systems, climate controls, security system and 'Mila' portable walls. For more information download the Gallery Floor Plan & Description (pdf)
---
Art & Design
FACULTY EXHIBITION
Reception: Monday, August 20, 6pm-7:30pm
Participating artists: Hollis Barnett, Julie Bowland, Tommy Crane,Evelyn Davis-Walker, Clyde Edwards, Mark Errol, J. Dominick Gheesling, Craig Hawkins, Abigail Heuss, Kristy Hughes, Sean Hurley, Karin Murray, Selena Nawrocki, Ray Noll, Kyoung-Im Park, A. Blake Pearce, Richard Peterman, Michael Schmidt, Sarah (Libba) Willcox, and Kalina Winska.
The Dedo Maranville Fine Arts Gallery is proud to kick off the 2018-19 Arts Season with the Art Faculty Exhibition. This multi-media exhibition will feature a wide variety of media, aesthetic outlooks and visual expression, representing the broad range of interests and talents of the VSU Art faculty. This very popular annual event is where art faculty members show that they don't just "talk the talk," but also "walk the walk," as all studio instructors are also practicing artists.
Students, colleagues and community members alike enjoy seeing the exciting new work by full and part-time art faculty, and listening to live Jazz by the VSU Faculty Jazz Combo.
Come celebrate the arts with us!
Gallery Hours: Monday-Thursday: 8:30am-5:30pm, Friday: 8:30am-3pm
Contact: Julie Bowland, Gallery Director, 229.333.5835, jabowlan@valdosta.edu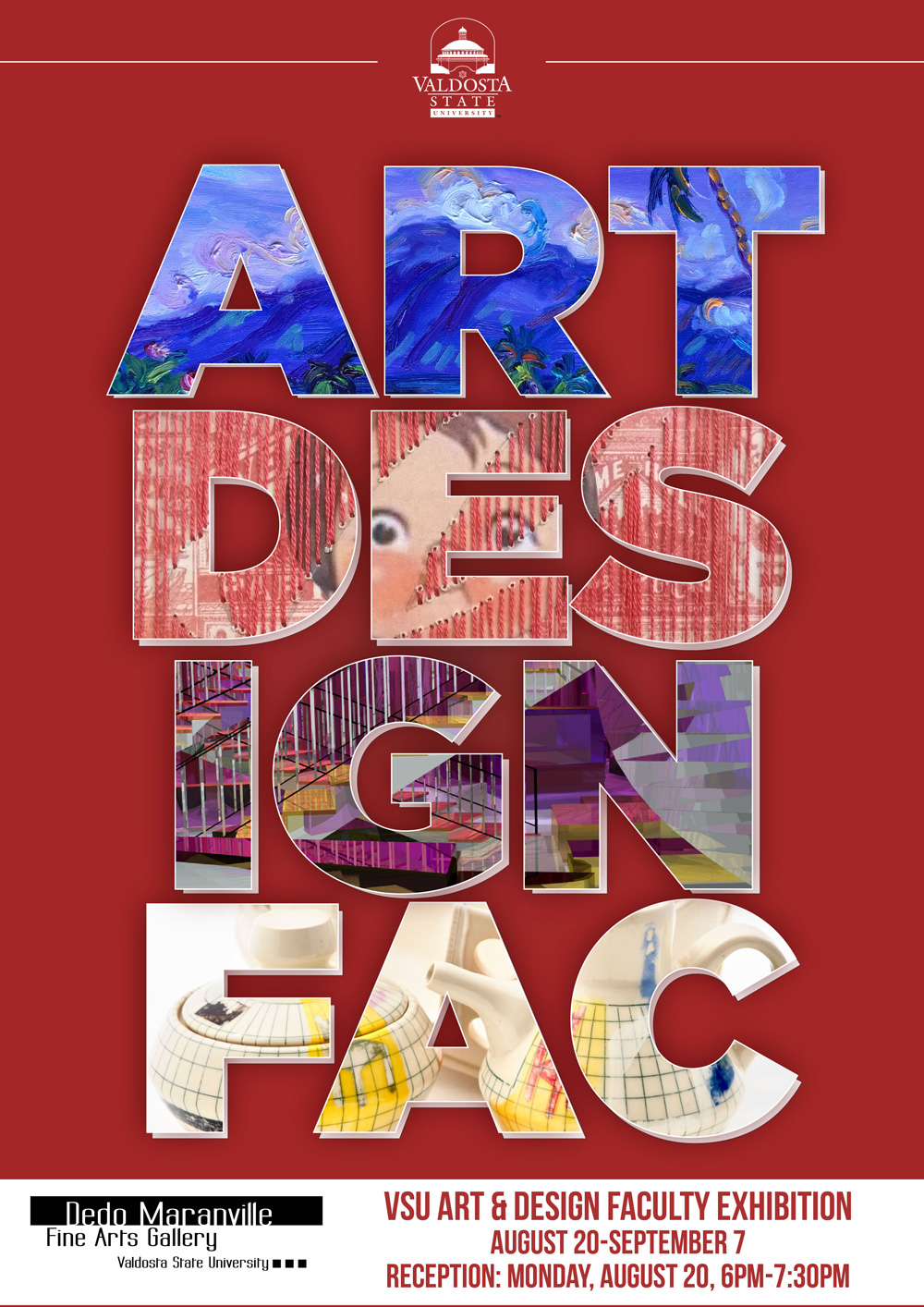 ---
VSU's Dedo Maranville Fine Arts Gallery and Martha G. Smart Gallery are located on the first floor of the Fine Arts Building, at the intersection of Brookwood Drive and Oak Street. They are open from 8:30 a.m. to 5:30 p.m. Monday through Thursday and from 8:30 a.m. to 3 p.m. on Fridays. Admission is free of charge.
Contact Julie Bowland at (229) 333-5835 or jabowlan@valdosta.edu to learn more or to schedule a guided tour of the exhibition.
---
This Acceptable Body: Large Scale Drawings on Aging and Nudism
by Ghislaine Fremaux

September 17-October 5

Reception: Monday, September 17, 6-7:30pm 

Closing Reception with artist's talk: Friday, October 5 Noon

 Check out the Dedo Maranville Fine Arts Gallery on Facebook
---
Gallery Sponsors
 
Contact us to find out how to become a sponsor!
---
Links & Initiatives
Exhibition Schedule - Archive
229.259.5121
Campus Address
VSU - College of the Arts
Department of Art & Design
Fine Arts Building
Room 1070A - 1st Floor
Valdosta, GA 31698
Mailing Address
1500 N. Patterson St.
Valdosta, GA 31698
Monday-Thursday
8:00 a.m. - 5:30 p.m.
Friday
8:00 a.m. - 3:00 p.m.