On View in the 'Dedo Maranville Fine Arts Gallery'

Reception: Monday, September 17, 6-7:30pm, Closing Reception with artist's talk: Friday, October 5 Noon
Dedo Maranville Fine Arts Gallery
The Valdosta State University Dedo Maranville Fine Arts Gallery is committed to providing a teaching and learning environment serving a diverse student body and local audience. The Gallery fills a unique niche in the region as a venue for exhibitions showcasing student artwork as well as art from outside the region.
Diverse exhibitions serve both the state and regional community by providing cultural enrichment and expanded educational opportunities to everyone.
Located in the Fine Arts Building (on the first floor - southwest corner), the gallery has been completely renovated and updated with state of the art lighting, sound and video systems, climate controls, security system and 'Mila' portable walls. For more information download the Gallery Floor Plan & Description (pdf)
---
Ghislaine Fremaux
THIS ACCEPTABLE BODY: Large Scale Drawings on Aging and Nudism
September 17-October 5
Opening Reception: Monday, September 17, 6-7:30pm
Closing Pizza Reception with artist's talk in the Gallery: Friday, October 5, Noon
This exhibition of very large (average size: nine feet) figurative drawings address the aging body and the practice of nudism. Each drawing portrays a living person, of age sixty or older, who is a resident in a nudist community in southern Texas. The work - which is the culmination of an interdisciplinary project between an artist and social scientist/gerontologist - intends to illuminate the often-invisible aging body, and its relationship to problems of the gaze, beauty, shame, health, and death and dying. 
Each drawing was executed in pastel on paper and then glazed in epoxy resin, affecting the likeness of sweat. The work is immense in scale, averaging a height of nine feet. A single sheet of wall text accompanies each piece, featuring excerpts from the subject-participant's interview. 
This work is the yield of an interdisciplinary project examining the practice of social nudism among senior citizens, conceived and conducted by artist Ghislaine Fremaux and gerontologist/social scientist, Dr. Jean Pearson Scott. 
Award-winning artist Ghislaine Fremaux is an assistant professor of Art at Texas Tech University in Lubbock, Texas. She holds an MFA in Painting from Penn State University and earned a BFA from Tufts University with the School of the Museum of Fine Arts in Boston, Massachusetts.
The artist's Instagram: ghoosebomb
The artist's website: https://www.ghislainefremaux.com
Gallery Hours: Monday-Thursday: 8:30am-5:30pm, Friday: 8:30am-3pm
Contact: Julie Bowland, Gallery Director, 229.333.5835, jabowlan@valdosta.edu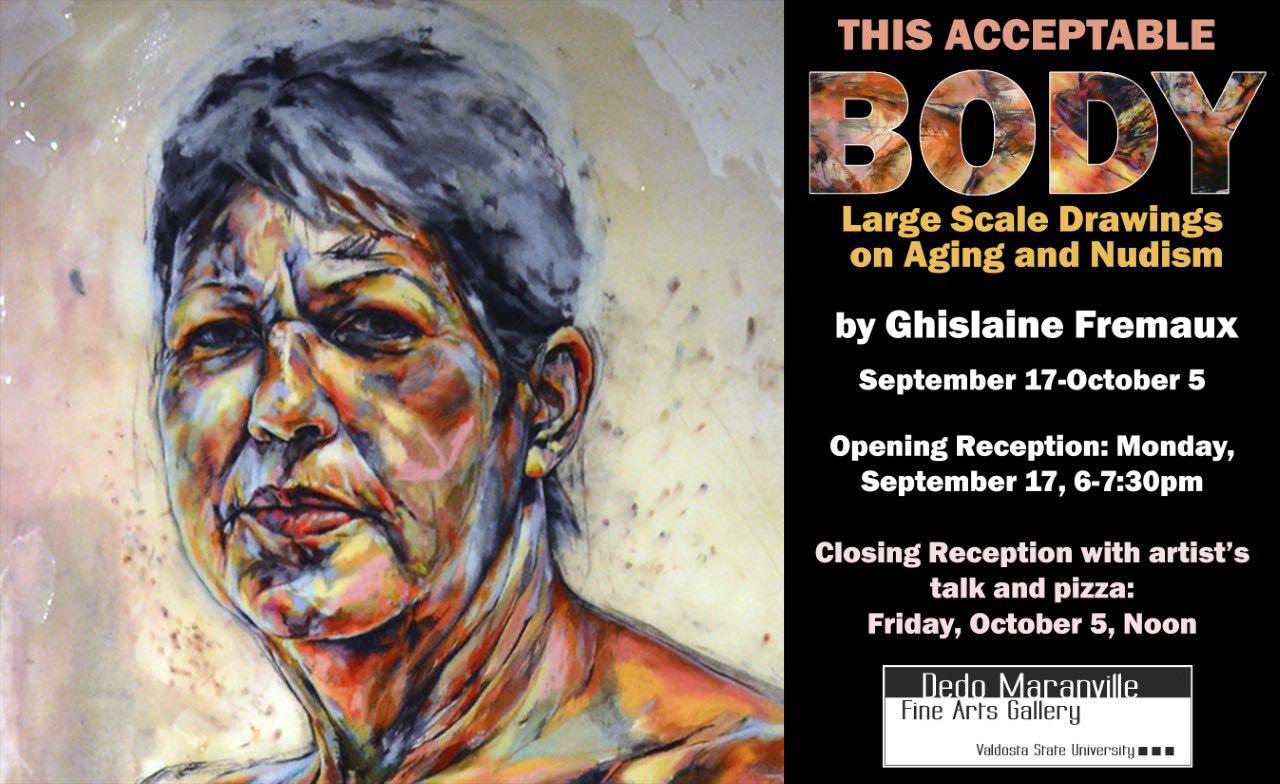 ---
VSU Call for Artists
SOLO OR SMALL GROUP SHOWS 2019-20
Valdosta State University (VSU) Dedo Maranville Fine Arts Gallery (Valdosta, Georgia) is reviewing solo and small group exhibition proposals for the 2019-2020 academic year.

Deadline: October 15, 2018.
Entry fee: $15 
Artists 18+ 
All media 
Artwork is insured while in the gallery.
No sales commission.  

To apply, upload 10-20 images, (up to 10 videos if relevant,) and include a short description of your proposed exhibition with a list of all participating artists (for self-organized small group exhibitions.) Include artist statement(s,) artist CV(s) and describe any expenses that you would like/need covered by the Gallery (e.g., shipping of artwork.) 

Valdosta State University, Dedo Maranville Fine Arts Gallery, Department of Art & Design, 1500 N. Patterson Street, Valdosta, GA 31698-0110.  www.valdosta.edu/art/gallery 
Questions? Contact Gallery Director Professor Julie Bowland: jabowlan@valdosta.edu.
---
VSU Call for Artists
THE VALDOSTA NATIONAL 2019
The Valdosta National 2019 presents the best in contemporary art nationally in an annual all-media competition. Hosted by the Valdosta State University Dedo Maranville Fine Arts Gallery in Valdosta, Georgia, 2019 will be the 31st year of the annual juried exhibition.
Deadline: November 5, 2018
Awards: $1,500.00
Exhibition: January 22-February 8, 2019
Entry fee: $35 for up to 3 different artworks: 
Eligibility and Guidelines: Open to all artists over 18 living in the United States.  All artwork must have been completed in the last 5 years (no earlier than 2013,) and original (no copies or giclees'.)
Art will be insured while in the gallery.

No gallery sales commission.

Presentation: All work must be professionally presented; 2-D work should be framed with plexi-glass, and with a hanging wire. Gallery wrapped paintings are OK.
Juror & Judge Michael McFalls is a Professor of Art at Columbus State University and practicing artist. 
---
VSU Call for Student Proposals
THE MARTHA G. SMART GALLERY
Located down the hall from the Dedo Maranville Fine Arts Gallery, the Martha G. Smart Gallery offers a unique venue for student/class exhibitions, installations, and collaborative ventures. A student interested in exhibiting must submit a signed gallery contract, a written proposal briefly stating the intent of the desired use of the exhibition space, and 5 images representational of their written proposal. For a group exhibition one student must assume responsibility and sign the contract, though all exhibiting student names must be listed in proposal. 
Apply for an exhibit now! Submit your proposal to Professor Julie Bowland
---
VSU's Dedo Maranville Fine Arts Gallery and Martha G. Smart Gallery are located on the first floor of the Fine Arts Building, at the intersection of Brookwood Drive and Oak Street. They are open from 8:30 a.m. to 5:30 p.m. Monday through Thursday and from 8:30 a.m. to 3 p.m. on Fridays. Admission is free of charge.
Contact Julie Bowland at (229) 333-5835 or jabowlan@valdosta.edu to learn more or to schedule a guided tour of the exhibition.
---
Abandoned in Place-Preserving America's Space History

Photography by Roland Miller

October 15-November 2

Reception: Monday, October 15, 6pm-7:30pm

 Check out the Dedo Maranville Fine Arts Gallery on Facebook
---
Gallery Sponsors
 
Contact us to find out how to become a sponsor!
---
Links & Initiatives
Exhibition Schedule - Archive
229.259.5121
Campus Address
VSU - College of the Arts
Department of Art & Design
Fine Arts Building
Room 1070A - 1st Floor
Valdosta, GA 31698
Mailing Address
1500 N. Patterson St.
Valdosta, GA 31698
Monday-Thursday
8:00 a.m. - 5:30 p.m.
Friday
8:00 a.m. - 3:00 p.m.