Dedo Maranville Fine Arts Gallery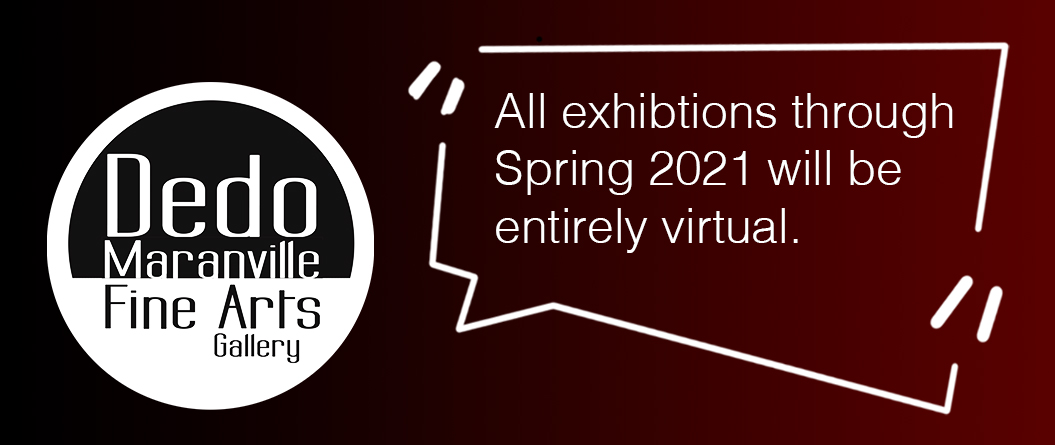 Under the guidance of University System of Georgia, Valdosta State University has made many changes to our current methods of operation in response to the COVID-19 health concerns and prevention measures. Many campus operations have been modified, emphasizing reduced public access hours and remote working assignments. Please note that the safety and health of our students, faculty, staff, and our patrons is paramount at this time. Please refer to this page on the VSU web site for updates and campus developments.  Thank You
---
The Valdosta State University Dedo Maranville Fine Arts Gallery is committed to providing a teaching and learning environment serving a diverse student body and local audience. The Gallery fills a unique niche in the region as a venue for exhibitions showcasing student artwork as well as art from outside the region. Diverse exhibitions serve both the state and regional community by providing cultural enrichment and expanded educational opportunities to everyone. 
The Dedo Maranville Fine Arts Gallery has state of the art lighting, sound and video systems, climate controls, security system and 'Mila' portable walls. For more information download the Gallery Floor Plan & Description (pdf)
VSU's Dedo Maranville Fine Arts Gallery and Martha G. Smart Gallery are located on the first floor of the Fine Arts Building, at the intersection of Brookwood Drive and Oak Street. They are open from 8:30 a.m. to 5:30 p.m. Monday through Thursday and from 8:30 a.m. to 3 p.m. on Fridays. Admission is free of charge.
Contact Julie Bowland, Gallery Director (229) 333-5835 or jabowlan@valdosta.edu  to schedule a guided tour of the exhibition.
Gallery Hours: Monday-Thursday: 8:30am-5:30pm, Friday: 8:30am-3pm
---

VSU Dedo Maranville Fine Arts Gallery:
2021 Online Student Competition
This year the student Competition will be online, and the application process is also online.
We are now taking submissions at https://blog.valdosta.edu/studentcomp/
All VSU students are invited to enter an online juried art competition sponsored by the Dedo Maranville Fine Arts Gallery. A total of $500 in awards will be awarded for First Place ($200), Second Place ($125), Third Place ($100), and Fourth Place ($75). The Deadline for submission of up to 4 artworks is March 5. 
Virtual Exhibition: Opens March 15, 2021 at www.vsugallery.org.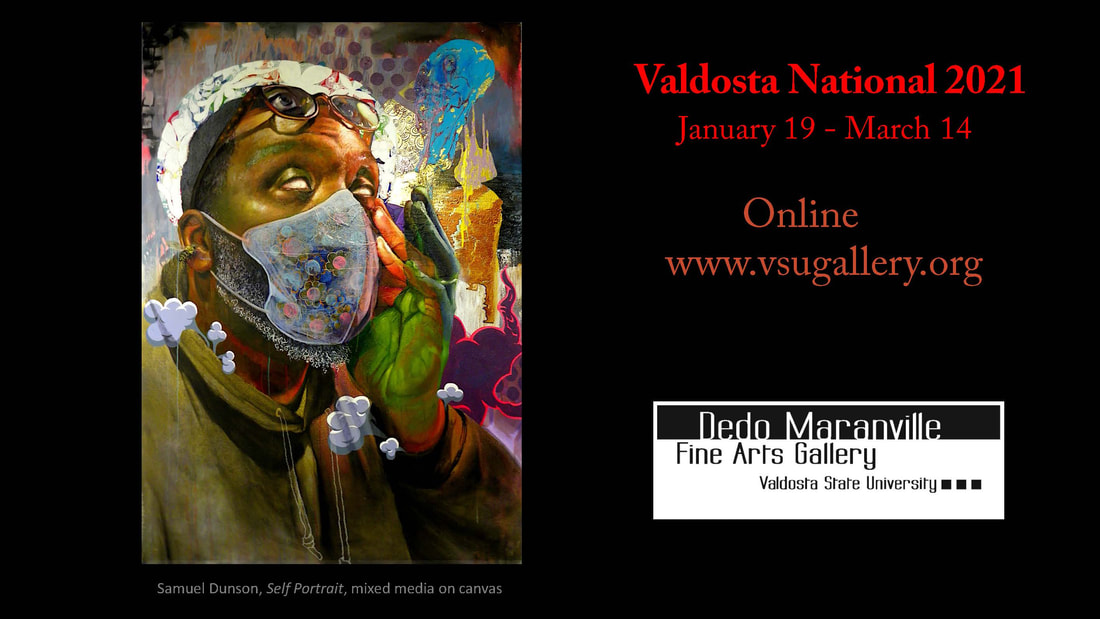 33rd Annual Fine Arts Juried Exhibition:
VALDOSTA NATIONAL 2021
The Valdosta National 2021 presents the best in contemporary art nationally in an all-media competition. Hosted by the Valdosta State University (VSU) Dedo Maranville Fine Arts Gallery in Valdosta, Georgia, 2021 is the 33rd year of the annual fine arts juried exhibition.
Virtual Exhibition: Opens January 19, 2021 
For the first time ever, the Valdosta National is presented online. It was an extremely competitive process, as 875 individual works of art by 304 adult artists from across the United States submitted up to three images each for consideration for inclusion. It was the very tough task of juror and judge Claire Dempster to select a strong and cohesive exhibition out of so many entries, and then to award the top four honors. Juror and judge Ms. Claire Dempster selected 70 works by 66 artists from 29 states.  Awards totaling $1500 were given as follows: First $500, Second $400, Third $350 and Fourth $250.
Due to the ongoing global health crisis, the Gallery is offering all Spring 2021 shows as virtual online exhibitions at www.vsugallery.org. Each artwork will be presented with artist, title, size, media, date, and price (if for sale.) Additionally, we will post the artist's contact information, artist statement, and website to facilitate direct sales and inquiries for the artists. We are particularly interested in art that lends itself to being exhibited digitally, including video.
---
ART & DESIGN VIRTUAL EXHIBITION AND SENIOR PRESENTATIONS
20/20 Vision: Art Through A New Lens
The Dedo Maranville Fine Arts Gallery presents BA and BFA graduates of the VSU Department of Art & Design of Fall 2020. We invite you to join us online in appreciation of their accomplishments on Sunday, November 1, 2020 at www.vsugallery.org. The graduating class of Fall 2020 will be exhibiting a variety of artwork including paintings, sculptures, photography, graphic design, book art, ceramics, jewelry metalworking, and animation.
On November 16, 2020, video presentations will be unveiled on the website. Each artist will have a personal presentation that will be available on their individual page. Seniors will be discussing their work and elaborating on their ideas and processes.
"It is fair to say that 2020 is an eye-opener for all of us. We are witnessing a global pandemic that has left us in a state of uncertainty, isolating us from social interaction, and confining us behind masks. The revival of the Black Lives Matter Movement is shedding light on the ongoing struggle for racial equality. A controversial Presidential election is shaping the future of our country. Although it has been a tumultuous time, 2020 has also been a year of clarity and vision.
We find it compelling that though we are diverse as artists, we connect to this sense of clarity in our artwork by not only understanding the events happening around us but also exploring our own identities. 20/20 Vision: Art Through A New Lensproudly displays our journey of discovering who we are, and our evolution as artists in this alarming world."
Exhibiting Artists:
            Carmela Berry                                                         Arin Guyette
            Emmanuel Carter                                                   Brittany Hawkins
Bethany Davis
Marissa Parks
---

VSU DEPARTMENT OF ART & DESIGN:
2020 VIRTUAL FOUNDATION EXHIBITION
The Dedo Maranville Fine Arts Gallery is featuring all virtual exhibitions this Fall and Spring. Due to the ongoing health crises, the gallery is not physically open.
"Foundations - From the Ground Up"
The current exhibition features work by VSU Art & Design students enrolled in the foundations classes, which include Drawing I, Drawing II, 2-Dimensional Design, 3- Dimensional Design, and Computers in Art.
The 1st year foundations studio experience of an Art & Design major is one of introductions to new ways of seeing, new methods and techniques of visual exploration and research. Students quickly recognize that art is about process and passion. Foundation studio courses are a testing ground for skill building, a window into truly seeing and experiencing the visual world around us and a challenge to invest into greater levels of conceptual and abstract thinking no matter your stylistic preferences. 
---

VSU DEPARTMENT OF ART & DESIGN FACULTY:
2020 VIRTUAL FACULTY EXHIBITION
VALDOSTA — The Valdosta State University Dedo Maranville Fine Arts Gallery invites the community to explore Art & Design Faculty Exhibition 2020 at www.vsugallery.org/faculty.
Julie Bowland, gallery director, says the virtual multi-media show features "a wide variety of media, aesthetic outlooks, and visual expression representing the broad range of interests and talents of the VSU Department of Art & Design."  
Art & Design Faculty Exhibition 2020 showcases works by a few new faculty artists as well as some returning favorites — Julie Bowland, Evelyn Davis-Walker, Lindsay Godin, Craig Hawkins, Abigail Heuss, Selena Nawrocki, Ray Noll, Kyoung-Im Park, Lauren Peterson, Michael Schmidt, Taylor Shaw, and Kaleena Stasiak.  
Bowland says, "This very popular event is where our Department of Art & Design faculty members show that they don't just 'talk the talk" but also 'walk the walk,' as all studio instructors are also practicing artists and designers."
Due to the ongoing global health crisis, the Dedo Maranville Fine Gallery's physical on-campus location will remain closed throughout the fall semester. Believing walls and a ceiling are not required to celebrate the arts, the gallery staff plans to temporarily host all upcoming exhibits on a virtual platform at www.vsugallery.org. The next show, Art & Design Foundations Exhibit, opens virtually on Sept. 28.
Contact Julie Bowland at (229) 333-5835 or jabowlan@valdosta.edu to learn more about VSU's virtual gallery. Individual artists featured in the current Art & Design Faculty Exhibition may be contacted directly for more information about their work.
- Jessica Pope
Communications and Media Relations Coordinator

VSU College of the Arts FINE 2020 Art & Design Senior:
VIRTUAL EXHIBITION
"Every member of our senior class seeks to convey the truth of our life experiences within our art. We use radical, social and political ideas in our work, directly engaging with our audience to promote conversation and understanding.Creativity is essential to our personal growth and the expression of our individual truths, and design is our vehicle to engage the public, to educate and inform. Every one of us are unapologetically ourselves, and this show is documentation of our lives and our art in-progress; ​Presented to you, In BOLD. "  
---
VSU Call for Student Proposals
THE MARTHA G. SMART GALLERY
Located down the hall from the Dedo Maranville Fine Arts Gallery, the Martha G. Smart Gallery offers a unique venue for student/class exhibitions, installations, and collaborative ventures. A student interested in exhibiting must submit a signed gallery contract, a written proposal briefly stating the intent of the desired use of the exhibition space, and 5 images representational of their written proposal. For a group exhibition one student must assume responsibility and sign the contract, though all exhibiting student names must be listed in proposal. 
Apply for an exhibit now! Submit your proposal to jabowlan@valdosta.edu
---
Valdosta National 2020 All-Media Juried Exhibtion

January 21-February 7

Reception: Tuesday, Januaryt 21, 6pm-7:30pm
---
Gallery Sponsors

Contact us to find out how to become a sponsor!
---
Links & Initiatives
Exhibition Schedule - Archive

 Check out the Dedo Maranville Fine Arts Gallery on Facebook
229.259.5121
Campus Address
VSU - College of the Arts
Department of Art & Design
Fine Arts Building
Room 1070A - 1st Floor
Valdosta, GA 31698
Mailing Address
1500 N. Patterson St.
Valdosta, GA 31698
Monday-Thursday
8:00 a.m. - 5:30 p.m.
Friday
8:00 a.m. - 3:00 p.m.