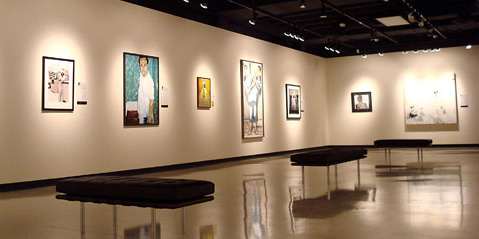 VSU Fine Arts Gallery
The VSU Fine Arts Gallery is committed to providing a teaching and learning environment serving a diverse student body and local audience. The Gallery fills a unique niche in the region as a venue for exhibitions showcasing student artwork as well as art from outside the region. Diverse exhibitions serve both the state and regional community by providing cultural enrichment and expanded educational opportunities to everyone.
Located in the Fine Arts Building (on the first floor - southwest corner), the gallery has been completely renovated and updated with state of the art lighting, sound and video systems, climate controls, security system and 'Mila' portable walls. For more information download the Gallery Floor Plan & Description (pdf)

Download an Exhibition Application/Proposal
VSU Art Faculty Exhibition - In August!

August 25-September 12, 2014
Opening Reception: Monday, August 25, 7-8:30pm

Sponsorship by Hester & Morris Orthodontics
2014-15 VSU Fine Arts Gallery Sponsors

 
Contact us to find out how to become a sponsor!
Student Art Gallery - FA1068
The VSU Art Department Student Gallery offers a unique venue for student/class exhibitions, installations, and collaborative ventures.
Links & Initiatives
Exhibition Schedule - Archive