Center for Excellence in Learning & Teaching
July 2018 to present
The Center for Excellence in Learning & Teaching (CELT) launched in July 2018.
The mission of CELT is to support faculty at VSU by providing professional development opportunities related to their roles as teachers, scholars, practitioners, and leaders throughout their career stages. CELT takes a faculty-centric and holistic approach to professional development. CELT specifically works in collaboration with the Center for eLearning at VSU to offer faculty development for teaching in multiple modalities, and partners with other offices at VSU to support lifelong learning for faculty and experiential education for students.
This mission and approach means that CELT programming addresses the different roles and career cycles of faculty. Nearly every program is facilitated by VSU faculty, including CELT's Director who is tenured and teaches classes. By promoting faculty excellence in teaching, research, and service, CELT directly contributes to the University's mission. 

CELT's Director also oversees the Center for eLearning and reports to the Associate Provost of Academic Programs and Services. CELT and the Center for eLearning work closely together to help faculty and students. 
IDEA Center
2013-2018
In July 2013, the IDEA Center opened its doors to support faculty.
The IDEA Center's mission was to bring together a committed community of professionals to collaborate and enhance their individual and joint endeavors in teaching, practice, research, and service to VSU, and to our regional and global communities. "IDEA" stood for "Innovative Designs for Enhancing the Academy." 
The IDEA Center was staffed by IDEA Scholars, including a Scholar-in-Residence, who received course reassignments and stipends to lead teaching circles, writing groups, and a range of other faculty development workshops (e.g. teaching with technology, SoTL, research and writing, community engagement). 
The IDEA Center opened in 2013 at 102 Georgia Avenue but was administratively housed under the Honors College. Two years later, the IDEA Center was administratively moved under the Office of the Provost and Vice President for Academic Affairs to report to the Associate Provost.
Faculty Excellence Initiative
2011-2012
During Fall 2011, the Provost formed and charged the Faculty Excellence Initiative with examining the needs of VSU faculty and making a recommendation on how best to meet those needs with faculty development. Faculty working on this initiative first focused on how they wanted to define faculty development and began to develop a four-part plan for gathering data.
Once all data was collected and reviewed by the end of Spring 2012, then the Faculty Excellence Initiative drafted a report for the President and Provost, proposing the creation of the IDEA Center. The IDEA Center was proposed to meet the professional needs of VSU faculty related to teaching and learning, and for their successful accomplishment of promotion and tenure. 
The Hub
2002-2010
In 2002, a new initiative called The Hub emerged on campus. Its mission was to facilitate strategic planning for learning through cooperation and collaboration.
The Hub defined itself as a research and development organization for teaching and learning with ownership by its members, not a central mandate, and it was independent of individual departments and colleges within the University. Its purpose was to meet the needs of its members, which were educational, social, or cultural. There was an element of enterprise built into The Hub.
In sum, The Hub acted as a gathering of people with ideas, a clearinghouse for collegial professional development, a space for conferencing and planning, a studio and lab for learning new skills, and an outlet for disseminating success stories. 
Center for the Advancement of Teaching and Learning
1996-2001
The Center for the Advancement of Teaching and Learning was an initiative in 1996, which was aimed at building stronger communities through a commitment to educational excellence. Initially a small number of faculty were appointed Fellows to help advance teaching and learning, and then a Director was appointed in 1997.
100+ Years of History at 102 Georgia Avenue
1900 to present 
The house located at 102 Georgia Avenue was built in 1900 for Elmer and Evelyn Dekle, but doesn't appear on county tax records until 1915. It was designed by famed local architect Lloyd Greer. The house was built near the Pine Park Fairgrounds, yards away from Valdosta's electric trolley line, and it is one of the first of four homes to be built on Georgia Avenue. Elmer Dekle was part owner of the Thomas-Dekle Hardware Company (pictured below) in Valdosta until 1911 when it became the Dekle Hardware Company. The house was later willed to the Dekle's only child, Frances Dekle (pictured left in front of the house). Frances Dekle lived in the house for 65 years and she taught at local elementary schools until she retired. The Williams family, followed by Leon and Betty Brown, owned the house for awhile after the Dekle family.
Valdosta State University purchased the house in 1995. The Board of Regents owns the building as of 2009. University Advancement was the first VSU office located in this building, staying from 1995 to 2011. Faculty in the Philosophy and Religious Studies Department temporarily moved into the building when Ashley Hall was being renovated from 2011 to 2012. The IDEA Center opened its doors at 102 Georgia Avenue in July of 2013. CELT launched in July of 2018 and continues VSU's presence in this historic house in Valdosta, Georgia.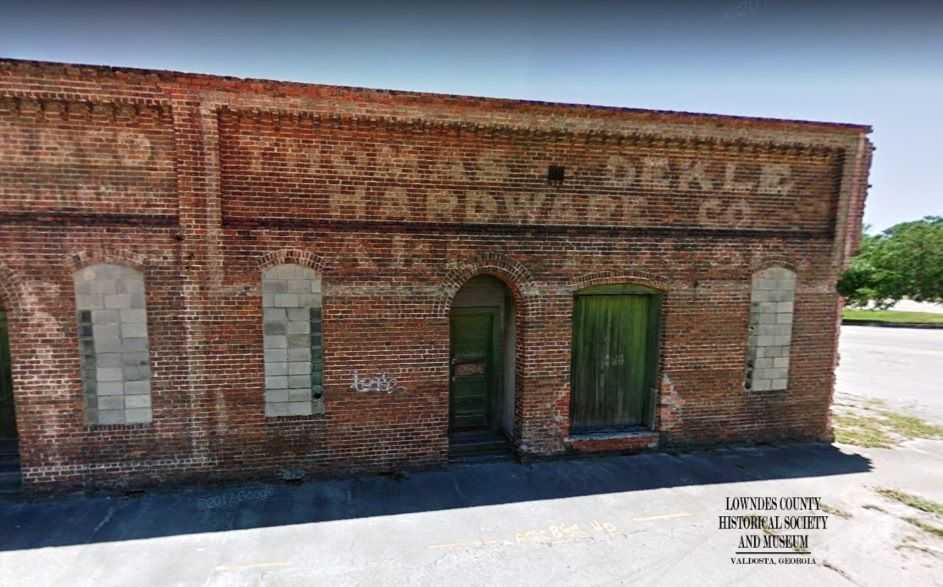 Center for Excellence in Learning and Teaching
102 Georgia Avenue 
Valdosta, Georgia 31698
Email Address
celt@valdosta.edu
Mailing Address
1500 N. Patterson St.
Valdosta, GA 31698