Viewing an eBill as an Authorized User
eBills are loaded in the Online Student Account Center twice, prior to the beginning of each semester.  Students and authorized users will receive an email announcing that eBills are available for viewing. 
IMPORTANT NOTE:  The Bursary Calendar shows the scheduled dates for the eBills.  This billing statement reflects account activity as of the date prepared.  Any registration or other account changes that take place after the eBill is posted may change the student account balance.  View the account activity online before submitting payment to verify the current balance.
The entire balance must be paid in full by  fee payment deadlines.  Students with an outstanding balance on their account after fee deadlines are subject to class cancellation and holds.  If classes are canceled, the student will be notified by e-mail.
To View eBill: 
Menu Path:      Statements
Account Activity can be reviewed at any time via menu path My Account>View Activity
To view eBill Statement, click statement, then click view.

Pop-ups must be allowed to view the statement.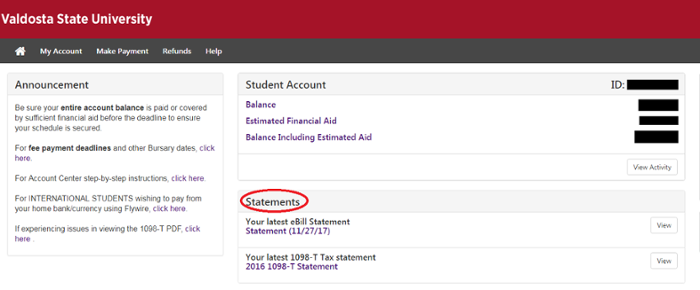 Student Financial Services
1205 N. Patterson St.
University Center
Entrance # 6  & 7 
Valdosta, GA 31698
Mailing Address
1500 N. Patterson St.
Valdosta, GA 31698
Fax: 229.259.2051

M-TH 8am - 5PM pm and Friday 8am-2:30pm.

---
Connect with Us