If you are unsure of your MyVSU account information or need to reset your password, please visit the MyVSU Password Reset Utility.  The portal is accessed with your VSU Active Directory credentials (first part of your VSU email address only and password).
The initial VSU 1Card is free-of-charge if you are registered for on-campus classes; a $20.00 fee will be charged for all replacements (you must visit the 1Card Services office in-person during normal business hours in order to obtain a replacement card- for additional information, see the "Obtaining a 1Card" page).  The $20.00 fee must be paid using your FLEX account.
Photo submissions in the portal are restricted to new, incoming freshman or transfer students who have never had a card issued. 
Students who are registered for online-only classes are not required to have a 1Card.  Please visit the "Obtaining a 1Card" page for information concerning the issuance of an Online Student ID Card.  
---
Photo Submission Requirements (your photo must meet ALL requirements or it will be rejected):
~Plain, white/light-colored background only (no scenic backgrounds, door frames, wall hangings, etc.).
~Must be a recent, full-color photo and must be passport-style photo in a .jpeg format (if the image would not be acceptable on any other form of identification, it will not be acceptable for your VSU 1Card).  See the "allowed" photo examples below denoted with a green check mark.
~Photo must be of your full face- head and shoulders only* (must be front-facing with no angled views or side shots).  Every part of your face and head must be visible, including your eyes.  *Simply stand against a plain wall and have someone take a photo of your full face, head, and shoulders only.
~NO PHOTOS TAKEN OUTDOORS OR IN A VEHICLE.
~No sunglasses, non-prescription glasses, headbands, earbuds, hats, etc.  
~Original photo required.  Do not submit a photo of another photo, "fashion" shots, filtered photos, social media photos, or edited (Photoshopped) images.  
~No other people or objects allowed in the photo (hair, hands, graphics, etc., should not obstruct the face).
~Prescription glasses may be worn; however, there should be no reflections from the eyeglasses that obscure your eyes. 
~No copyright/professional photos will be accepted (including school/graduation photos).
~The key requirement for a VSU 1Card is that the photo clearly identifies the student.*
*The VSU 1Card is used at on-campus/off-campus locations to identify the cardholder as the person to whom plans, privileges, access, and accounts have been assigned.  If you cannot be clearly identified by the photo on your 1Card, services may be denied.
---
Photo Submission Examples: Your submission should be similar to one of the photos denoted with a green checkmark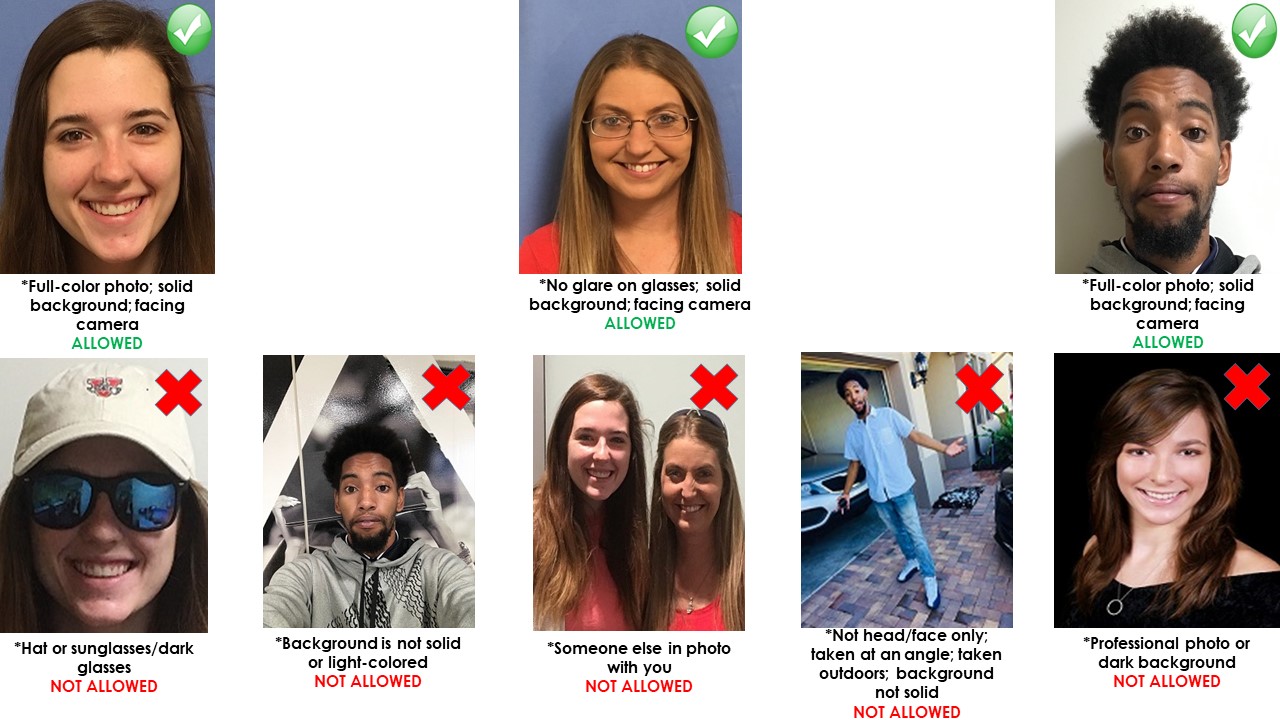 *South Georgia State College Students
South Georgia College Students must visit the VSU 1Card office to have their picture taken and 1Card made in person. 
Please make sure that you have your VSU ID number (9-digit number that begins with 870)
Two (2) forms of identification are required in order to obtain a VSU 1Card.  The first must be a government-issued photo ID- driver's license, passport, military ID, or state-issued identification card; the second must be something with your name pre-printed on it (credit/debit card, insurance card, pay stub, etc.).
By submitting the required photos (and any supporting documents), you are indicating that you accept the 1Card Terms and Conditions.
VSU 1Card Services
1205 N Patterson St.
University Center, Entrance 6 or 7
Valdosta, Georgia 31698
Mailing Address
1500 N. Patterson St.
Valdosta, GA 31698
Fax: 229.293.6222
Mon-Thu 8am - 5pm, Fri 8am - 2:30pm