PROGRAM OVERVIEW
The American Library Association (ALA) accredited Masters of Library and Information Science program is a fully online and asynchronous 39 semester-hour non-thesis program with a focus on educating librarians for careers in academic, public, and special libraries.
Students in the Master of Library and Information Science program gain expertise in areas of administration, resources for clients, services in the knowledge society, and technical knowledge. Throughout the course of the program, you'll acquire skills in organizing and retrieving information within information management, information services, information resources, and information systems. You also have the choice to pursue an optional area of interest in:
Cataloging and classification
Library management
Reference sources and services
Technology
Youth Services

Special Libraries, archives, or conservation librarianship
Dual program of study in MLIS and concurrent Georgia K-12 teaching certification in school media
Click here to see our Program Outline and click here to see our list of courses.
ABOUT THIS FIELD
The field of library and information science combines the disciplines of traditional library science and information technology to meet the needs of today's ever-changing library systems. The Master of Library and Information Science program at Valdosta State University focuses on educating librarians for academic, public and special libraries in Georgia and beyond.
WHERE CAN YOU GO WITH A MLIS?
A degree in MLIS gives you a competitive advantage in a number of information fields such as;
Acquisitions and Serials Librarian
Archivist
Business Librarian
Children's Librarian
Collection Development Librarian
Corporate Librarian
Digital Archivist
Digital Librarian
Digital Library Administrator
Information Analyst

Information and Technology Specialist
Information Services Coordinator
Instructional Librarian
Instructional Technology Librarian
Librarian
Library Director
Library Manager
Reference Librarian
Systems Librarian
THE VALDOSTA STATE DIFFERENCE
The Master of Library and Information Science program at Valdosta State is a non-thesis graduate program that is fully online and asynchronous. We, the Faculty of the MLIS program, are dedicated to distance education methods, and we take pride in our program's flexible scheduling that allows you to continue full-time work and spending time with family.
EARN YOUR DEGREE FULLY ONLINE
The Department of Library and Information Studies at Valdosta State offers you the skills you need to succeed in an information society with Master's degree tailored to online and adult learners. You'll work with experienced faculty invested in your success in the library and information professions through our fully asynchronous graduate program.
WHAT IS ASYNCHRONOUS LEARNING?
a (prefix) – not
synchronous – happening at the same time
Asynchronous online courses have many of the elements of face-to-face courses, but all work is completed on your own time and within a set timeframe. Instead of live weekly class sessions, with homework and preparation, your online courses will usually be divided into week-long modules where you will have:
a major topic
supporting materials (videos, reading, or other media)
ongoing discussion and collaboration with your professor and classmates
assignments and projects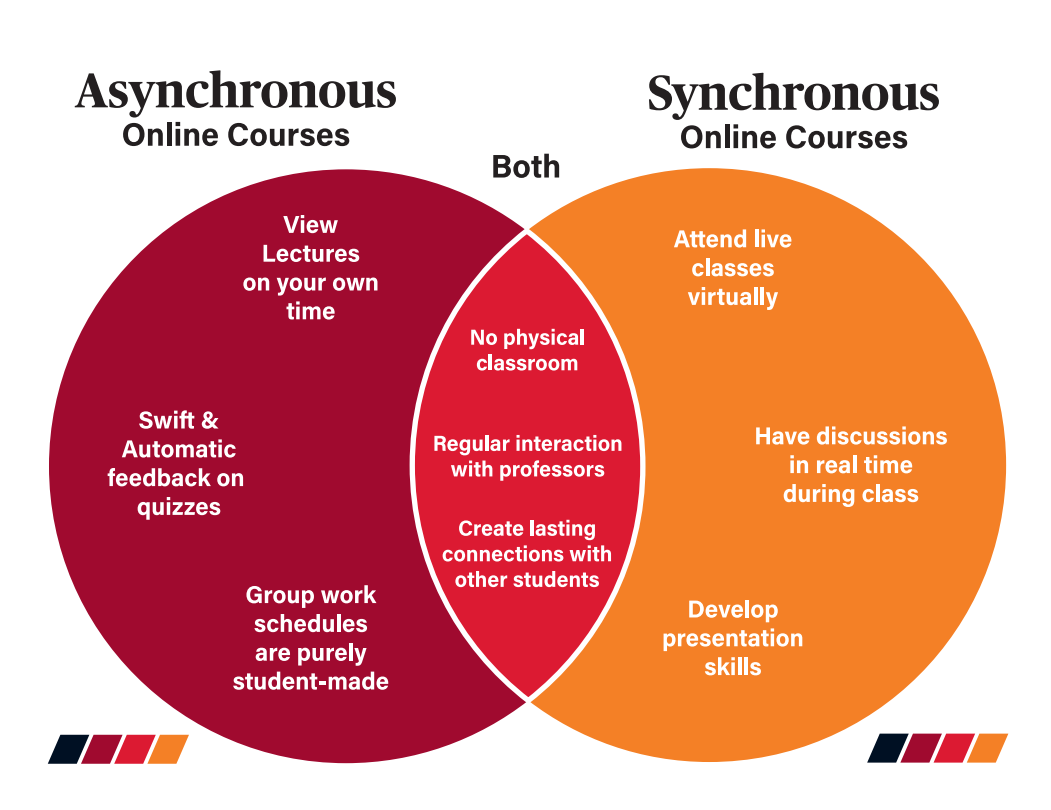 Benefits of Asynchronous Learning
You get to set your own schedule for viewing lectures and completing each week's coursework
You can easily go back and review lectures or reading materials to clarify information and concepts
You can take time to consider questions and discussion points before giving a response. No pressure to immediately give responses in front of a crowd, such as in live courses.
Asynchronous learning appeals to many different learning styles that don't fit as well in synchronous courses
One of the key benefits of asynchronous online learning is that you can create your own schedule and plan your study hours for times that work best for you and your individual needs. VSU's asynchronous MLIS program can fit in around work, family and other obligations whereas on-campus or synchronous online MLIS programs might not. This allows you to pursue a degree from almost anywhere, even while you may be working full-time, caring for a family, or meeting other community and social commitments.  
How much time will each course require?
Graduate level coursework is highly rigorous compared to courses at the undergraduate level. Each course will require an estimated total of at least 12-21 hours per week for reading and viewing materials, as well as studying and completing assigned activities and projects. Further, each major assignment will likely take an additional 10-20 hours spread out over multiple modules.
Several factors can impact how much time you need to study and complete coursework. For example, a student with years of experience working around a library or a student possessing a bachelor's degree in Library Science may need less time to study and complete coursework than a student who is completely new to the field. Some students read and comprehend material quicker. Some work at a relatively faster or slower pace when they are working on assignments.
Planning blocks of time for coursework into your weekly schedule is considered good practice and greatly helpful for getting all assigned material completed on time. This information can also help you plan how many courses you take each semester to avoid accidentally taking on too much at once.
ADMISSIONS INFO AND MORE
The program accepts applications for the Fall and Spring semesters each year. Click on links below to learn more about admissions requirements, tuition, and other important information. Also, feel free to Contact Us using the linked form.
Graduate School Tuition and Fees
Dept. of Library and Information Studies
Odum Library
1500 N. Patterson St. Valdosta, Georgia 31698
Mailing Address
1500 N. Patterson St.
Valdosta, GA 31698
Fax: 229.259.5055