History of the Department of Art & Design

In 1906, one year before Pablo Picasso painted Demoiselles d'Avignon in Paris, and two years before photographer and impresario, Alfred Stieglitz, exhibited works by European avant-garde artists Rodin, Matisse, Cezanne, and others in his 291Gallery in New York City, Georgia State Normal College, later renamed Valdosta State University in 1993, was founded in Valdosta, GA. 
Seven years later, in 1913, on the eve of the outbreak of World War I, the International Exhibition of Modern Art, also known as the Armory Show, opened at the 69th Regiment Armory in New York City. In the same year Frances Ruth Carpenter, Georgia artist-teacher and graduate of Teachers College, Columbia University, began teaching art and manual training at Georgia State Normal College, a teacher training institution for women in South Georgia.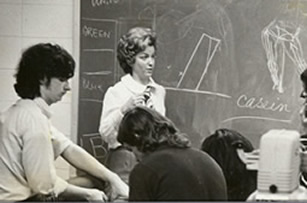 Energized from living and studying in New York City when modernism was brewing, and coupled with her studies at Columbia with Arthur Wesley Dow, Carpenter brought new ideas about art and teaching to South Georgia where she and her small handful of female students first had classes in Converse Hall, later moving to West Hall.
Carpenter's thirty-six year career would last until her retirement in 1949 where she and her students would feel the effects of World War I, experience flappers and the Jazz Age in the 1920s, tighten their belts in the 1930s during the Great Depression, support the war effort during World War II, and afterwards welcome men studying on the G.I. Bill to the former all women's college campus. 
Today, nearly 100 years after Frances Ruth Carpenter first started teaching art at Valdosta State University, much change has occurred. The Department of Art & Design is now housed in the Fine Arts Building and the University Center South. The department has increased from a handful of female students in 1913 to a diverse population of more than 200 students at present. Finally, a department that began with one faculty member has now blossomed into one with seventeen full-time faculty members whose careers have been inspired by past artist-teachers like Frances Ruth Carpenter.
Paula L. McNeill
Associate Professor of Art - Art Education
(Retired 2017)
Department of Art & Design
VSU - College of the Arts
Department of Art & Design
Fine Arts Building
Room 1070A - 1st Floor
Valdosta, GA 31698
Mailing Address
1500 N. Patterson St.
Valdosta, GA 31698
Monday-Thursday
8:00 a.m. - 5:30 p.m.
Friday
8:00 a.m. - 3:00 p.m.