General Login Instructions for Authorized Users
Authorized User access may be granted by the student, allowing parents or other parties their own log-in access to the Account Center to view student account charges and authorized financial aid.  Authorized Users may also make online payments in the Account Center.
The student grants the Authorized User access from the student log-in of the Account Center, entering the email address for the person being granted access (instructions available here).  The Authorized User will receive two emails from our system, one stating that access has been granted; the other providing the temporary password to use when logging in for the first time.
Log into VSU's Online Student Account Center.  On the left side of the page under "Authorized Users", enter your e-mail address and the temporary password sent to you.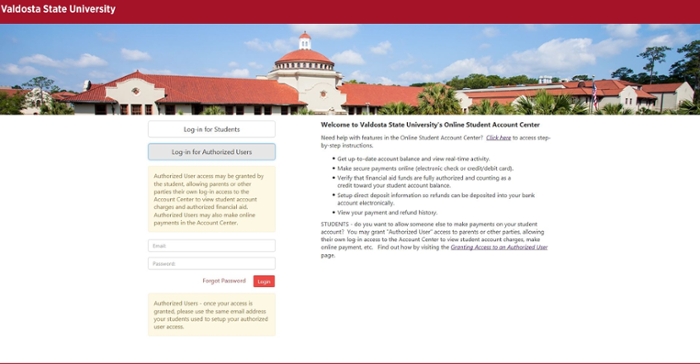 You will immediately be prompted to enter your full name and update the password.
Home Page– Use the tabs along the top to navigate to make payments, view the student(s) account activity, save a payment account for future reference.

Student Financial Services
1205 N. Patterson St.
University Center
Entrance # 6  & 7 
Valdosta, GA 31698
Mailing Address
1500 N. Patterson St.
Valdosta, GA 31698
Fax: 229.259.2051
M-TH 8am - 5PM pm and Friday 8am-2:30pm.