Granting Access to an Authorized User(s)
To grant access for an authorized user
Menu Path: My Account > Authorized Users > Add Authorized User
Enter the email address of the person you are granting access to
Select Yes or No as applicable to the questions that follow
Click Continue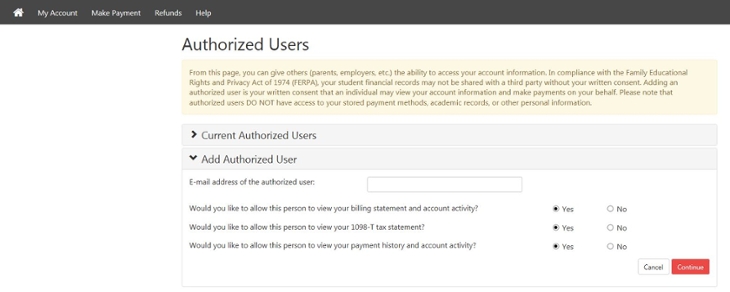 The following  screen will appear - Click 'I Agree' and then Print or Continue
Note:  An e-mail notice will be sent to authorize users providing instructions on how to log in.
To update authorized users
Menu Path: My Account > Authorized Users 
Select "Current Authorize Users" to view, edit or remove existing authorize user
Select "Add Authorized User" to add new authorized users

229.259.2051
Campus Address
1205 N. Patterson St.
University Center
Entrance # 6  & 7 
Valdosta, GA 31698
Mailing Address
1500 N. Patterson St.
Valdosta, GA 31698
M-TH 8am - 5PM pm and Friday 8am-2:30pm. Email and/phone calls responded to within 24hrs.  Thank you for your patience.