Networking

I/O students collaborating with HR professionals during a workshop at the SHRM Jax 2017 Conference

VSU SHRM Chapter Executive Board 2019-2020

The 2019-2020 VSU SHRM Chapter Executive Board

Conferences

Bethannie Jamerson, Sandra Marek, Taylor Hicks, and Natalie Evans volunteered at the SHRM Jax Conference in April 2018

Professionalism

I/O students modeling business attire at VSU's student employment event "Preparing for Success"
Society for Human Resource Management (SHRM)
About SHRM
The Society for Human Resource Management (SHRM) is the largest HR professional society, composed of 285,000 members in more than 165 countries.


The SHRM Vision & Mission
SHRM's vision is "to be a preeminent and globally recognized authority whose leadership, perspective, resources, and expertise are sought and utilized to address the most pressing, current and emerging human resource management issues."
 
SHRM's mission is "to be a globally recognized HR professional society that exists to develop and serve the HR professional, and advance and lead the HR profession. SHRM provides education, thought leadership, certification, community, and advocacy to enhance the practice of human resource management and the effectiveness of HR professionals in the organizations and communities they serve." 
There are a multitude of benefits for choosing to become a national student member of SHRM, such as access to HR Magazine, the ability to attend the annual SHRM conference at a discounted rate, and scholarship opportunities. To learn more information about SHRM, visit their website.
Join SHRM as a National Student Member.
There are also many benefits for choosing to become a local member of our sponsoring chapter, SHRM Jacksonville, including the opportunity to attend the annual SHRM Jax conference at a discounted rate, company site tours around the Jacksonville area, and local chapter meetings. For more information regarding the SHRM Jacksonville chapter, visit their website.
The SHRM Student Chapter at Valdosta State University
VSU proudly supports a growing SHRM student chapter. As a student organization, we strive to provide able educational, networking, professional development, volunteering, and mentorship opportunities for our members.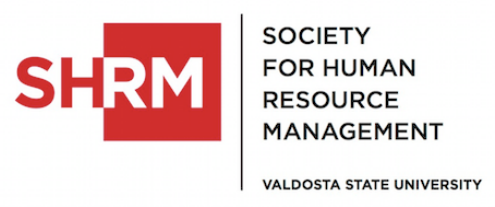 Events and services offered by VSU SHRM for the 2020-21 Academic Year include: The VSU SHRM Speaker Series, for which we host a wide range of local and national leaders in their fields from both the private and public sectors to speak to the VSU community about their industries and experiences; Resume workshops; Internship search workshops; Site tours at the facilities of local organizations, with the opportunity to learn about their human resources operations; the VSU SHRM mentorship program; and many more.  

The SHRM student chapter at VSU is open to all undergraduate and graduate students with an interest in human resources, public administration, business, organizational development, communications, industrial-organizational psychology, and leadership.
 
To keep up to date with what we have planned, see our schedule of events.
For more information, please contact VSU SHRM's President, Kyla Dickson at ksdickson@valdosta.edu. 
 
Follow us on Facebook! 
---

President: Kyla Dickson
Vice President: Bailey Fordham
Secretary: Abigail Hettinger
Treasurer: Kara Smith
Director of Recruitment and Retention: Steve Rimmer
Director of Corporate Relations: Anthony Reid
Campus Address
Department of Human Services
229.219.3550
Converse Hall, 2nd Floor
1500 N. Patterson St.
Valdosta, GA 31698 Family Therapy & FamilyWorks Clinic
MFT Program: 229-219-1281
FamilyWorks: 229-219-1281
903 N. Patterson St.
Valdosta, GA 31698 Social Work
229-249-4864  
Health Science and Business Administration Building
2525 N. Patterson St.
Valdosta, GA 31698
Mailing Address
1500 N. Patterson St.
Valdosta, GA 31698