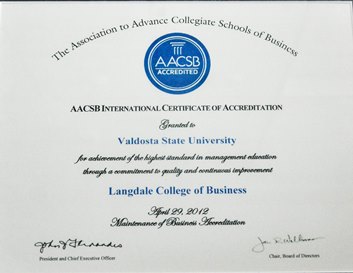 Accreditation
AACSB Accreditation requires that schools: 
> teach everything your child needs from communication skills to financial reporting.
> have qualified and adequate faculty and staff to successfully deliver its programs.
> produce research that advances business—which means your child has access to innovative and relevant business ideas and methods.
> do not speed your child through a business degree program at a pace where they cannot effectively learn.
Achieving AACSB Accreditation is a rigorous process. Each accreditation standard assesses a school's ability to perform in critical areas, such as teaching, research, curricula development, and student learning. Generally, it takes a lot of work and time to meet all of the AACSB Accreditation Standards.
Here's a simplified version of how the process works:
A school must have the ability to grant degrees in their country and have the appropriate local/regional institutional accreditation.
AACSB begins by working with the school to develop a plan to meet the accreditation standards and its own strategic goals.
Committees and mentors are assigned to help the school implement their accreditation and strategic plans.
Once the mentors believe the school has met the standards, a review team, made up of highly experienced educators and business school administrators, will visit the school and make a recommendation for accreditation.
The review team's recommendation is given to an accreditation committee and the AACSB Board of Directors for final approval.
Many times, a school will have to return to the mentors and committees for further development.
Finally, if all parties believe the school has satisfied the standards, it is granted with AACSB Accreditation for its business programs. (All of them.)
The business school must then be reviewed every five years to ensure it continues to meet the standards.
- See more at: http://bestbizschools.aacsb.edu/aacsb-accredited/parents#sthash.JtApBxOH.dpuf
Campus Address


Rea and Lillian Steele




North Campus




Corner of Patterson & Pendleton Streets

Mailing Address
1500 N. Patterson St.
Valdosta, GA 31698
Monday-Thursday
8:00 a.m.-5:30 p.m.
Friday
8:00 a.m.-3:00 p.m.