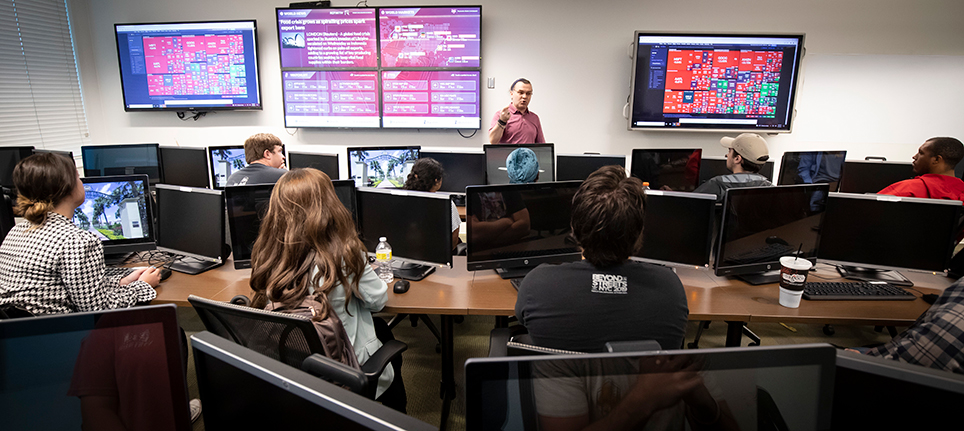 The Financial Trading Center
The Financial Trading Center
Two of the most important components of our college's mission are: Preparing students for successful managerial and professional careers and supporting the application and expansion of knowledge. To serve that mission, it is essential that we provide our students with the latest technology and applicable skills they will need after they graduate. Students who decide to seek a career in finance will face very tough competition, and they will need to differentiate themselves from the competition. In addition, VSU as well as Langdale College of Business are facing an increasingly competitive environment related to attracting and retaining good students.
Having a financial trading center, a student investment club, and a student-managed investment portfolio available to our students serve many essential purposes:
They provide our students with essential job skills and exposure, making them more competitive when they graduate by allowing them to apply their knowledge to real-life investment situations while still in college.
They allow VSU and LCOBA to be recognized nationally and globally by joining the distinguished group of business schools that provide hands-on investment and portfolio management experience to their students. Our team participates in national competitions annually, such as the GAME Forum in New York City.
Our student-managed portfolio allows our students to experience the responsibility that comes with managing real money, as well as the organizational skills which are required to operate as a decision-making team. Currently, our Asset Management Team (its entire body is made of VSU students) is managing around $270,000.
Having a physical Financial Trading Center not only makes it possible for our students to learn how to manage a real portfolio but also allows LCOBA to approach local financial firms to sponsor our portfolio and become a member of our Advisory Board. This creates employment opportunities for our students with the financial companies in the area we serve.
Alumni of our program help us keep in touch with their current employers to create employment opportunities for our current students. This creates an alumni culture in the long run that supports our recent graduates.
Campus Address


Rea and Lillian Steele




North Campus




Corner of Patterson & Pendleton Streets

Mailing Address
1500 N. Patterson St.
Valdosta, GA 31698
Monday-Thursday
8:00 a.m.-5:30 p.m.
Friday
8:00 a.m.-3:00 p.m.