Academic Honors and Award Dinner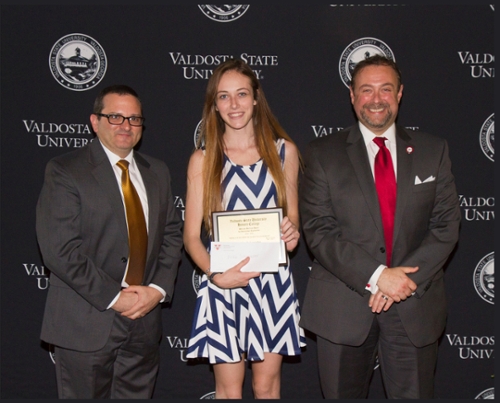 Two Biology students were honored at the Academic Honors and Award Dinner on April 30, 2015. Erika Schumacher (pictured above) received the Bartram Award for Intellectual Exploration for her research with Dr. Reece on the Florida Grasshopper Sparrow. Fran Johnson was unable to attend the ceremony due to a softball tournament in which she was representing VSU, but she was awarded the Female Student Academic Athlete Award and the Alpha Lambda Delta Marie Leonard Book Award. In addition to her outstanding academic performance, she does research with Dr. Anderson.
Student Employee Recognition Awards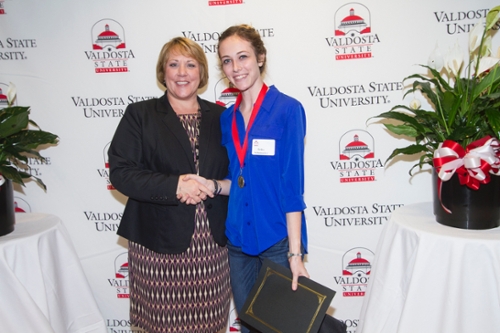 Erika Schumacher and Tess Baker, both Biology students, were honored with certificates as two of the top five student employees across the entire VSU campus. Last year, Erika won the 1st place award, and this year finished in the top 5. This was Tess's first time being honored for her work with Dr. Manning from Chemistry. Congratulations to our students and their fine work!
Martha H. Barnes
T'Airra Lane, Teresa Akuoko, Marianoelle Rivera, Austin Byrd, Olen Hulett, Zoe Barrett, Imeisha Rountree, Amanda Aguilar (2022)     
Madelyn Adair, Alexander Gomez, Julia Higdon, Juliannie Hoare, Vraj Patel, Winston Turner, Carli Tuttle, and Aliya Warren (2021)
Winston Turner, Natalie Vasquez-Torres, Juliannie Hoare, Autumn Wilbright, Jocelyn Wood, Alex Gomez, Alana Hiers, and Gena Cody (2020)
Breana Box, Mehvish Durrani, Gena Cody, Amber Holley, Karal Solis Rueda, Khusbuben Patel, Juliannie Hoare, Jakob Harris (2019)
Breana Box, Mehvish Durrani, Andrew Howell, Belinda Bell, Jenil Patel, Gena Cody, Jateria Colts, and Bethany Guinn (2018)
Gena Cody, Magnolia Mendoza, Mehvish Durrani, Belinda Bell, William Blair, Taylor Vinge, Pavan Patel, and Summer Bryant (2017)
Marjorie R. Carter Award
The recipient of the award shall be a senior biology major who stands high academically, who most nearly typifies the standards of the University and of the Department of Biology and who best exemplifies qualities of character and professional excellence manifest in the life and service of the late Dr. Marjorie Estelle Carter.
Yasmin Guzman (2022)
Gena Cody (2020)
Lindsey Robinson (2019)
Nia Myers (2018)
Keanna McCrary (2017)
Christina Duckworth (2016)
Courtney Erskine (2015)
Bianca S. Farley (2014)
Brittany Butler (2013)
Julia V. Fink (2012)
Chelsea Connolly ( 2011)
Lovie Mansfield (2010)
Tiffany Cochran ( 2009)
Mallory Bates (2008)
Ian Hester (2007)
Chris Powell (2006)
Annual Senior Award
Shall be given to the graduating senior with the highest grade point average (GPA) based on sixty or more semester hours of credit earned at Valdosta State University, or with the highest grade point average in math and science courses.
Kevin Eppes (2022)
Alexander Gomez (2021)
Gena Cody and Mehvish Durrani (2020)
Mehvish Durrani (2019)
Julianna Masonheimer (2018)
Pavan Patel (2017)
Jake Croft, Reanne Harris, Jayme Parker, Hannah Pittman, and Jesse Wayson (2016)
Eugene Rowell (2015)
Fran Johnson (2015)
Steve Watts (2015)
Cody M. Phillips (2014)
Pratikkumar P. Patel (2014)
Shannon Clark (2013)
Benjamin Harper (2012)
Shad Stormant (2011)
Clinton Sheffield ( 2010)
Travis Patterson (2009)
Robert O'Brien (2009)
Brad Royal (2008)
Jessica Thomas (2008)
Elizabeth Jones (2007)
Cara L. Perkins (2006)
Hugh C. Bailey Family Scholarships
This endowed scholarship was created by Dr. Hugh C. Bailey, President of Valdosta State University from 1978 to 2001, to support academic excellence and achievement in every academic discipline through participation in the University Honors Program.  Bailey Scholarships are available to full-time students who have been admitted to the Honors Program and who have completed between 45 and 75 semester hours, including at least 10 semester hours in the VSU Honors Program.  Applicants must have a grade point averages of at least 3.6 for all courses completed, including Honors courses taken at VSU, and must exemplify the spirit of inquiry and service that characterizes the Honors Program.
Matthew Rivera (2012)
Kimberly Edwards (2011)
Monica R. Chana (2006)
Christina L. Huntley (2006)
Jessica M. Thomas (2006)
Senior Student Leadership Award
This university-wide award recognizes students who have shown exemplary leadership throughout their time at VSU, demonstrating involvement in the community, student organizations and activities within their academic discipline.
Benjamin Harper (2012)
Elizabeth Jones (2007)
Mack Varnedoe Greer Sr. M.D. Scholarship
Winston Turner(2022)
Juliannie Hoare (2021)
Alex Gomez (2020)
Haley Garrett (2019)
Belinda Bell (2018)
Brittany McFarland (2017)
Joshua Oliver (2016)
Jesse Wayson (2015)
Sky E. Dainty (2014)
Marla Darden (2013)
Matthew Rivera (2012)
Ben Harper (2011)
Viduchi Gupta (2010)
Danielle Baskin (2009)
David and Cecelia Ratcliffe Scholarship
This scholarship was created to recognize a student involved in research and has the potential to contribute to the field of biology.
Dalila Sanchez and Carla Solis (2022)
Lauren Braswell (2021)
Abbey Warren (2020)
Marcus Diaz and Lindsey Robinson (2019)
Damion Castellano and Elizabeth Delk (2018)
Jeremy Munnings (2017)
Pavan Patel (2017)
Erika Schumacher (2015)
Bianca S. Farley (2014)
Fran M. Johnson (2014)
Pratikkumar P. Patel (2014)
Colleen Bradley, Shannon Clark, and Andrew Mock (2013)
Crystal Purnell (2011)
Marsha Paulk Scholarship
Established in memory of a former VSU student to a student pursuing a career of an Physician Assistant.
Lauren Vosburg (2022)
Mark Perez (2021)
Aurielle Wright (2020)
Kelsey Griffin (2019)
Julie Secure (2018)
Whitney Ofton (2017)
Abigail Schwartz (2016)
Alexander Metz (2015)
Fran M. Johnson (2014)
Victoria Suttles (2013)
VSU Student Employee of the Year
Finalist: Erika Schumacher (2014)
Finalist: Taneshala Hall (2009)
Finalist: Elizabeth Castillo (2008)
Blazer Leadership Award
Finalist: Mallory Bates (2008)
Department of Biology
Room 2035, 2nd Floor
Bailey Science Building
Mailing Address
1500 N. Patterson St.
Valdosta, GA 31698
Fax: 229.245.6585

Monday - Thursday
8:00AM until 5:30PM
Friday
8:00AM until 3:00PM
Saturday - Sunday
Office Closed