The Biology department and/or Biology classes have been active since South Georgia State Normal College opened in 1913 as a two year school for teachers. An act of the Legislature changed the name in 1922 to South Georgia Woman's College and four year programs were offered. It is believed James R. Stokes, professor of Biology and French, was the first person to guide the department in 1926-1934.  During the late 1930's the Biology department was guided by Beatrice Nevins (1937-1968) and Marjorie Carter (1937-1963). Other significant names associated with the department are Clyde Connell (1951-1981), Wayne Faircloth (1961-1993), and Dave Bechler (1996-2005). The current head of the department is Dr. Robert Gannon. Biology moved into a new $23 million dollar science building in April 2001. An endowed annual lecture series to honor Dr. Clyde Connell was initiated in 1986. The Master's graduate program was approved in Spring, 2005 by the Board of Regents and began accepting students the following Fall semester.
Clyde Eugene Connell Jr.
Permission has been granted for use of the following abstract on Clyde Connell, Jr.:
CLYDE EUGENE CONNELL JR.: OUTSTANDING GEORGIA CITIZEN, SCIENTIST, AND EDUCATOR, Jenifer Turco and Melanie Byrd, Valdosta State University, Valdosta, GA 31698.
Born in Naylor, Georgia, on August 11, 1916, Clyde Eugene Connell Jr. (1916-1985) was the son of Clyde Eugene Connell Sr. and Eula Lee Peters Connell.A graduate of Valdosta H.S., Connell attended Emory Junior College and then enlisted in the U.S. Navy, where he served for about 16 years.In 1938 Connell married Dorothy V. Johnson; the couple had one son, Daniel E. Connell (born January 30, 1943).Unfortunately, Clyde Connell contracted tuberculosis while in the Navy.After serving during World War II, he was sent to work in Greece, and was then assigned to Cairo, Egypt, where his work in helping to control the cholera epidemic of 1947 earned him an award from the Egyptian government.Connell began a second career after his medical retirement from the Navy.He completed his B.S. in Biology at Valdosta State College (VSC) in 1954, and earned his M.S. in Zoology (1956) and Ph.D. in Biology (1959) at the Univ. of Georgia.He then returned to VSC, where he served as a faculty member (1958-1981) and Head of the Biology Dept. (1962-1981) until his retirement.A highly respected person, Connell contributed greatly to the Biology Dept., the Valdosta community, and the region.He educated and advised many students, and he received several awards, including the William T. Hornaday Conservation Trust Award.The Clyde Eugene Connell Visiting Lecture Program at Valdosta State Univ. continues to honor his legacy.
(Reference: 2006 Georgia Journal of Science Vol. 64, No. 1, page 51.)
Wayne Reynolds Faircloth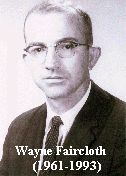 OBITUARIES
Wayne Reynolds Fairchloth
1932-2008
Department of Biology
Room 2035, 2nd Floor
Bailey Science Building
Mailing Address
1500 N. Patterson St.
Valdosta, GA 31698
Fax: 229.245.6585

Monday - Thursday
8:00AM until 5:30PM
Friday
8:00AM until 3:00PM
Saturday - Sunday
Office Closed