Connect to VSU-WiFi
:: a secure and encrypted connection that requires authentication through VSU login credentials. This network is geared for use by VSU students and employees.
---
Step 1:
Select VSU-WiFi in your wireless network list.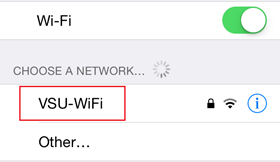 Step 2:
::Androids & Chromebooks:
Some Android phones and Chromebooks may require you to specify some or all of the following settings:
EAP Method: PEAP
Phase 2 Authentication: MSCHAPV2
Domain: valdosta.edu
Certificate: select Do not validate (This may be a necessary workaround due to an undisclosed device bug.)
Identity: Enter your MyVSU Username only
Password: Enter your MyVSU Password
Anonymous Identity: Leave blank
After inputting needed information, click CONNECT
---
::Apple & Other Devices:
Enter your MyVSU username only and password into the appropriate fields and Join the network. 
If prompted, choose to Trust the certificate. 
---
Expired Password/Connection: If it has been more than 180 days since your last connection to VSU-WiFi or if maintenance has occurred that prevents you from connecting, you may need to select the Forget Network function on your device to remove the invalid VSU-WiFi connection and then complete the steps above to establish a new connection.
229.245.4349
Campus Address
Pine Hall 1500 N. Patterson St. Valdosta, Georgia 31698-0001
Mailing Address
1500 N. Patterson St.
Valdosta, GA 31698

VSU Solutions Center


Eastern Standard Times

Mon-Thurs: 8 am - 7 pm

Friday: 8 am - 5 pm


Saturday: 9 am - 2 pm

Sunday: 9 am - 3 pm