Campus Alert
June 15, 2021: UPD Phones Down
Entertainment Devices
VSU Resident Students must first register entertainment devices such as gaming consoles (PlayStation, Xbox, Wii, & Nintendo) and streaming devices (Apple, Amazon, Google, Roku, Sony, TiVo, & Vizio) before connecting to VSU-Guest. Students have continuous service once connected.
Save or Print Step-by-Step Guide
Step 1:
On your computer or another device with a web browser, navigate to mydevices.valdosta.edu
Step 2:
Enter your MyVSU account username and password and click the Sign On button.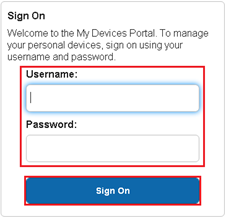 Step 3:
On the Acceptable Use Policy page, click the Accept button.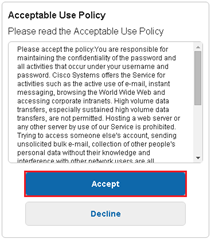 Step 4:
On the Post Access page, click the Continue button.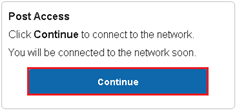 Step 5:
On the Manage Devices page, click the Add button.
Step 6:
On the Add Device page, enter the following information and then press Submit.
Device Name: Type in a name for the device that you can easily recognize.
Device ID: Enter the MAC Address (also known as a Physical Address or WiFi Address on some devices) of the gaming device separated by colons (eg. AA:BB:CC:11:22:33).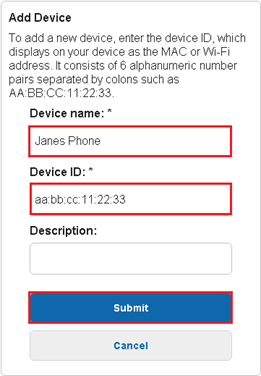 Step 7:
On the Manage Devices page, click the Add button if you need to register another device and repeat the process. 
When you have added all of your devices and they are listed on the Manage Devices page as Pending, you should Logout by clicking on Your Name in the top right and then pressing Logout

Step 8: 
You should now connect your gaming or entertainment device to the VSU-Guest network.
229.245.4349
Campus Address
Pine Hall 1500 N. Patterson St. Valdosta, Georgia 31698-0001
Mailing Address
1500 N. Patterson St.
Valdosta, GA 31698

VSU Solutions Center


Eastern Standard Times

Mon-Thurs: 8 am - 7 pm

Friday: 8 am - 5 pm


Saturday: 9 am - 2 pm

Sunday: 9 am - 3 pm