May 1, 2020
20-36
Jessica Pope
Communications and Media Relations Coordinator
Ashlie Prain Named Graduate School Ceremony Commencement Speaker at VSU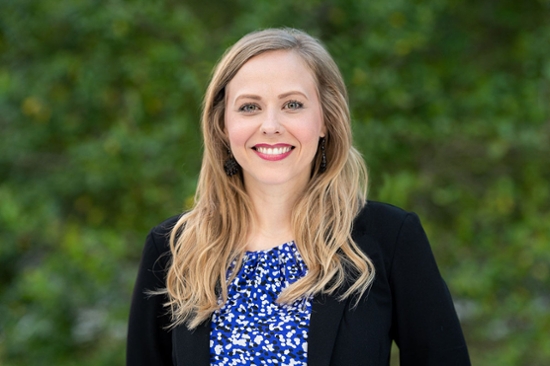 Ashlie M. Prain
VALDOSTA — Ashlie M. Prain of Valdosta, Georgia, will deliver the commencement address during the virtual Graduate School Ceremony portion of Valdosta State University's 229th Commencement, which is scheduled for 7 p.m. on Saturday, May 9, at valdosta.edu/commencement.
Prain graduates from VSU with a Master of Public Administration. This marks her second degree from South Georgia's flagship institution of higher education; she previously earned a Bachelor of Arts in Sociology and Anthropology in December 2017.
"In such trying times, I am grateful for the opportunity to celebrate this class," she shared. "The virtual commencement is a mindful way to come together and share this major accomplishment we have all worked so hard to achieve. This is a class of resilience, perseverance, and compassion. We are strong, and we will blaze on, together, in this moment as we are being called to action. I hope to inspire my fellow classmates with words of encouragement and inspiration."
As a student at VSU, Prain was a member of the Student Government Association, where she served as a graduate student senator and chairwoman of the Graduate Student Success Committee; the Anthropology Club, where she served as president; the Sociology Club, where she served as president; the Graduate Student Association; Alpha Kappa Delta: The International Sociology Honor Society; Students Against Violating the Environment; the International Honor Society in Philosophy; and the International Honor Society in Sociology. She presented at and helped to coordinate Courageous Conversations About Race: A Complex and Tangled History, a popular on-campus speaker series. 
Prain fully embraced VSU's commitment to act as a resource and innovative leader for South Georgia and sought out ways to give back to the region. She dedicated her time and talent as assistant editor for the Southern Anthropological Society newsletter, president and board member for The Quality of Life Association of Lowndes County/Valdosta, director of the Youth Education of Animals Rights Summer Camp Series, a community volunteer with Keep Lowndes/Valdosta Beautiful, assistant director of South Georgia Against Animal Circuses, and a member of the South Georgia Permaculture Guild and American Association of University Women.
Inspired by what she learned in the classroom and experienced through her service work, Prain conducted more than half a dozen thought-provoking research projects. She presented "Three and a Tie-Off: Mayan Birthing and the Rise of C-Sections in Southern Belize," "The White Fight for Animals: A Look into Ethnocentrism and Hypocrisy in the American Animal Rights Movement," "Educated to Kill: An Ethnography of Southern Rural Hunters," and "The Reconstruction of Animality: A Cross Cultural Examination" at annual meetings of the Southern Anthropological Society. She presented "Sexist Spotlights: Challenging Sexism in the Male Dominated Music Industry" at an annual meeting of the Georgia Sociological Society; "Diversity Not Dress Code: Confronting Discriminatory Dress Codes in South Georgia Bars" at an annual W.E.B. DuBois Symposium at Clark Atlanta University; and "Emotional Constraints of the Southern Rural Hunter" at an annual Undergraduate Research Symposium at VSU.
Prain's passion for academic, service, and research excellence resulted in her earning Undergraduate Paper of the Year honors from the Southern Anthropological Society; VSU's Franz Boas Prize for Best Ethnographic Writing; induction into Who's Who Among Students in American Universities and Colleges; the American Association of University Women's Sigma Alpha Chi Marga Award; an Academic Excellence Award from VSU's Department of Sociology, Anthropology, and Criminal Justice; a Helping Hands Award from Keep Lowndes/Valdosta Beautiful; and the President's Award from the Literacy Volunteer Program of South Georgia.  
"I'm looking forward to entering the public sector and serving communities where help is very much needed as I prepare myself to begin a law degree next year," she said. "I will always follow my love and passion for helping and for serving."
Prain is married to Mark Prain, her "husband, partner, and No. 1 supporter."
Prain is one of three high-powered student speakers selected to deliver commencement addresses during VSU's 229th Commencement. The other two — Jacob R. Bell of Baxley, Georgia, and Amea J. Thompson of Springfield, Georgia — will speak during the virtual Undergraduate Ceremony. Each of these students boasts a record of academic achievement, service, leadership, and campus involvement. They are excited to have the privilege of inspiring a new class of creative, conscious, and caring Blazers ready to meet the needs of a changing global society.
On the Web:
https://www.valdosta.edu/administration/advancement/event-services/commencement/
https://www.valdosta.edu/pa/
https://www.valdosta.edu/sacj/
Newsroom
Office of Communications Powell Hall West, Suite 1120
Mailing Address
1500 N. Patterson St.
Valdosta, GA 31698
General VSU Information
Office of Communications