Ashley Cooper Honored with Presidential Excellence Award for Service: Classified Staff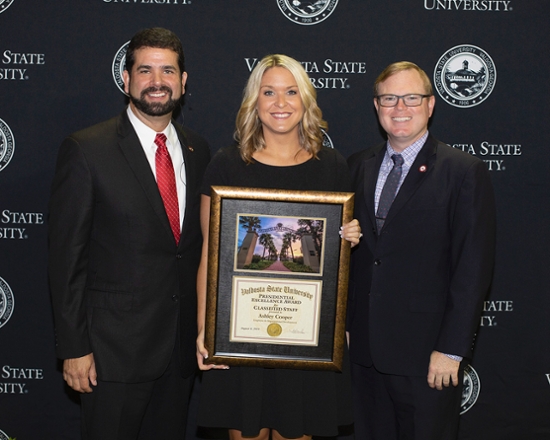 Pictured left to right are President Richard A. Carvajal, Ashley Cooper, and Dr. Vince Miller, vice president for Student Affairs.
VALDOSTA — Ashley Cooper is the recipient of Valdosta State University's 2018 Presidential Excellence Award for Service: Classified Staff.
The Presidential Excellence Award for Service: Classified Staff recognizes a staff member who exhibits high standards of service and an exemplary and innovative job performance. Cooper was chosen for her extensive service, progressive leadership, and untiring work ethic in multiple offices and departments across campus, especially in the Office of Employee and Organizational Development (EOD).
"From the moment Ashley Cooper stepped into our office, she has had a pronounced impact on the level of service we have been able to provide to the campus," said Rebecca Murphy, associate director of human resources for employee development. "Her passion, dedication, and drive are contagious. … I don't know what I would do without her."
Cooper, a two-time alumna of VSU, began working at the university in 2010 as a graduate assistant in the OASIS Center for Advising. She became the freshman learning communities coordinator for OASIS and First Year Programs in 2011 and the coordinator of First Year Programs in 2013. She joined EOD in 2016 as the learning technology specialist and was recently promoted to assistant director.
Within her current role, Cooper performs a wide range of duties, including designing curriculum for and facilitating professional certificate programs, general professional development courses, employee training programs, departmental retreats, organizational development interventions, focus groups, and new employee orientation sessions.
"If you have ever been to one of Ashley's trainings, you know that her energy and love for teaching is contagious," said Chelsea Holcombe, assistant director of programming and staff development for Campus Recreation. "Professional development trainings can sometimes not be the most exciting that we must do as professionals, but Ashley has this magic about her that can make a three-plus hour training fly by, all while having fun and learning some awesome material that will better enhance your job and organization."
Within EOD, Cooper also provides leadership and coaching to graduate assistants and interns, manages the Skillport online learning system, and coordinates campus and community collaborative partnerships. 
"Ashley gives great care to mentoring and developing our graduate assistants," Murphy said. "She is a great role model and applies those positive culture and teambuilding techniques taught in her class to our work environment.
"She is the first to recognize a job well done and to celebrate successes. She has implemented quote of the day, teambuilding assessments and education, and appreciation notes. All of these things she initiated on her own, and it has helped enhance our work environment tremendously."
Cooper has undertaken several monumental projects in her time at EOD, including an extensive redesign of the Professional Certificate in Management Program to include a leadership track. The new program mirrors the configuration of an academic program, allowing participants to take core classes and then decide whether they want to prioritize management, leadership, or both.
Since Cooper began teaching the revamped program, attendance has doubled and so have requests for customized departmental trainings in this area.
She also played a key role in the implementation of the university's new payroll system, OneUSG Connect, by conducting numerous open labs and one-on-one trainings and responding to a significant number of calls and emails requesting assistance.
"Ashley is timely, efficient, culturally competent, and aware of her impact on her peers and constituents," said Lenora Willis, assistant director of residence life for VSU's Office of Housing and Residence Life. "She follows through on everything that she commits to and goes above and beyond in every role. Her presence when she enters a room is tenacious.
"She is like a utility knife with her wealth of knowledge and experience with leadership development, critical thinking, teamwork, and so much more."
Cooper has served as an adjunct instructor in the Department of Communication Arts since 2012, teaching courses such as Human Communication, Public Speaking, and Perspectives in Leadership. Additionally, she is the University System of Georgia's Service Excellence Ambassador for VSU and is a member of VSU's Council on Staff Affairs and Conflict Resolution Committee. She is a certified Bystander Intervention Program trainer, Everything DiSC Workplace profile facilitator, and conflict mediator. She also serves in the community as a member of the Valdosta Junior Service League.
"In these roles she demonstrates her reliability and strong work ethic," Murphy said. "She follows through on commitments and gives 110 percent to each task she undertakes."
Cooper has received multiple I Caught You Caring Awards for her service.
"What has stricken me about Ashley is her intense passion and knowledge that she not only has for her profession but for VSU as well," said Karin Fonseca, senior administrative secretary in the Office of Financial Services. "She is proud to be part of this work force, and she transmits this passion with honesty through everything she does and everyone she reaches."
Cooper said her motivation to serve in all her various capacities comes from a passion to empower faculty and staff with the tools and resources they need to succeed.
"What drives me is believing that we can truly make an impact on the experience of our staff and faculty members on campus and help them not only develop students but also develop themselves as professionals to be happy and to feel fulfilled by what they do every day," she said. "That's what I look forward to each day when I come into work."
Cooper holds a Bachelor of Fine Arts in speech communication and public relations and a Master of Arts in communication from VSU.
Each year, VSU continues its tradition of honoring faculty and staff excellence with awards recognizing the diverse talents and contributions of its innovative and active employees. Awards are given for excellence in teaching, research, service, online teaching, and scholarship of teaching and learning. The 2018-2019 recipients were publicly recognized at the fall convocation and received a monetary prize of $1,000. 
On the Web:
https://www.valdosta.edu/administration/council-on-staff-affairs/staff-excellence-awards.php
https://www.valdosta.edu/administration/finance-admin/employee-development/
Newsroom
Office of Communications Powell Hall West, Suite 1120
Mailing Address
1500 N. Patterson St.
Valdosta, GA 31698
General VSU Information
Office of Communications