Kyle Culpepper Honored with Presidential Excellence Award for Service: Classified Staff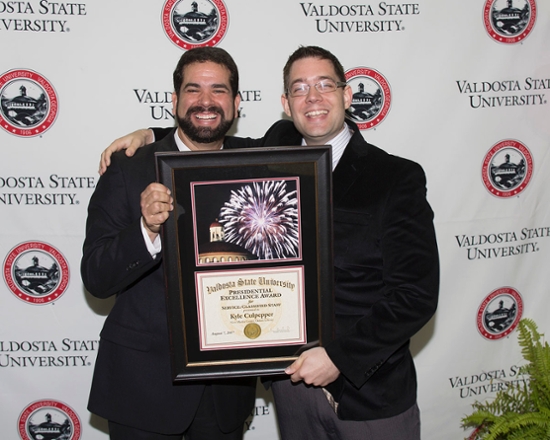 President Richard A. Carvajal and Kyle Culpepper
VALDOSTA — Kyle Culpepper is the recipient of Valdosta State University's 2017 Presidential Excellence Award for Service: Classified Staff.
The Presidential Excellence Award for Service: Classified Staff recognizes a staff member who exhibits high standards of service and an exemplary and innovative job performance. Culpepper, interim director of the New Media Center (NMC), was chosen for his consistent initiative, leadership, and customer service excellence in multiple positions at VSU.
"I am honored by this award and appreciative of the recognition," Culpepper said.
Culpepper has worked at VSU for the past decade, starting as an Odum Library computer technician in 2007 while still an undergraduate student. He became an information technology (IT) technician and desktop support lead technician in the Division of IT in 2010. He joined the NMC in 2013 as an instructional technology specialist and assumed his current position in October of this year.
"Kyle is not only exceptional at his job duties but also someone who genuinely cares about and feels responsibility for the success of the university and its students," said Benjamin Li, IT solutions manager. "This level of altruism is inspiring to others and what really sets him apart from other employees."
Culpepper offers services such as poster printing, video and audio editing, one-on-one technological assistance, and media training to an average of more than 200 students, staff, and faculty daily. He provides an average of 45 workshops on media-related programs each academic year. 
"Kyle's work has always been first-rate," said Dr. Alan Bernstein, dean of libraries. "He is knowledgeable, collegial, and productive. He is self-motivated and consistently performs at the highest level in all functions."
Culpepper has received more than 25 I Caught You Caring Awards. He was the runner-up for VSU's Employee of the Year Award in 2015. He was the Department of IT's nominee for VSU's Student Employee of the Year Award in 2010, 2012, and 2013.
"What separates Kyle is his willingness to help and troubleshoot problems," said Dr. Colin Walker, assistant professor of digital production and assistant to the dean for IT resources. "He has an upbeat attitude and works hard to find solutions to issues faced by faculty, students, and staff."
Culpepper has supervised and trained more than 50 students while serving in the NMC.
He managed cross-departmental initiatives that raised more than $26,000 to improve the NMC's media inventory and $86,000 for upgrades to NMC facilities.
He streamlined communication and project workflow in the NMC by implementing cloud-based technologies. In Summer 2016, he served as a quality assurance contractor in the Center for eLearning's initiative to bring additional online courses to VSU.
From Fall 2016 to Summer 2017, he participated in a video innovation grant to help students transition to campus life. He is currently creating a video greenroom that will provide professional quality filming services for faculty lectures and student presentations. 
"My goal each day is to seek out something that's innovative, something that will help our students, staff, and faculty excel," Culpepper said. "Being able to share the knowledge and services we have in the NMC with others fuels my desire to supply excellent service."
Culpepper holds professional certifications in business, management, and teaching, and he has shared his innovative approaches to technology and management at a number of conferences.
Culpepper served as co-chair of the Campus Wellness Committee (CWC) from 2013 to 2017 and currently serves as its public relations officer. He is also a member of Odum Library's Marketing Committee, Web Design Committee, and Strategic Planning Committee.
"Kyle always helps out above and beyond expectation," said Margaret Duncan, VSU accessibility strategist and member of the CWC. "He arrives early to ensure that things go smoothly and leaves only when everything is completed. … With all involved he maintains a positive, upbeat attitude that sets an example for others to follow."
Rebecca Murphy, associate director of human resources for employee and organizational development and co-chair of the CWC, noted that Culpepper "brings joy to those who work with him and has a great ability to create a positive and fun environment even when life is stressful."
Culpepper holds a Bachelor of Science in astronomy, a Bachelor of Science in physics, and a Master of Education in instructional technology applications from VSU.
Each year, VSU continues its tradition of honoring faculty and staff excellence with awards recognizing the diverse talents and contributions of its innovative and active employees. Awards are given for excellence in teaching, research, service, online teaching, and scholarship of teaching and learning. The 2017-2018 recipients were publicly recognized at the fall convocation and received a monetary prize of $1,000.
On the Web:
https://www.valdosta.edu/administration/council-on-staff-affairs/staff-excellence-awards.php
https://www.valdosta.edu/academics/library/depts/media-center/
General VSU Information
Office of Communications
Campus Address
Office of Communications Powell Hall West, Suite 1120
Mailing Address
1500 N. Patterson St.
Valdosta, GA 31698