News and Events
Who We Work With:
Major Science Award to Research Collaborator with the Department of Biology
Congratulations to Dr. Mark Millan, research scientist at the pharmaceutical company Servier and long-time collaborator with Dr. Gannon, for his recent award of the 2014 Ariens Prize from the Dutch Pharmacological Society. The prize has been awarded annually since 1985 and the list of recipients includes several Nobel Prize winners!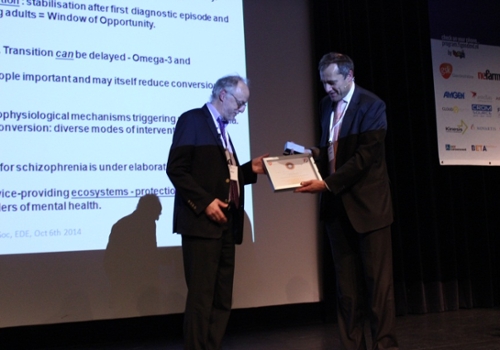 Dr. Millan at the Award Ceremony and talk in Holland, October 2014.
Photos from http://www.nvfarmaco.nl/?pagina=4.
Dr. Emily Cantonwine Named Senior Editor of The Plant Health Instructor
Dr. Leslie Jones Visits St. Thomas in the Virgin Islands
as part of a STEM professional development grant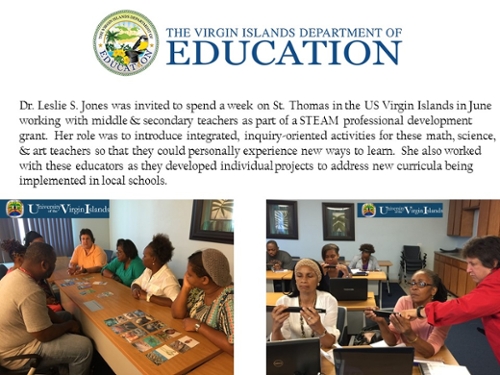 ---
Fort Johnson REU Program GRICE Marine Lab, College of charleston
Summer 2017
Application due date: Wed, February 15, 2017
web site: http://reu.cofc.edu
---
MEDICAL COLLEGE OF GEORGIA- IGNITING DREAM OF MEDICINE/PRE-HEALTH CONFERENCE & SEEP APPLICATIONS
 Igniting the Dream of Medicine
High School and Undergraduate Conference
Saturday, February 25, 2017
8:30 am – 4:00 pm
Get Flyers
Medical College of Georgia Student Educational enrichment Program (SEEP)
Get Flyer
Dear Colleagues:
We need your help in getting information to your students about two very important upcoming events at the Medical College of Georgia at Augusta University:
Igniting the Dream of Medicine Conference, February 25 – Early Registration ends February 10th
Student Educational Enrichment Summer Program (SEEP) – Application Deadline - March 1st
The daylong program, which is open to college students from across the state with a focus on groups that are underrepresented in health care education, offers an overview of the medical school admissions process, opportunities to network and hands-on experience in a state of the art simulation center, physical exam instruction, a suture clinic and more. Representatives from the Association of American Medical College will also be on hand to talk with students about the Medical College Admission Test and the American Medical College Application Services. For those college students applying to MCG, a limited number of mock interviews will also be held.  New to this year's conference is a research poster presentation that will give undergraduate students a chance to present their research to a large audience to help enhance their scientific and professional development.
More details and registration are online at http://www.augusta.edu/mcg/students/ignitingthedream.php. Early registration by Feb. 10 is $20. Late registration is $25.
Applications are also now be accepted for the Summer Educational Enrichment Program, or SEEP, which aims to diversify the health care workforce and is aimed and underrepresented students. It exposes participants to life as a "student" at MCG and the Dental College of Georgia. Participants live on the university's health sciences campus during the seven-week program and take courses in the biomedical sciences, prepare for admissions exams, shadow health care professionals and receive networking opportunities and exposure to insightful guest speakers.
For more information or to apply for SEEP, visit http://www.augusta.edu/mcg/students/seep.php. Applications are due by March 1, 2017.
We hope you will strongly encourage  students to attend the conference, which is open to any student interested in attending. The registration fee for advisors is waived for those who bringing a group of students.  Additionally, please encourage research students to submit an abstract for participation in the research poster presentation at the conference. 
If you have questions, please let me know. Thanks for your assistance!
Sincerely,
Linda Strong James, MS
Director, Diversity Outreach
Office of Student & Multicultural Affairs
Medical College of Georgia @ Augusta University (formerly Georgia Regents University)
GB 3300
Augusta, Georgia 30912
706-721-6113; 706-721- 9458 (fax)
www.augusta.edu/colleges/medicine/students
Note New Email Address: ljames@augusta.edu
---
Feline Monitoring Project 2017
Fianal payment due May 1st 2017
---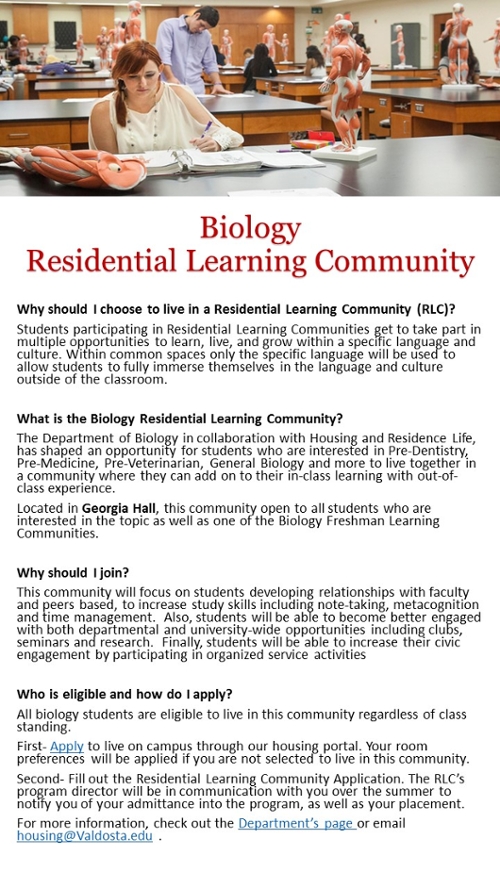 ---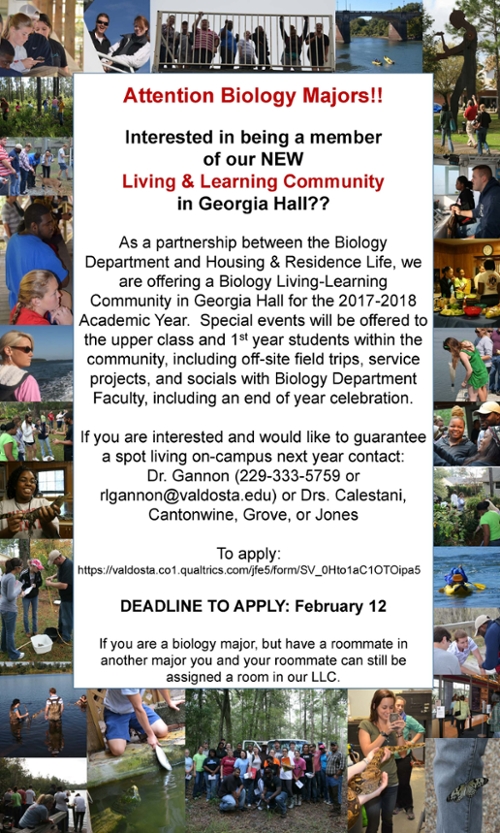 ---
Other Links:
STEM Service Learning/Civic Engagement
229.245.6585
Campus Address
Room 2035, 2nd Floor
Bailey Science Building
Mailing Address
1500 N. Patterson St.
Valdosta, GA 31698

Monday - Thursday
8:00AM until 5:30PM
Friday
8:00AM until 3:00PM
Saturday - Sunday
Office Closed