Honor Society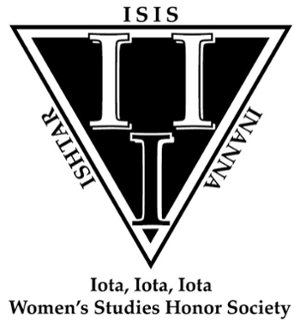 Valdosta State University Women's and Gender Studies Honor Society: Iota, Iota, Iota
Welcome to Iota Iota Iota (Triota), Valdosta State University Women's and Gender Studies Honor Society Beta Xi Chapter!
History
Iota Iota Iota, or Triota, is the academic honor society for the field of Women's Studies. Triota is named for the ancient goddesses Inanna, Ishtar, and Isis and strives to maintain feminist values central to Women's Studies: egalitarianism, inclusiveness, and celebration of the diversity of women's experiences. 
Purpose
The purpose of this organization is to encourage and support scholarship and excellence in Women's and Gender Studies at Valdosta State University.
How to I become a member of Triota?
Membership to Triota is open to minors in Women's and Gender Studies or any Valdosta State University student having a strong interest in women's and gender studies and having achieved third semester standing with at least 6 hours of upper division Women's and Gender Studies courses with a GPA of at least 3.0.  People who meet this criteria are invited to become part of this academic honor society regardless of gender, race, ethnicity, religion, differing abilities, economic class or sexual orientation. Interested students who meet the eligibility will need to fill out an application form below and turn it in to the Women's & Gender Studies department. Once the application has been reviewed and approved you will be invited to be inducted during the spring semester during the Women's Studies Awards Ceremony. Students must accept the invitation to join this honor society to be inducted.
229.248.4865
Campus Address
Ashley Hall
1001 Ashley Hall
Valdosta, Georgia 31698
Mailing Address
1500 N. Patterson St.
Valdosta, GA 31698

Monday-Thursday 8:00am-5:30pm

Friday:  8:00am-3:00pm