VSU Planetarium
Unfortunately, we are unable to host planetarium shows due to COVID-19 restrictions; we hope to see you back here sometime soon
Our 47-seat planetarium is equipped with a Digitarium Kappa digital projector, the first of its kind in the world. With this facility we can reproduce the night sky as seen from anywhere on Earth or from the surface of any object in the solar system, and at any time in history, past or future.   The VSU Planetarium serves as a valuable teaching tool and as a facility for an extensive public outreach program. Astronomy majors give planetarium shows for thousands of visiting school children and members of nonprofit civic organizations. 
The Planetarium is available to non-profit school groups and civic organizations for daytime shows on a limited basis. If you would like to schedule a show, please read our Planetarium Policy.
The VSU Planetarium will be open to the public on the five dates listed on the schedule below.
All of our shows are suitable for ages five and up.
Shows begin on Thursday evenings at 7:00 pm, 8:00 pm and 9:00 pm sharp and last 40 to 50 minutes.
The shows are followed by observatory open house, if weather permits.
Seating is available on a "first come, first served" basis and is limited to 47 per show. When you arrive, pick up a FREE TICKET (it is your place-holder!). Tickets are distributed starting at 6 pm and are limited to 7 tickets per party.  Before the show, your ticket will be called.  If you are not there by show-time, your seat(s) will be given away.
---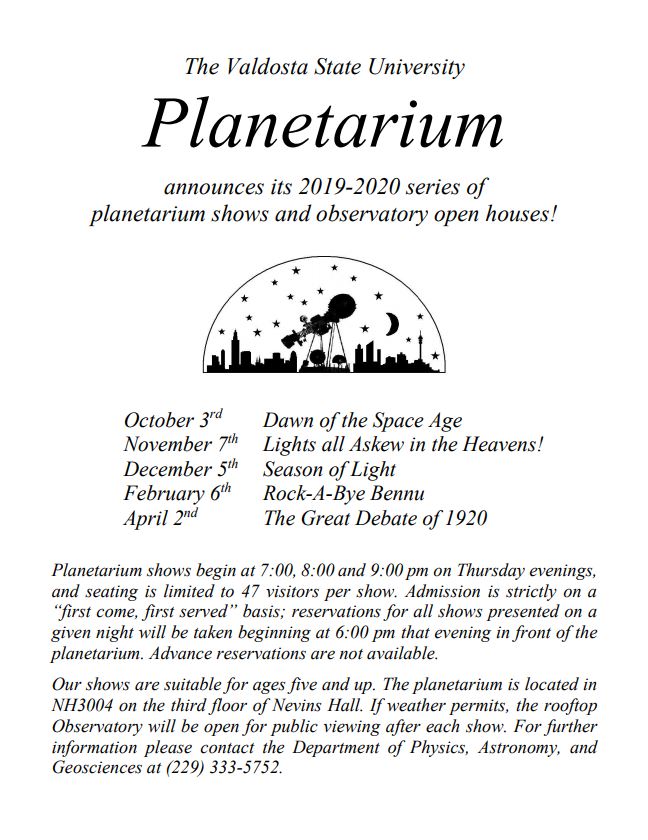 Main Office
Fax
229.219.1201
Campus Address
Nevins Hall Room 2006
1500 N. Patterson St.
Valdosta, Georgia 31698
Mailing Address
1500 N. Patterson St.
Valdosta, GA 31698

Monday-Thursday
8:00am - 5:30pm

Fridays
8:00am - 3:00pm