NSF Geospatial Internship/Fellowship for Engineering Studies Students
Dr. Jia Lu, Professor of Geography and Urban Planning, sponsored by an NSF grant and CSTCA, was able to provide hands-on experiential learning opportunities of GIS and Spatiotemporal Analysis for 10 Valdosta students in 2021-2022. They worked on projects tackling issues such as improving ground-level air quality prediction and developing management/processing services for sea ice imagery. 
Want A Paid Research Internship Sponsored by the National Science Foundation?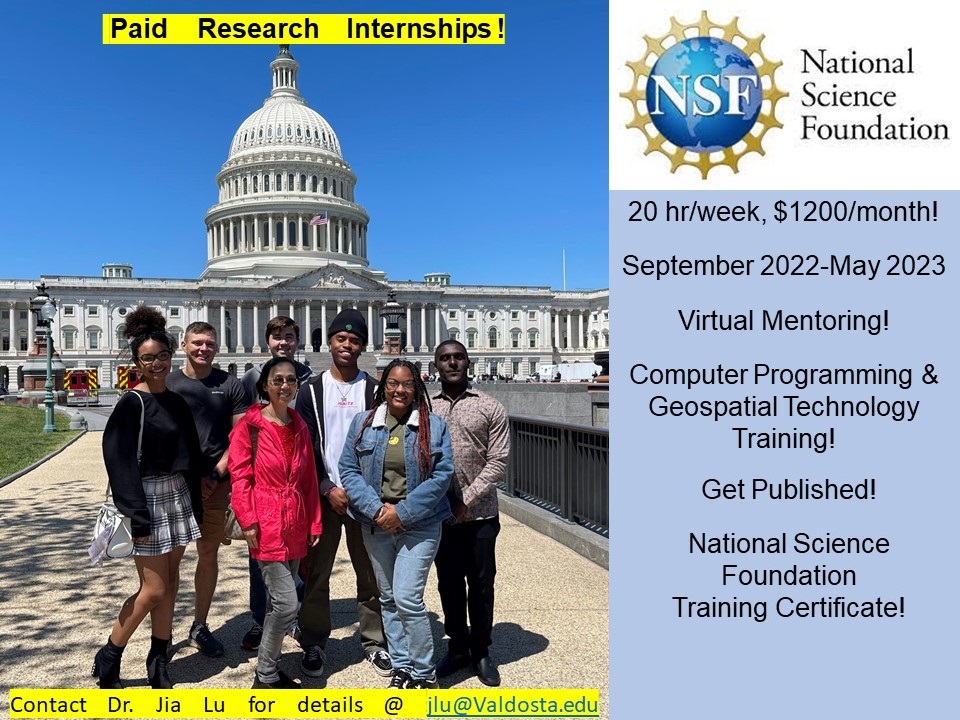 Join us from September to May ($1200/month) What is the Internship about?
A team of highly motivated faculty and students work together on geospatial research projects. 9-Month part-time at VSU with an all-expense-paid trip to Washington DC at the end of May!
Intern testimonies:
Benefits of the Program:
$1200/month, 20 hours/week: Excellent pay for your professional experiences.
All-Expense-Paid Trip to Washington DC in May of 2022: Students will present their projects and experience our beautiful capital city with sightseeing.
One-On-One Virtual Mentoring by Faculty and Graduate Students: Students will work on real-world research projects and showcase results at the end of the program.
Potential projects: 
Computer Programming and Geospatial Technology Training: Skills you can use for your future career.
Publication with Faculty at the End of the Program: You will be a published author!
Prestigious National Science Foundation Training Certificate upon Completion: Great resume building for future work and/or transfer programs.
Check out the video below, and hear from past interns (for example engineering student Alex Fouraker), who was able to participate in the program.
Interested in paid internship opportunities in this new academic year? Please email the program coordinator Dr. Lu (jlu@valdosta.edu) your resume and a copy of unofficial high school/college transcripts. For more information, please reach out to Dr. Lu.
Thank you!
Physics, Astronomy, and Geosciences and Engineering Technology
Nevins Hall Room 2006
1500 N. Patterson St.
Valdosta, Georgia 31698
Mailing Address
1500 N. Patterson St.
Valdosta, GA 31698
Main Office
Fax
Fax: 229.219.1201

Monday-Thursday
8:00am - 5:30pm

Fridays
8:00am - 3:00pm